NBA's 65 in 65: Ernie DiGregorio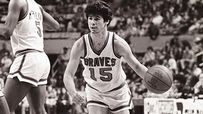 DiGregorio stops by SN to talk playoffs.
Welcome to The Show! On Friday, we continue our 65 in 65. That's
65 NBA chats in 65 days
. We will hold an NBA chat each day through the end of the NBA Finals. We'll bring you players, analysts, writers, anyone who can help you fill your NBA fix. Friday's guest is former NBA player Ernie DiGregorio.
DiGregorio was drafted by the Buffalo Braves in 1973 and went on to win the NBA Rookie of the Year Award averaging 15.2 points and leading the league in both free throw percentage and assists per game. He still holds the NBA rookie record for
assists in a single game with 25, a record now shared
with Nate McMillan.
Send your questions now and join DiGregorio to chat on Friday at 11 a.m. ET!
Watch the NBA Playoffs on ESPN & ABC and the Finals on ABC.
MORE
65 NBA chats in 65 days | NBA playoff Index | SportsNation Index