NBA's 65 in 65: Ernie DiGregorio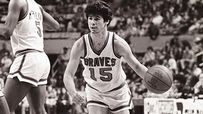 DiGregorio stops by SN to talk playoffs.
Welcome to The Show! On Friday, we continue our 65 in 65. That's
65 NBA chats in 65 days
. We will hold an NBA chat each day through the end of the NBA Finals. We'll bring you players, analysts, writers, anyone who can help you fill your NBA fix. Friday's guest is former NBA player Ernie DiGregorio.
DiGregorio was drafted by the Buffalo Braves in 1973 and went on to win the NBA Rookie of the Year Award averaging 15.2 points and leading the league in both free throw percentage and assists per game. He still holds the NBA rookie record for
assists in a single game with 25, a record now shared
with Nate McMillan.
Send your questions now and join DiGregorio to chat on Friday at 11 a.m. ET!
Watch the NBA Playoffs on ESPN & ABC and the Finals on ABC.
MORE
65 NBA chats in 65 days | NBA playoff Index | SportsNation Index
Ernie DiGregorio
(10:56 AM)
I've really enjoyed the playoffs this year, it's my favorite time of the year. I really enjoy the 40 games in 40 nights. Last night's games were awesome! Let's get started!
Brad (Gadsden,Alabama)
Ernie, who is your favorite player to watch right now?
Ernie DiGregorio
(10:57 AM)
LeBron James because he dictates the whole game with his talent, speed, and strength.
Tad (Buffalo)
I'm 25 and live in Buffalo, so I have no idea what the NBA was like when it was here. What was your experience like in Buffalo as an NBA city?
Ernie DiGregorio
(10:59 AM)
It was great. Buffalo has very passionate fans like any other NBA city. My first year we made it to the playoffs and took the Celtics to and game 6 and loss to the eventual championships. It was a very positive experience.
shaun
Would Lebron James or Rajon Rondo average a triple-double in the future? If so, who would do it first?
Ernie DiGregorio
(11:00 AM)
Rondo was been spectacular in the playoffs. I think if any one player could do it for a whole season like Oscar Robinson did, it would be LeBron. He just needs to have the ball in his hands.
Cody (Greenback, TN)
Who would you choose to start your franchise, Lebron Or D-Wade?
Ernie DiGregorio
(11:03 AM)
LeBron James ...I think Wade is a great player because he is a scorer but James is a great passer as well as scorer. LeBron makes everyone around him better.
Sam (Houston, Texas)
Do you think that the Rockets can take out the Lakers in the second round?
Ernie DiGregorio
(11:05 AM)
I think they can but I don't think they will.
April (Denver)
Can the Nuggets beat Dallas? How many games?
Ernie DiGregorio
(11:08 AM)
They can beat Dallas since they have home court but they have to win the first two at home. Denver can win in six or seven games.
Ernie DiGregorio
(11:08 AM)
Billups was a great pick up for them and his play will be a key factor in this series.
Michael (New York)
Do you think the Cavs and Lakers will be well rested for the second round or will the long layoff hinder them?
Ernie DiGregorio
(11:11 AM)
I think that rest is good for them. As a team, you want to win as quickly as you can because you want to be rested and have strong legs for the next series. It might take a quarter to get their legs under them but I think the rest is good for them.
James (St. Louis, MO)
Who will win tonight's game between Atlanta and Miami?
Ernie DiGregorio
(11:12 AM)
Miami because their backs are against the wall. I see them coming out and playing with aggression. Home court means so much to teams so I like Miami tonight.
Zach
Who impressed you more in the first round. Lakers or Cavs?
Ernie DiGregorio
(11:15 AM)
The Lakers. I think they have a lot of fire power. Gasol looks like he got tougher and Bynum is a big strong young kid that is battling in the paint.
McCreeperson (PA)
Who is the best passer in the NBA today?
Ernie DiGregorio
(11:18 AM)
GREAT QUESTION! I would say Jason Kidd. He looks to make the pass rather than take the shot. Chris Paul is a great passer but he's more of a scorer. So I would say that Jason Kidd is the best passer in the league today.
Mr. Benny Mardones
Is Chauncey Billups the best PG in the playoffs right now?
Ernie DiGregorio
(11:20 AM)
No, I think Rondo is because he is averaging a triple-double. He had 19 assist last night against the Bulls. Billups is playing great but Rondo is Superman right now.
red[detroit] [via mobile]
If you had to pick one player in nba history to have on your team who would it be?
Ernie DiGregorio
(11:22 AM)
Bill Russell because he was the ultimate team player. I don't know of any player in the history of the NBA that was that smart and that unselfish. If he wanted, he could have scored 20 points per game but that wouldn't have helped his team win because they rest of his team were scores. Bill is that ultimate team player.
Clinton (Indianapolis, IN)
Who is the best pure shooter in the NBA today?
Ernie DiGregorio
(11:23 AM)
Good question! I would say Ray Allen of the Celtics. Every time I go to a Celtics game, I get there a couple hours early and he's out there shooting the same shots that he would take in a game. He works hard on the practice court and it shows in the way he plays during big games, making big shots.
Mike (Ohio)
How do you feel about guys leaving early for the NBA?
Ernie DiGregorio
(11:25 AM)
I think if you're that good and it will make life better for your family, then its a no brainier. I think it's the right thing to do and the smart thing to do.
Ols
Bulls or Celtics in Game 7?
Ernie DiGregorio
(11:27 AM)
I picked the Bulls before the series ever started. The Celtics will have the crowd and it will be a great game but I think Chicago will take game 7 because they will have young legs.
Ernie DiGregorio
(11:30 AM)
It was a pleasure talking to you and thank you for having me on. It's great for the fans to hear the perspectives of former and current NBA players and experts. This is a great thing that ESPN.com and the NBA are doing. Hope you continue to enjoy the playoffs!