NBA's 65 in 65: Dee Brown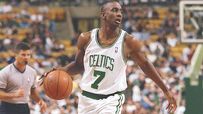 Brown won the 1991 NBA Dunk contest.
Welcome to The Show! On Wednesday, we continue our 65 in 65. That's
65 NBA chats in 65 days
. We will hold an NBA chat each day through the end of the NBA Finals. We'll bring you players, analysts, writers, anyone who can help you fill your NBA fix. Wednesday's guest is former NBA player Dee Brown.
Brown was selected by the Celtics with the 19th pick of the 1990 NBA Draft. He was a member of the NBA All-Rookie Team in his first year when he played in all 82 games and averaged 8.7 points. One of the highlights of his career came in 1991 when he won the NBA Slam Dunk Contest with a "no-look" slam dunk. Brown later became the first head coach of both the WNBA's Orlando Miracle.
Send your questions now and join Brown to chat in Wednesday at 11 a.m. ET!
Watch the NBA Playoffs on ESPN & ABC and the Finals on ABC.
MORE
65 NBA chats in 65 days | NBA playoff Index | SportsNation Index
Dee Brown
(11:01 AM)
Glad to be here. The playoffs have been great so far. Let's get started!
Matt (IN)
So Dee, did you pump up your sneakers before starting the chat?
Dee Brown
(11:02 AM)
(laughing) I didn't! That's only an on court activity.
Cody (greenback tennessee)
In your opinion, who are the top five in game dunkers of all time? Who are the best current in game dunkesr?
Dee Brown
(11:04 AM)
Top 5: Julius Erving, Shawn Kemp, Michael Jordan, Vince Carter, and Darryl Dawkins. I would rank myself No. 6. The best dunkers right now would LeBron James, Dwight Howard, and Dwyane Wade.
Aaron (Seattle, WA)
Hi Dee, Are you still a big follower of the Celtics? While you were with them, who was your favorite Celtics to play with? Thanks!
Dee Brown
(11:05 AM)
I still follow them and after being a captain with them, I still want them to do well. I'm happy that they finally broke through and won a championship last season. The two best guys that I played with were Sherman Douglas and Reggie Lewis.
Nick (Philadelphia, PA)
Dee Brown. I love your famous dunk contest dunk. What do you think of your former team, the Celtics so far in the playoffs?
Dee Brown
(11:07 AM)
Thanks! I think they have a chance to get back to the Eastern Conference Finals but I think it will be tough without KG. They are battling with the Bulls right now and that could tire them out. Both the Cavs and Magic will give them a run for their money in the later rounds.
Matt (Boston)
Dee, I know you were a big gamer back in the day... and you loved the game Populus. Are you still a gamer, and if so, what is your current game of interest?
Dee Brown
(11:08 AM)
I haven't really had the chance to play as many games these days. But I love to play old school games like Donkey Kong and Pac Man. I did try the Wii Fit to stay in shape.
Gazoo (Boston)
Dee, loved you when you were here. From a players point of view, has the officiating in these playoffs been as bad as it seems? Also why does the NBA fine players and coaches for criticizing refs, but trots out the same horrid refs year after year? Where theres smoke, there usually fire.
Dee Brown
(11:11 AM)
Refs are human and in the playoffs the play gets more physical. If they called every foul, the game will last about six hours. I do have a soft spot for the refs because they are always the bad guys. They are yelled at every game by players, coaches and fans.
Steven (NJ)
Would you ever coach in the NBA?
Dee Brown
(11:12 AM)
I've had some talks with teams in the past but at this time I'm doing a lot of training in Orlando with college players as well as NBA players. I would like to coach in the D-League because I like to develop players and help them go through that growth process.
chauncey (teaneck)
who do you think will win the championship?
Dee Brown
(11:15 AM)
I think the Cavs have a good chance with the way that they are playing. They look like the Celtics of last year. I think that the Lakers have the best chance to come out of the West but it will be tough because the Nuggets and the Mavs are playing great.
Kam,Russia [via mobile]
Dee,what do you think about Dikembe Mutombo's retirement?
Dee Brown
(11:16 AM)
He was a good ambassador for the game. I hate to see guys retire because of an injury. Dikembe leaving the court on a stretcher wasn't they way that I would liked to have seen him leave the court. I like to see players leave the court the way they walked on the court. He will be missed because out what he did for the game on and off the court.
Kevin (El Paso)
Dee, what kind of changes do you see coming for the Pistions locker room?
Dee Brown
(11:19 AM)
I don't see them re-signing Allen Iverson and the biggest thing is what they will do with Rasheed Wallace and Tayshaun Prince. I think they will release Wallace and bring some new blood in there. The question is will they keep Price and rebuild around him or will they look to build around younger players. They are like the Spurs who won four championships with Duncan but are out of the playoffs in the first round now. Both teams will need to make some off-season moves. I just don't know which way they will go.
Dee Brown
(11:20 AM)
The playoffs are the best time of the year. The way these teams are playing is amazing. Thanks for having me and I hope to talk to you again soon.