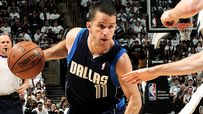 Mavericks guard JJ Barea.
Welcome to The Show! On Friday, we continue our 65 in 65. That's
65 NBA chats in 65 days
. We started on April 16 and will run through the end of the NBA Finals. We'll bring you players, analysts, writers, anyone who can help you fill your NBA fix. Friday's guest is Dallas Mavericks guard JJ Barea.
In this third year in the league, Barea is a steady backup point guard studying under a future Hall of Famer in Jason Kidd. Better known as the "Puerto Rican Allen Iverson", Barea has averaged 14.4 minutes, 2.3 assists, and 5.7 points per game in his NBA career.
Send your questions now and join Barea in chat on Friday at 2:15 p.m. ET!
Watch the NBA Playoffs on ESPN & ABC and the Finals on ABC.
MORE
65 NBA chats in 65 days | NBA playoff Index | SportsNation Index
Brian (Boston, MA)
Toughest player you've guarded in the NBA?
JJ Barea
(2:19 PM)
I would say Chris Paul.
Andrew M (Winchester, VA)
Coming from a mid-major conference (CAA), did it feel like you had to work much harder to earn respect?
JJ Barea
(2:20 PM)
Definitely, I had to work a little bit harder and take advantage of the NBA camps and things like that.
Carlos (Dallas)
Do you see yourself as one day being considered one of the top point guards of the league?
JJ Barea
(2:21 PM)
Of course, that's my driving force and hopefully one day I will get there.
paul (ohio)
Hi JJ, great series so far by your team...which team do you see coming out of the east and west?
JJ Barea
(2:21 PM)
From the East I see Cleveland coming out and from the West I see the Mavs coming out.
Jeff Phoenix, AZ
Can the Cavs win the title?
JJ Barea
(2:22 PM)
Yes they can win it.
Albert (Austin)
What have you learned from Jason Kidd?
JJ Barea
(2:23 PM)
Everything ...the way we sees the floor, plays defense, and the way he runs the team. Overall I've learned a lot from Jason Kidd.
Jordan (Northeastern)
JJB! Loved watching you play for NU, and your career in the NBA has been really fun to watch. How hard was it to adjust, and was frustrating trying to get minutes as an undrafted player?
JJ Barea
(2:24 PM)
It wasn't really hard. As a player I just have to have patience and keep working hard. My time will come.
Mike - Boston
Jose, long time Northeastern fan/alumni here. What were some of your favorite memories playing at Northeastern?
JJ Barea
(2:25 PM)
The fans and the students were great. It was a great all around atmosphere.
Travis C. (Lake Highlands)
What is your opinion of Mark Cuban? Is he a good boss?
JJ Barea
(2:25 PM)
The best one! Everybody would like to have an owner like him. He's one of the best.
Mike Hanna, Cleveland
Who would you rather have out there on the court with you: LeBron or Kobe?
JJ Barea
(2:26 PM)
I'd rather have Kobe.
jack
Who, besides you, will win the NBA championship?
JJ Barea
(2:27 PM)
Besides the Mavs, I think the Lakers have the best chance of winning.
JJ Barea
(2:28 PM)
Thanks for all the questions ...continue to support the Mavs!