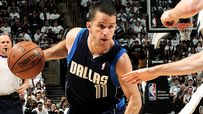 Mavericks guard JJ Barea.
Welcome to The Show! On Friday, we continue our 65 in 65. That's
65 NBA chats in 65 days
. We started on April 16 and will run through the end of the NBA Finals. We'll bring you players, analysts, writers, anyone who can help you fill your NBA fix. Friday's guest is Dallas Mavericks guard JJ Barea.
In this third year in the league, Barea is a steady backup point guard studying under a future Hall of Famer in Jason Kidd. Better known as the "Puerto Rican Allen Iverson", Barea has averaged 14.4 minutes, 2.3 assists, and 5.7 points per game in his NBA career.
Send your questions now and join Barea in chat on Friday at 2:15 p.m. ET!
Watch the NBA Playoffs on ESPN & ABC and the Finals on ABC.
MORE
65 NBA chats in 65 days | NBA playoff Index | SportsNation Index