Chat with Houston's Brian Ching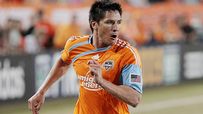 Ching is considered to be one of the top forwards in MLS.
Welcome to The Show! On Tuesday, Houston Dynamo forward Brian Ching will stop by to chat about ESPN's MLS Game of the Week between Dallas and Houston.
A veteran MLS player and an original member of the Dynamo, Ching is Houston's all-time leading scorer with 33 goals in 70 games played. Last season he set a team and personal record with 13 goals in the regular season. In 2006, Brian was named MVP of the MLS Cup after scoring the tying goal in the 114th minute and the winning penalty kick in shootout.
Send in your questions now, then join Ching on Tuesday at 3 p.m. ET!
Tune in Saturday, May 9 at 9 p.m. ET on ESPN2 for FC Dallas at Houston.