Chat with Houston's Brian Ching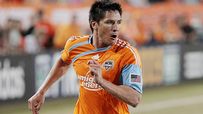 Ching is considered to be one of the top forwards in MLS.
Welcome to The Show! On Tuesday, Houston Dynamo forward Brian Ching will stop by to chat about ESPN's MLS Game of the Week between Dallas and Houston.
A veteran MLS player and an original member of the Dynamo, Ching is Houston's all-time leading scorer with 33 goals in 70 games played. Last season he set a team and personal record with 13 goals in the regular season. In 2006, Brian was named MVP of the MLS Cup after scoring the tying goal in the 114th minute and the winning penalty kick in shootout.
Send in your questions now, then join Ching on Tuesday at 3 p.m. ET!
Tune in Saturday, May 9 at 9 p.m. ET on ESPN2 for FC Dallas at Houston.
MORE
Previous chat guests | SportsNation Index
Ryan (El Paso, TX)
What is a remaining goal you have for your soccer career?
Brian Ching
(3:02 PM)
First and foremost to win a title this year and then be on the field and play in the World Cup. Not just be on the roster but play in a World Cup game.
NY
If you could hang out with any other athlete from another league (Golf,MLB,NBA,NHL)Who would it be and why?
Brian Ching
(3:04 PM)
I would have to say Tiger Woods. He is one of the most dominant athletes in sports and I would like to get in his mind and see how he approaches every tournament and what he thinks when he goes into the last round of the tournament. I once read a book on Shaq and wanted to discover what made him so dominant and he used different things to motivate him. Staying motivated is key for any athlete.
Henry, Fargo, ND
How confident are you feeling about the U.S. National Team and the road to South Africa 2010?
Brian Ching
(3:05 PM)
I feel confident that we will qualify and finish first. I think we have developed an identity and that identity is being difficult to break down, and taking chances going forward and working well together as a team.
Sandy, CO
Brian, what is your most memorable goal in a Houston Dynamo jersey?
Brian Ching
(3:06 PM)
It is the 2006 MLS Cup final where I scored to put it into PKs, a game we won. I do not think I have scored a bigger goal than that.
Billy (Austin, TX)
I saw your Ultimate XI on the New York Times' Goal blog - nice choices! If you had to choose an MLS Best XI, who are some of the players that would be on it?
Brian Ching
(3:08 PM)
For one, Landon Donovan. I think he has been one of the best players in league history. Moreno, Novak, Pope...if I had more time to think about it I would put a lot more guys.
Dylan, Minn.
how do you feel going into your big game with FC Dallas?
Brian Ching
(3:09 PM)
I think it is a great chance for us to keep up out streak. They have not been playing as well as I think they would have liked, but it is important for us to get on them quick and not let them build up their confidence.
Jon ((Lexington, Kentucky))
how frustrating is it to not be in a soccer specific stadium yet? Robertson has been great for some things, but the field is terrible.
Brian Ching
(3:11 PM)
Yeah, it's very frustrating. The franchise moved to Houston thinking we'd get a stadium deal done quickly and with the on-field success there are talks and we're getting one, but we wish it could have been done sooner. I do not want to sound like I am complaining, but it is ironic that SJ may get a stadium before us. But I am happy we moved to Houston. It was great for our franchise and helped us in our success.
Ryan (El Paso, TX)
What do you think about the progress of Jozy Altidore and partnering with him in future US Nat games?
Brian Ching
(3:13 PM)
You know I have limited chances playing with him, but with the way things went in our last game I am very excited about doing it again. He has tremendous potential and I think he could be one of the best attacking players to come out of the U.S. He has developed a good pace and hopefully that development continues and he becomes more of a go-to guy on the team in the future.
Jeremy (Seattle)
Brian, what do you think about the Sounders and their start to the season as an expansion team?
Brian Ching
(3:15 PM)
I think the whole Seattle franchise is fantastic. They have done a great job in motivating people in the city and generating excitement. From what I hear the ownership group is setting an example for how players should be treated in the league and all those things are helping them win games. I think they have done well in turf games. I think them playing well is good for the league and obviously Seattle. I am a little disappointed that the title game may be on turf, that is the only disappointment.
Jon (Houston, Texas)
What's the most important thing right now in the popularization of soccer as a major U.S. sport?
Brian Ching
(3:17 PM)
I think we have to continue to grow and get new franchises and build soccer specific stadiums and continue to build the American payer. The better the standard of the league gets the more attention will be drawn to it.
Brian Ching
(3:18 PM)
Thanks everyone for questions. Appreciate you guys following the sport and thank you for helping the sport grow in this country!