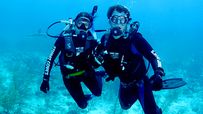 Booth swims with Matt Miller. Photo courtesy of Stuart Cove's.
Welcome to The Show! On Monday, Laurene Booth, one of the subjects in the latest E-Ticket, "
Back in the Water,
" will stop by to chat about her experience with a shark attack.
On April 25, 2008, nine triathletes entered the water off San Diego for what they thought would be an ordinary training swim. Only eight returned. A Great White shark attacked and killed 66-year-old triathlete Dave Martin, while another triathlete, Laurene Booth, swam feet away. The story tells the tragedy that connected and forever binds Booth with the family of the victim.
Send your questions now and join Booth on Monday at 3 p.m. ET!
MORE
Previous chat guests | SportsNation Index
Buzzmaster
(3:02 PM)
We've got Laurene!
Greg (Utah)
How did you find the strength to get back in teh water?
Laurene Booth
(3:04 PM)
I would say it's something that came from within partly. It's just my nature to move forward. It's the sport of triathlon as well. Also, just hte way that I was raised - to overcome challenges and not give up. Life throws you some curveballs and that was one of them. I choose to look at the glass half full.
Nick (Spokane)
Laurene, did watch the story on OTL/SportsCenter? If so, what was it like seeing it on TV?
Laurene Booth
(3:06 PM)
I did watch the story. It's been a year now and I really hadn't seen it a while. Yesterday, I pulled it up online and watched it there and read the story. It brought tears to my eyes. You forget some of the things that you experienced or you don't live it every day. But when you see it on TV, it's very powerful and emotional.
James (Fl)
How has all the publicity affected your personal life?
Laurene Booth
(3:07 PM)
It hasn't affected my personal life. We're really proud of the story and of the people involved with us. In some ways, I think it's helped people out there. To overcome the fear they may have. So many positives have come out of this, it's hard not to share that with others.
Jake, San Jose, CA
You're an inspiration. After all you went through, can you talk about your decision to go scuba diving with sharks? Also, do you still have any fears in the water now? Thanks!
Laurene Booth
(3:10 PM)
We were in the Bahamas on a vacation. We were going to go scuba diving anyways. Matt and I like to go scuba diving. Oddly enough, the instructor on the boat, decided to change the location to one with sharks. They offer one with sharks, but that's not what we signed up for. They said to everyone on the boat that we're going to go somewhere with sharks. Everyone was excited, but I looked at Matt and wasn't OK. Long story short, I made the decision to do it and he came with me. The instructor told us that there was a woman from Australia who had been attacked by a shark and came back here and got in the water to overcome her fear. The hardest part was being lowered down in the water, seeing the sharks. It wasn't easy, but I'm glad I did it. I think there will always be a fear of the water, but I don't let it cripple me.
Dan (New York)
Laurene, were you more scared in the water that horrible day for your own life, seeing the shark, or for your friends life?
Laurene Booth
(3:12 PM)
I think I was just scared in general. It's not so much a fear for yourself or anyone else, just an overall panic. You just go into shock. I went into a mode of how do I get through this. My mind went through very primal thoughts. Swim, kick, hold him up. How can I get this man to safety as soon as possible.
Wes (Idaho)
How many traithlons have you been involved in?
Laurene Booth
(3:12 PM)
Last year alone, we did 10 after the shark attack. It's probably up into the 20 area now. I'm not sure exactly, but a lot.
Clay (Charlotte)
Laurene, I love Scuba diving and have a picture a nurse shark (I know not dangerous) under me and did a fresh water dive with some alligators. What drew you diving and how do you react when people tell you they will never dive because of the dangers, i.e. sharks?
Laurene Booth
(3:14 PM)
I just go back to the way I choose to live my life. I won't live in fear. The odds of something happening are so slim, I'd rather take that risk and not miss out on the beauty of life. I'm not taking any extra risks. I think scuba diving is a really great thing and shouldn't be avoided just because something might happen.
Brad (Gadsden,Alabama)
How many hours do you train a day?
Laurene Booth
(3:16 PM)
It varies depending on my personal life. I don't give 100% of my time to the sport, but I try to get it in whenever I can. I do the long workouts on the weekend. And I do my spinning workouts early in the morning.
Andrew, Austin
They don't have sharks in Oviedo or Tallahassee! Enjoyed reading your heroic adventure and congratulate ESPN on bringing your story to the surface for anyone that might be affected in similar tragedy.
Laurene Booth
(3:16 PM)
That's really nice. Thank you.
Todd: Simsbury, CT
Laurene, My wife and I vacationed in Australia two years ago and were witness to a shark attack to a snorkeler. I'll never forget what I saw that day and still struggle to this day to get back in the water. Watching your story yesterday was inspiring and amazes me how mentally strong you must be. I wish you the best.
Laurene Booth
(3:19 PM)
Thank you. I really appreciate that. I think anybody can overcome adversity. You see it every day, if you see someone battling cancer or something. I feel that I am lucky. I walked away that day. I have a chance to live. To answer everyone's questions about how I live my life and how can I go on...shouldn't I be? I have a lot of living to do. It's easy to be inspired by someone that's dealing with something on a daily basis. I don't know if anyone's read the in depth article on ESPN.com by Tom Friend. He went into some things in my personal life, like my parents dying before I was 21. I went through some things and it was either sink or swim and I'd rather swim.
Laurene Booth
(3:21 PM)
There's a memorial fund set up in Dave Martin's name. If you go to http://www.triclubsandiego.org/ you can find information on it. And thank you to everyone that's reached out. I've heard from people that I don't even know or others that I haven't heard from in years. I'm really thankful to be surrounded by so many lovely people.