NBA's 65 in 65: Charlie Bell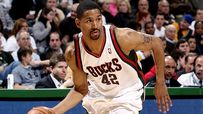 Bell stops by SN to talk NBA playoffs.
Welcome to The Show! On Friday, we continue our 65 in 65. That's
65 NBA chats in 65 days
. We will hold an NBA chat each day through the end of the NBA Finals. We'll bring you players, analysts, writers, anyone who can help you fill your NBA fix. Friday's guest is Milwaukee Bucks guard Charlie Bell.
Bell signed with the Milwaukee Bucks for the 2005-06 season, where he recorded his first career triple-double with 19 points, 13 assists, and 10 rebounds in a win over the Suns. As a steady backup guard, he has career averages of 9.5 points
and 2.6 assist per game.
Send your questions and join Bell at noon ET on Friday!
Watch the NBA Playoffs on ESPN & ABC and the Finals on ABC.
MORE
65 NBA chats in 65 days | NBA playoff Index | SportsNation Index
Jerry (Dallas)
Do you think the Rockets can win three games at home?
Charlie Bell
(12:04 PM)
I think the Lakers are going to win it all so I think the series is going to go six games. The Rockets might win one game at home but they don't have enough fire power to win the series.
Ray (Decator, GA)
Will Atlanta win at least one game at home or will it be a Cleveland sweep?
Charlie Bell
(12:05 PM)
I think it's going to be a Cleveland sweep. Atlanta had no life in their first tow games and now their best player Joe Johnson might be out or on at 100% with the sprained ankle.
Mike (Boston)
Who do you see winning the Orlando/Boston series?
Charlie Bell
(12:06 PM)
That' s tough one but I think I'll have to go with Orlando. They look one game from the Celtics in Boston and I don't see them losing at home. Howard is too much for them in the paint without KG.
Larry (Texas)
Will the Mavs win at least one game in Dallas?
Charlie Bell
(12:07 PM)
I think so. Dallas has a lot of offensive fire power and teams like that play well at home. I think this is a series that can go seven games but Denver wins it.
Yammy (Milwaukee)
What do you think about this year's playoffs? Too physical?
Charlie Bell
(12:09 PM)
I don't think it's been to physical, for the most part it's been really competitive. This is want you want to see from the playoffs. Teams playing hard to hopefully win a championship. I don't think you'll find many players complaining either. They like playing this brand of basketball. Iit wouldn't be the playoffs without it.
Sarah (Miami, Fla. )
What do you say to yourself when you watch LeBron and Kobe play?
Charlie Bell
(12:11 PM)
(laughing) I'm in amazement when I watch them. They're both to very physical players and are two are the best athletes in the world. I love to watch them just to see what they will do next.
Justin Behling (Boyceville, WI)
With Michael Redd back next season, will you guys be serious contenders?
Charlie Bell
(12:13 PM)
I think we have to take it one step at a time. We need to focus on making the playoffs then you can look at having home court advantage and things like that. Coach Skiles is a great coach and I see him leading us to great things in the future.
Shayne - Syracuse, NY [via mobile]
Mr. Bell, In your opinion... What is the best single aspect of your game and what part of your game needs the most improvement?,
Charlie Bell
(12:15 PM)
I think the best thing about my game is my defense and being versatile. I'm able to play both the one and two guard positions. I need to work on everything. There is always a part of my game that could use improvement and I'm going to continue to work hard and get better.
Terry (Portland)
Charlie, did you keep that ball after recording your first triple double? Tell me it's not in the garage!
Charlie Bell
(12:16 PM)
(laughing) I did keep the ball and the sneakers that I was wearing that game. They're both seating here with me. Hopefully I'll get a couple more to add to it.
Kendall-Boston-Massachusetts
Whats the most amazing moment in your career?
Charlie Bell
(12:17 PM)
Winning the National Championship in 2000. It's something that we worked hard for as a team and it's something that nobody can ever take away from me.
joseph (tacoma, wa)
What is like going against Lebron? Is there anyway to stop him?
Charlie Bell
(12:19 PM)
When we played him this past season, I think he had 50 points. The was hitting deep three's and when he's hot, it's hard to stop him. He's a tough guy to guard becuase of his unique size and quickness.
Kyle (Nevada)
If you could play next to anybody in the league, who would you choose?
Charlie Bell
(12:21 PM)
LeBron ...he's great at finding open teammate. I talked to Mo Williams and he told me how LeBorn makes that game so easy with his scoring and passing. LeBron is a guy that gets along with his teammates is a great all around guy!
matt (massillon,ohio)
who's winning it all this year?
Charlie Bell
(12:22 PM)
I'm going with the Lakers. Kobe is one of the best players in the league and he has a great supporting cast. I see the Cavs giving them a tough run but I think the Lakers are deeper and more experienced.
Charlie Bell
(12:23 PM)
Thanks for the great questons. Keep an eye out for the Bucks next season!