NBA's 65 in 65: Charlie Bell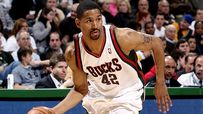 Bell stops by SN to talk NBA playoffs.
Welcome to The Show! On Friday, we continue our 65 in 65. That's
65 NBA chats in 65 days
. We will hold an NBA chat each day through the end of the NBA Finals. We'll bring you players, analysts, writers, anyone who can help you fill your NBA fix. Friday's guest is Milwaukee Bucks guard Charlie Bell.
Bell signed with the Milwaukee Bucks for the 2005-06 season, where he recorded his first career triple-double with 19 points, 13 assists, and 10 rebounds in a win over the Suns. As a steady backup guard, he has career averages of 9.5 points
and 2.6 assist per game.
Send your questions and join Bell at noon ET on Friday!
Watch the NBA Playoffs on ESPN & ABC and the Finals on ABC.
MORE
65 NBA chats in 65 days | NBA playoff Index | SportsNation Index