NBA's 65 in 65: Arron Afflalo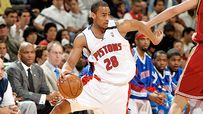 Afflalo was co-winner of the 2009 Haier Shooting Stars Competition.
Welcome to The Show! On Thursday, we continue our 65 in 65. That's 65 NBA chats in 65 days. We will hold an NBA chat each day through the end of the NBA Finals. We'll bring you players, analysts, writers, anyone who can help you fill your NBA fix. Thursday's guest is Detroit Pistons guard Arron Afflalo.
In his second year in the NBA, Afflalo has proved to be a steady backup guard for the Pistons. In 149 career games, he has averaged 4.3 points while shooting 42.5% from the field.
Send your questions now and join Afflalo on Thursday at 2 p.m. ET!
Watch the NBA Playoffs on ESPN & ABC and the Finals on ABC.
MORE
65 NBA chats in 65 days | NBA playoff Index | SportsNation Index
Cody ( Greenback TN)
Hey man, which team did you have more fun playin on, the pistons or ucla, and why?
Arron Afflalo
(1:56 PM)
They both have been fun. I had great times in college hanging around my teammates and it's been the same way in Detroit.
Matthew (Ann Arbor, MI)
Arron - Love your style of play man. How is it working with Joe Dumars?
Arron Afflalo
(1:58 PM)
It's going good. We didn't have as much success that we anticipated this year but he expects everyone to get better and come out next season and work even harder.
Steven (NJ)
If not you, who was the coolest last name in the NBA?
Arron Afflalo
(1:59 PM)
(laughing) That's a tough one!
Sagar Wade (Irvine, CA)
Hi Arron, big fan here especially back in your UCLA days with Jordan Farmar. Do you guys still keep in touch?
Arron Afflalo
(2:00 PM)
We do. It's tough during the season because we are both busy but we talk when we get the chance to play against each other. I do see him a lot in the offseason when I come back home.
Gabe (ohio)
which player has been the hardest to guard for you?
Arron Afflalo
(2:01 PM)
I would say LeBron James has been the hardest player for me to guard.
Justin Behling (Boyceville, WI)
Who would you say is currently the best player overall in the game today?
Arron Afflalo
(2:01 PM)
There are two, Kobe and LeBron.
Steven (NJ)
What is your favorite moment of your career?
Arron Afflalo
(2:02 PM)
Just being drafted until I win a championship.
Armando, Warsaw, IN
Who is the NBA player you respect the most and ask for advice?
Arron Afflalo
(2:03 PM)
I respect all my teammates especially Richard Hamilton. He's always a high energy person and is someone that I can talk to and get advice from on a daily basis.
Craig (GPW, MI)
what is your favorite arena to shoot in?
Arron Afflalo
(2:04 PM)
The Palace ...I love playing at home.
Jack(IN)
What is the big difference from playing college ball at ucla, and playing pro basketball with the Pistons?
Arron Afflalo
(2:05 PM)
Just the size and athleticism of the players overall. The biggest difference for me personally is my role on the Pistons and just trying to get better everyday.
Phil, Waukegan IL
How different do the NBA refs call the game vs NCAA?
Arron Afflalo
(2:06 PM)
It's a lot less physical on the perimeter but a lot more physical down low. You can't really touch NBA guards to much.
LUIS( LAS VEGAS , NV)
IN A GAME OF 1 0N 1 WHO U THINK WILL WIN KOBE OR LEBRON?
Arron Afflalo
(2:07 PM)
Who ever gets the ball first!
Kyle (Kansas)
Are we looking at another Celtics-Cavs series?
Arron Afflalo
(2:08 PM)
It's tough because the Celtics are mentally tough and can win on the road. There is a strong possibility that they will play against each other again.
Ryan (VT)
Do you think the Lakers have the toughness to make it all the way?
Arron Afflalo
(2:09 PM)
I think they do. The can battle it out with whoever wins the East.
Bob(ATL)
What will you be working on the most over the summer?
Arron Afflalo
(2:10 PM)
Everything ...I just want to be a better overall basketball player next year.
Phil (LA)
People always talk about the intensity of playoff basketball. Just how intense is it?
Arron Afflalo
(2:11 PM)
It's defiantly more intense in the playoffs than it is during the regular season. You have more to lose in the playoffs, its win or go home so you have to come strong every night.
Andy (Denver)
Who would you rather have the ball in the final seconds - Kobe or LeBron?
Arron Afflalo
(2:12 PM)
Kobe without a doubt.
Will (WV)
Would you say that the East is the more dominant/exciting conference to watch this year?
Arron Afflalo
(2:13 PM)
Not necessarily. It depends on what you enjoy watching as a fan.
James (Florida)
Did Allen Iverson have any impact on you as a player?
Arron Afflalo
(2:14 PM)
He did. He's a great teammate and you can see his attitude as a scorer. I saw what made him so successful throughout his career.
Arron Afflalo
(2:14 PM)
Thanks for taking the time to join me. Enjoy the rest of the playoffs. See you next year.