NBA's 65 in 65: Shaun Livingston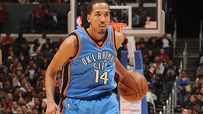 Livingston has battled back from injuries to return to the NBA.
Welcome to The Show! On Tuesday, we continue our 65 in 65. That's
65 NBA chats in 65 days
. We will hold an NBA chat each day through the end of the NBA Finals. We'll bring you players, analysts, writers, anyone who can help you fill your NBA fix. Tuesday's guest is Oklahoma City Thunder point guard Shaun Livingston.
In his first two seasons in the NBA, Livingston played a total of 91 games averaging 6.3 points per game. In his third year, he increased his average to 9.3 ppg as the team won 40 or more games in back-to-back seasons for the first time since 1991-93.
In February 2007, Livingston suffered a devastating left knee injury tearing his ACL, PCL, and lateral meniscus, badly spraining his MCL and dislocating his patella and his tibia-femoral joint. The injury kept him out of the rest of the 2006-07 season and all of 2007-08.
Since returning to the league this past year, Livingston has played for the Miami Heat, Tulsa 66ers of the NBDL and now the Oklahoma City Thunder.
Send your questions now and join Livingston on Tuesday at noon ET!
Watch the NBA Playoffs on ESPN & ABC and the Finals on ABC.
MORE
65 NBA chats in 65 days | NBA playoff Index | SportsNation Index
Mo (Baton Rouge, LA)
Not including yourself, who is the best point guard in the league today?
Shaun Livingston
(11:57 AM)
Overall my vote has to go for Chris Paul. He does a lot for the Hornets. If you took him off that team, we don't know how many games they will win.
James (Trenton, NJ)
Who is the best point guard this playoffs?
Shaun Livingston
(11:57 AM)
The best point guard in the playoffs is Chauncey Billups. He has his team playing great and they have the second best record in the playoffs behind the Cavs.
Justin Behling (Boyceville, WI)
Do you think the Lakers are going to go all the way?
Shaun Livingston
(11:58 AM)
I think the Lakers will get to the finals with a shot to win it.
Jesse (Fresno, Calif.)
Shaun, will the Nuggets vs Cavs be a good finals match up? Who do you think will win?
Shaun Livingston
(11:59 AM)
That would be a great matchup. If I had to pick, I think the Cavs would take that series. Home court advantage will be the key.
Sean
Oklahoma City looks like it has a bright future; what else besides experience do you guys need to be a playoff team? What kind of role do you see yourself in?
Shaun Livingston
(12:01 PM)
Besides experience, we definitely need team chemistry on both the offensive and defensive end. I see myself as an x-factor kind of guy. I can help the team win more games and take it to the next level my making it to the playoffs.
Shayne - NY [via mobile]
Shaun... What is the best part of your game and what could you improve on? Good luck next season, Thanks.
Shaun Livingston
(12:02 PM)
The best part of my game would still have to be my court vision and my feel for the game. The part I need to improve on would be my 3-point game and just shooting for range. Thanks!!!
Stevie
Shaun, You are my favorite player on the Thunder. What tips can you give me to help me improve my game?
Shaun Livingston
(12:03 PM)
Consistency, play with guys better than you, and just play on a regular basis.
Steven (NJ)
If the Thunder get the first pick in the draft, who do you think they should take?
Shaun Livingston
(12:04 PM)
It makes all around since to take Blake Griffin. He's from Oklahoma and he's the best all-around player in the draft.
Preston (Sin City)
If you could compare Kevin Durant to one player in the NBA who would it be..Ithink he reminds me of Kobe just needs some better D
Shaun Livingston
(12:06 PM)
If I could compare him to one player it would be Tracy McGrady. The both shoot well and can get to the rim.
Hez (Beaverton, OR)
I was curious Shaun what do u find is the easiest and most fun part of the NBA season and what's the most difficult?
Shaun Livingston
(12:07 PM)
The easiest and the fun part are the games. We your out there it's the best feeling in the world. The worst part is the traveling and practice.
Rajesh (Atlanta)
Do you think its fair to say that the Cavs have an easier run to the finals than western conference teams? Isn't winning eight straight games pretty difficult to do against any NBA competition?
Shaun Livingston
(12:10 PM)
The East is better this year but the more difficult road is in the West. Winning eight straight games in the playoffs isn't an easy task to pull off.
Derek (MO)
Feel good? hows the knee? Props on coming back from one of the worst looking injuries i have ever seen. Says something about your drive to be a pro
Shaun Livingston
(12:11 PM)
The knee is better than ever. It continues to feel better everyday. Playing in the NBA was a dream of mine and I feel that I can still play at a top level and that's what made me continue to work hard to get back on the court.
Steven (NJ)
What is your favorite moment of your career?
Shaun Livingston
(12:13 PM)
Outside getting drafted, playing in the playoffs was my favorite moment. The playoffs is the bet time of the season. It's when teams are most competitive.
Jason (Boston)
how would you grade the refs in the playoffs so far ?
Shaun Livingston
(12:14 PM)
I would give them a C. They can always do better bit it's tough. It's that playoffs and teams are out to play hard to win the championship.
Mike (New Jersey)
Lets play word association: I say LeBron James, you say...?
Shaun Livingston
(12:15 PM)
Dominate!
Shaun Livingston
(12:17 PM)
Check out my new movie Next Day Air which my production company Rock Capital films executive produced. Continue to watch these great playoffs! See you next season.