NBA's 65 in 65: Jamal Mashburn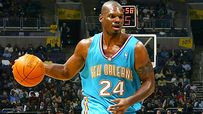 Mashburn is a one-time NBA All-Star.
Welcome to The Show! On Saturday, we continue our 65 in 65. That's
65 NBA chats in 65 days
. We will hold an NBA chat each day through the end of the NBA Finals. We'll bring you players, analysts, writers, anyone who can help you fill your NBA fix. Saturday's guest is former NBA forward Jamal Mashburn.
Nicknamed "The Monster Mash," Jamal Mashburn was a prolific scorer in his 12 seasons in the league, with a career scoring average of 19.1 points per game. Mash is only one of six players since 1970 to have averaged at least 20 points per game in his final NBA season, when he averaged 20.8 points in 2003-04.
Send your questions now and join Mashburn in chat on Saturday at 2:30 p.m. ET!
Watch the NBA Playoffs on ESPN & ABC and the Finals on ABC.
MORE
65 NBA chats in 65 days | NBA playoff Index | SportsNation Index
Buzzmaster
(4:43 PM)
On Saturday, Jamal Mashburn continues our 65 NBA Chats in 65 Days when he stops by SportsNation. Get all of your NBA playoff questions answered starting at 2:30 p.m. ET!
Mark (Canton,Oh)
Mr. Mashburn, If you could come back and play or a team in the playoffs right now, who would it be and why?
Jamal Mashburn
(3:02 PM)
I would go with the Boston Celtics. Reason is they are short-handed on forwards with Kevin Garnett and Leon Powe out, and I was versatile enough to play down low. And I was also a good scorer, so I could help out there. Rajon Rondo is also a Kentucky guy, so that would be a good match to work with him. And Doc, I like the way he connects with his players, because he used to be a player.
paul (ohio)
your finals prediction...which teams, who wins, in how many games?
Jamal Mashburn
(3:04 PM)
I have Cleveland and the Lakers. Cleveland has been very dominant at home and they're 6-0 in the playoffs. Mo Williams has taken a lot of pressure off LeBron with his shooting. Delonte West and Ilgauskus are also there helping out. The Lakers were bounced last year, and the knock on them was whether they were physical enough. But I think they're showing that they've got that with this Houston series. It's only right if we see Kobe and LeBron going at it. I think the Lakers will take it, though, because of their talent and they're too deep. You have to remember they're one of two teams to beat the Cavs on their home court this year.
Cameron (Tracy,California)
Can the Celtics reach the NBA Finals without Kevin Garnett?
Jamal Mashburn
(3:06 PM)
That would be a tough one because they're now down 2-1 to the Magic. They're not playing the same type of defense without Kevin Garnett. He was their big communicator on defense and could score on pick-and-rolls with Rajon Rondo. They're going to miss his production and passion on the court. Hedo Turkoglu has stepped up his game and they were able to beat the Celtics without Rafer Alston. Ray Allen has struggled, ans although Eddie House has stepped up off the bench, he's really the only one. It will be difficult for them to reach the Eastern Conference finals, let alone the NBA Finals itself.
steve (my house)
is lebron james the best player in the nba
Jamal Mashburn
(3:08 PM)
He's definitely deserving of the MVP and he's also first-team defense. He still has some holes in his game, but he's only 24. But I think Kobe is still the best player. His offensive game is great. Kobe is still the best, but LeBron is closing in. But if I had a last shot, I'm giving it to Kobe.
Dylan(Atlanta)
whats your take on the Hawks-Cavs game tonight? can Atlanta win?
Jamal Mashburn
(3:09 PM)
Yeah, the Cavs. They're on a mission. Whenever you have your best player setting the tone, it becomes pretty easy. They had a bunch of days off, and the Hawks are pretty banged up. Even if they were healthy, it would be tough on their home court. It probably won't be a blowout, but I like the Cavs in Game 3.
FlaMarcus (NY)
Do you think the Nuggets will sweep the Mavs or can they win at home today?
Jamal Mashburn
(3:11 PM)
I think they can get a game or two. But the Nuggets have too much depth and they are too physical. Denver has a better bench, even though the Mavs have the Sixth Man of the Year with Jason Terry. But the Nuggets have J.R. Smith and Chris Andersen. I don't think the Mavs have enough, especially with Josh Howard banged up with his ankle issues. Nene is playing great basketball and scoring 24 ppg this series. Denver seems to be showing people what type of talent they have on defense and while still scoring big numbers.
James Upham (Asheville)
Was Ron Artest's flagrant 2 foul on Pau Gasol really a flagrant 2?
Jamal Mashburn
(3:12 PM)
I didn't think it should have been a flagrant. It was just a hard foul, but his reputation gets in the way some times. If it was the early 2000s, it would have just been a regular foul. Artest has grown up a bit and really kept his cool. So I don't think he should have been ejected.
Justin Behling (Boyceville, WI)
What is your prediction for game 4 of the HOU-LAL series?
Jamal Mashburn
(3:14 PM)
It really depends on Yao Ming's health. When he scores 20-plus points, the Rockets' offense really moves, as he sets up all the shooters on the outside and Shane Battier and Ron Artest. When you take a 7-3 guy out of the game, it really makes a difference. They have a lot of system guys, so depending on Yao's health, I'm going to take the Lakers. It's tough to beat a defensive-minded team on their home court, but I like the matchup with Lamar Odom on Luis Scola. So I'm going with the Lakers.
Cornfed (Lorain, Ohio)
Do you think the Cavs will lose more then three games in this post season?
Jamal Mashburn
(3:17 PM)
I'm not sure Atlanta is going to get a game, but we'll give them a game. We'll say Orlando gets out of their series, and they could definitely take two or more. But to me, it's all about advancing. The Cavs are not invincible, and the Cavs got full of themselves earlier in the year and lost some games. But I don't think they'll get put out in the East and be on their way to the Finals against the Lakers. They're capable of losing a few games but I don't see them losing a series on the way to the Finals.