NBA's 65 in 65: Eddie Johnson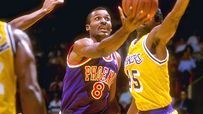 Johnson currently serves as the color analyst for the Phoenix Suns.
Welcome to The Show! On Friday, we continue our 65 in 65. That's
65 NBA chats in 65 days
. We will hold an NBA chat each day through the end of the NBA Finals. We'll bring you players, analysts, writers, anyone who can help you fill your NBA fix. Friday's guest is former NBA guard/forward Eddie Johnson.
Johnson spent 17-seasons in the NBA playing for six different teams. His 19,202 career points ranks 45th all-time and his 1,199 games played ranks 26th all-time. In just his rookie season, Eddie was voted as the NBA's Sixth Man of the Year.
Send your questions now and join Johnson on Friday at 11 a.m. ET!
Watch the NBA Playoffs on ESPN & ABC and the Finals on ABC.
MORE
65 NBA chats in 65 days | NBA playoff Index | SportsNation Index
Buzzmaster
(11:03 AM)
Eddie is on his way!
Eddie Johnson
(11:07 AM)
This is one of the best NBA playoff runs I've seen in the past 10 years. It's been enjoyable to watch.
Sam (Houston)
Who do you see winning game seven between the Rockets and Lakers?
Eddie Johnson
(11:08 AM)
The home team usually wins elimination games so the Lakers are the favorite. They showed that they can win at home by beating the Rockets by 40 in game 5.
Larry (Boston)
Will Boston win at home to take another seven game series?
Eddie Johnson
(11:10 AM)
It goes back to the home teams winning at home. I think Celtics are tied and that the Magic will take game seven in Boston.
Kobe (Los Angeles, CA)
What's going on? We were supposed to run through the playoffs to the finals and destroy every team in our path. I'm at the point where I don't even think we can take down the Nuggets. What do you think?
Eddie Johnson
(11:12 AM)
(laughing) I don't think you can beat the Nuggets if you get past the Rockets. They still aren't a physical team and that's how they lost in last year's finals. The Lakers can handle playing a series against a physical team and they will do them in this year either against the Nuggets or the Cavs who I pick to win it all.
Manny (Clevland, Ohio)
Do you see the Cavs losing a game before the NBA Finals?
Eddie Johnson
(11:14 AM)
They better. I think that's fools gold to think that they will continue to win. They might be feeling invincible right now and that's when you left your guard down. I do see them losing a game in the Eastern Conference Finals and in the Finals but I do have them winning a championship this season.
Sharon (New Orleans)
Have you seen the new LeBron and Kobe commercials? What do you think of them?
Eddie Johnson
(11:16 AM)
I haven't paid attention to them but they look quite silly to me but it's fitting that they are involved in the commercials. They are the two best players on the planet and a joy to watch.
Joedan (Charlotte, NC)
Who is the best player you've ever played with? Against?
Eddie Johnson
(11:20 AM)
I can't say one but they best teammate would be Nate McMillan, Derek McKey and Charles Barley because they were the most unselfish players I've ever played with. Magic Johnson, Michael Jordan and Larry Bird were the best players that I've ever played against but the toughest person for me to guard was Kiki Vandeweghe.
Mike (Ohio)
Eddie, you've hit a buzzer beater in a playoff game before. If you were a coach now what current player would you want to take a last second shot for your team?
Eddie Johnson
(11:21 AM)
I wanted to shoot it every time I got the ball. You can't be a hero if you don't attempt to be. We've seen a lot of big shots in this playoffs form Ben Gordon, Glen Davis, and Carmelo Anthony.
Jake (Chicago)
If you were running the Bulls, what would you do this offseason? What would you do with Ben Gordon?
Eddie Johnson
(11:23 AM)
I would keep Gordon. I think the message that he sent to the Bulls and the rest of the league in the first round shows that they should keep him. They need to add a veteran shooter and center, they will be a team to beat next year in the east.
April (Atlanta)
How big has Aaron Brooks been for the Rockets? He's the reason the series is tied 3-3.
Eddie Johnson
(11:24 AM)
He is! He is the new Calvin Murphy in Houston. He's a small guy that plays as if he was 6'10. The Lakers can't guard him and he's exploiting them. He should be a very good player for years to come.
BJ from Illinois
Eddie, What is your favorite moment from your time spent in college at Illinois, and also from your time spent in the NBA?
Eddie Johnson
(11:26 AM)
Being at Illinois was one of the best times in my life and that's why I encourage kids to go to college. My biggest moment in college was hitting a buzzer beater against Magic Johnson and Michigan State when they were ranked No. 1 and we were No. 2. My favorite moment in the NBA was getting drafted.
Eddie Johnson
(11:29 AM)
Hope you continue to enjoy this great playoff run. It's one of the best post seasons that I've see in any sport in a while. Thanks for the questions!