NBA's 65 in 65: Scott Hastings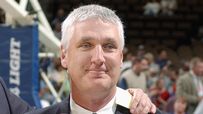 Hastings was a NBA Champion with the 1989-90 Detroit Pistons.
Welcome to The Show! On Saturday, we continue our 65 in 65. That's
65 NBA chats in 65 days
. We will hold an NBA chat each day through the end of the NBA Finals. We'll bring you players, analysts, writers, anyone who can help you fill your NBA fix. Saturday's guest is former NBA center/forward Scott Hastings.
An 11-year veteran of the NBA, Hastings played for five different teams including the Knicks, Hawks, Heat, Pistons, and Nuggets. While with the Pistons, Scott won a NBA Championship defeating the Trail Blazers four games to one.
Currently Hastings co-hosts a daily sports talk radio show on KOA in Denver. He is in his fourth season as a play-by-play analyst for the Denver Nuggets and in his sixth season as the color analyst for the radio broadcasts of the Broncos. It is believed that he is the only person in existence to possess two Super Bowl rings and an NBA Championship ring.
Send your questions now and join Hastings in chat on Saturday at noon ET!
Watch the NBA Playoffs on ESPN & ABC and the Finals on ABC.
MORE
65 NBA chats in 65 days | NBA playoff Index | SportsNation Index
Buzzmaster
(5:19 PM)
Former NBA player Scott Hastings stops by on Saturday as the NBA world prepares for two Game 7s this weekend! Send in your questions now, and then tune into the chat on Saturday at noon ET!
Frank (N.Y.)
Are you really the only guy to have two NFL rings and one NBA one? Was their any difference between receiving one in a different sport?
Scott Hastings
(12:05 PM)
The fallacy was that I got two rings so I let it stay there. But me and my partner got a watch for the first time and the second time it was cufflinks. But in essence, I don't really have two rings.
Jessie (Penn.)
How has the league changed since you left?
Scott Hastings
(12:07 PM)
The difference is, overall, the athletes are deeper per team. By that I mean there are more athletes in the league. But there aren't as many students of the game. There are smart guys, but there used to be a bunch of guys who went on to become coaches after. I'm not sure Bill Laimbeer can survive in today's league. I'm not sure if I could have played. I can still shoot the ball better, but you can't give any hard fouls or play the same way.
Jayme (Cambridge City, Indiana)
What in the world is going on with the Lakers? I mean, they were everybodies favorite in the west and they seem to be falling apart. It's almost like they're not together.
Scott Hastings
(12:09 PM)
It's hard to figure out. Houston fans and the Rockets may argue against this, but the Western Conference still goes through L.A. But the curious thing has been how they played in Game 1. And then the total disappearances in Game 6 and Game 4 are absolutely baffling. I don't know if it is fatigue with the inevitable or lack of focus, but Houston has made it interesting. It's interesting to me because, as a basketball fan, the Rockets have been able to compete with just a bunch of guys who aren't stars, are playing as a team and are focused.
Rob (New York)
Do you think that the Denver Nuggetscould go all the way?
Scott Hastings
(12:11 PM)
I think every team that is still playing can go all the way. You don't get to the conference finals if you're not doing something right. Both teams hoping to play Cleveland can. But a sprained ankle by Isiah here, foot injury to Bird, injury to Magic -- you don't know what's going to happen. Especially when you get down to the end of the series. Denver has to play relentless, focused basketball with great intensity. They need to really bring the focus on defense because when they become just an offensive team, that's when they struggle.
Mike (Kentucky)
who's you your favorite post player to watch in the league?
Scott Hastings
(12:13 PM)
I think the true art of posting up is by the wayside. The Kevin McHale, Hakeem Olajuwon, back-to-the-basket player -- there isn't a lot of them. I like Dwight Howard. He's one of my favorite to watch, but even he has parts of his game that need improvement. I know like I sound like a homer here, but the guy I like is Nene. He's the closet to Karl Malone, and is a player that can slash to the basket. And Tim Duncan can pretty much post-up against anybody.
Jon (London, England)
Who do you think was the most dominant player this year in the NBA?
Scott Hastings
(12:14 PM)
It's gotta be LeBron. You can look at his size and build, and where Cleveland is. But I think he's taken leaps and bounds in his mental approach in the game. A few weeks ago he gave credit to Garnett and watching him make people better in Boston last year. To understand that there's more to running, jumping and slamming. He has a chance to be as good a player the world has ever seen. The key is he has to win some championships, because otherwise he'll just be another player who was dominant as an individual and not as a team.
Dan (Denver)
Where would a Nuggets championship rank among all-time Mile High City sports moments?
Scott Hastings
(12:16 PM)
Well, Denver is still a Bronco town. And as great as it was when the Avs won, it didn't compare. I think fans have been shocked by the fervor of the team's play this year. An NBA team hasn't won in 42 years here. I don't know if you can rank one above another, but the Broncos do probably get top billing. It would be up there, though.
Dan (Denver)
Better No. 7, chauncey or elway?
Scott Hastings
(12:18 PM)
John Elway is a top-two quarterback of all time. But the last people to go to seven straight conference finals were named Jabar, Magic and Cooper. And the guy to do it with multiple teams was Chamberlain. He's already put himself in that upper echelon with those guys. Those writers that didn't put him on an all-pro team, they didn't see the impact he had on this team. He should have been in the top 5 in MVP. I don't think there's a more important player to his team.
Tristan (Bronx, NY)
Do you think Denver deserves a WNBA franchise and would you be the voice of it?
Scott Hastings
(12:20 PM)
I coached girls high school basketball for two years, so I would love to be affiliated with it, whatever it might be. I appreciate the women's game. Look what Laimbeer has done. Forget being the voice of it, I may want to be the coach.
King Feds (Providence, RI)
What was the greatest individual memory of your career? Did you get dunked on a lot by 'Nique in practice with the Hawks?
Scott Hastings
(12:22 PM)
First of all, 'Nique dunked on everyone in practice. We basically had his shoe stamp on our foreheads. He definitely got robbed in those dunk contests he lost. But my greatest moment came with Chuck Daly. We were having a team dinner at the end of the season. We had just got swept and he looks over to me and says, "I probably should have played you more. But you never complained and I want you to know how much I appreciate it." I've won a championship, been on an expansion team and all these other things. But to have someone that's special to me say something like that has stuck with me. That's my badge I've worn for a long, long time. That's probably my greatest moment.
Scott Hastings
(12:23 PM)
Don't be afraid to jump on the Nuggets bandwagon, everybody. Even if you live in Minnesota. See ya, guys!