NBA's 65 in 65: Tim Legler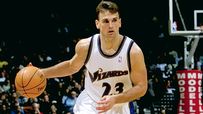 Legler played 11 years in the NBA.
Welcome to The Show! On Tuesday, we continue our 65 in 65. That's 65 NBA chats in 65 days. We will hold an NBA chat each day through the end of the NBA Finals. We'll bring you players, analysts, writers, anyone who can help you fill your NBA fix. Tuesday's guest is former NBA player, and current ESPN NBA analyst, Tim Legler.
Legler played 11 seasons in the NBA, four with Washington. He is a career 43% shooter from 3-point range, ranking fourth in league history. His 52.2% in the 1995-96 season is the second best all-time 3-point percentage for one year.
Tim joined ESPN in 2000 as a studio analyst for ESPNEWS. He also appears regularly as an analyst of ESPN2's NBA Fastbreak Tuesday, a weekly whip-around show that takes viewers to live NBA games across the country, and NBA Fastbreak.
Send your questions and join Legler at 3:30 p.m. ET on Tuesday!
Watch the NBA Playoffs on ESPN & ABC and the Finals on ABC.
MORE
65 NBA chats in 65 days | NBA playoff Index | SportsNation Index