NBA's 65 in 65: Tim Legler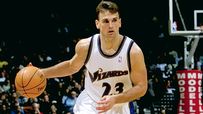 Legler played 11 years in the NBA.
Welcome to The Show! On Tuesday, we continue our 65 in 65. That's 65 NBA chats in 65 days. We will hold an NBA chat each day through the end of the NBA Finals. We'll bring you players, analysts, writers, anyone who can help you fill your NBA fix. Tuesday's guest is former NBA player, and current ESPN NBA analyst, Tim Legler.
Legler played 11 seasons in the NBA, four with Washington. He is a career 43% shooter from 3-point range, ranking fourth in league history. His 52.2% in the 1995-96 season is the second best all-time 3-point percentage for one year.
Tim joined ESPN in 2000 as a studio analyst for ESPNEWS. He also appears regularly as an analyst of ESPN2's NBA Fastbreak Tuesday, a weekly whip-around show that takes viewers to live NBA games across the country, and NBA Fastbreak.
Send your questions and join Legler at 3:30 p.m. ET on Tuesday!
Watch the NBA Playoffs on ESPN & ABC and the Finals on ABC.
MORE
65 NBA chats in 65 days | NBA playoff Index | SportsNation Index
MIke Absecon, NJ
Hey Tim, if it was Carmelo vs. LeBron in the NBA Finals would anyone watch?
Tim Legler
(3:33 PM)
Yes, I think people realize that would be high quality basketball. We might loose the fans you aren't big time NBA fans but the hardcore fans wouldn't mind it.
Brent (Australia)
How worried are the NBA, NIKE and VITAMINE WATER right now that there is a very good chance there could be a Orlando vs Denver finals series?
Tim Legler
(3:34 PM)
(Laughing) Clearly there are a lot of people who are hoping for a Kobe vs. LeBron NBA Finals but I don't think the quality of basketball would be any less with Orlando vs. Denver.
Norm (Honolulu, HI)
Hey there 'Legs ...should the Lakers fall short this post-season, and I'm not saying they will, do you forsee Kupchek making any significant efforts to revamp the bench and possibly PG positions? (i.e. efforting to move Walton, Sasha, sign/trade Odom, and move Fisher to the front office or bench) Thanks.
Tim Legler
(3:36 PM)
I think the Lakers will make some changes if they fail to win a championship this year. They need help on the front line more than they need help at the point guard position. They have no depth up front and they need to add some toughness.
Phil Knight (Portland, OR)
Is it too late to get some Superman and Carmelo puppets?
Tim Legler
(3:37 PM)
(Laughing) No, I think they should make puppets of Carmelo, Dwight, Kobe, and LeBron and have them playing together because it's up in the air on which teams will be playing in the NBA Finals.
The NBA (New York)
Why are fans upset with our instant replay system?
Tim Legler
(3:39 PM)
I didn't know fans were upset with it. I haven't heard anything about it. I think everything that it's supposed to be used for, it is used for and it doesn't delay the game.
Stan (Las Vegas, NV)
How much of a seer is Charley Barkley for picking Denver way back when?
Tim Legler
(3:40 PM)
I'm not sure how far back he picked Denver. I think he picked them after they won in the second round. The Nuggets started playing their best basketball at the end of the season and that showed people that they have a chance to win it all.
Anthony (Los Angeles)
Who would you put as your top five NBA players right now? Here's mine: 1: Kobe Bryant 2: LeBron James 3: Dwayne Wade 4: Carmelo Anthony 5: Chris Paul Thanks!
Tim Legler
(3:42 PM)
1. LeBron James. 2. Kobe Bryant, 3. Dwyane Wade, 4. Chris Paul, and 5. Carmelo Anthony.
Doug (Dallas)
Hi Tim! I keep hearing commentators saying Sasha is struggling to find his shot. When did he ever have a shot to begin with? Outside of last year his % shooting was pathetic. Is it possible he never had a shot to begin with?
Tim Legler
(3:44 PM)
He's always been a very streaky shooter but there has been times when he is a very big three point threat for the Lakers. He just lost his confidence and needs to gain it back.
Mitch (Orlando, FL)
Hey Tim, how much is the "match-up" issue for real in both series'? Does Orlando give the Cavs that much of a problem?
Tim Legler
(3:45 PM)
I don't think the matchup problem is a big as it's made out to be. The biggest problem for the Cavs in this series is that they are reverting back to relying of LeBron to do too much.
Cursed Cleveland (Cleveland, OH)
Are we more cursed than the Cubs?
Tim Legler
(3:47 PM)
(Laughing) I don't think the curse in Cleveland is as bad as the Cubs curse. The Cavs have the best player in the NBA with most of his career ahead of him. I think Cavs fans should feel fortunate.
Isaiah (Detroit)
Don't you find it funny that when the Lakers lose there's ALWAYS some excuse afterwards? now it's the Nuggets are dirty and the refs gave them all the calls. I'm assuming if they win Game 5 you won't hear any whining, at least Denver has manned up after both of their losses, your thoughts?
Tim Legler
(3:49 PM)
I agree that the Lakers need to just concentrate on playing with more energy and passion and worry less about the refs and what the Nuggets are doing.
Matt H (Phx, az)
How about a BirdMan puppet?
Tim Legler
(3:50 PM)
(Laughing) I think it would be a great seller and it's a great idea. Chris Anderson needs to take advantage of his time in the spotlight and market himself anyway he can.
Mo Williams (Cleveland, Ohio)
How many threes do you think I hit tonight and are we going to win?
Tim Legler
(3:51 PM)
Well Mo, I think you need to show up and have a big game to support LeBron James. It doesn't matter how many threes you hit, you just need to score. I think the Cavs will win Game 4.
Noah (Champaign)
Legs, Where'd you get that tie this morning?
Tim Legler
(3:52 PM)
(Laughing) I remember the tie but I don't remember where I got it from. It's a David Donohue tie.
Tim Legler
(3:53 PM)
Everybody enjoy the game tonight and hopefully we can do this again soon!