NBA's 65 in 65: Leo Rautins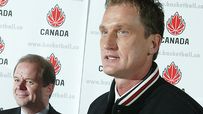 Rautins is the youngest player ever to play for the Canadian National team.
Welcome to The Show! On Wednesday, we continue our 65 in 65. That's
65 NBA chats in 65 days
. We will hold an NBA chat each day through the end of the NBA Finals. We'll bring you players, analysts, writers, anyone who can help you fill your NBA fix. Wednesday's guest is former NBA forward and current television analyst for the Toronto Raptors Leo Rautins.
Rautins was the first Canadian ever drafted in the first round of the NBA Draft going 17th overall to the Philadelphia 76ers in the 1983 Draft. Bothered by knee problems, he played in 28 games as a rookie with the Sixers and four games the following
season for the Atlanta Hawks before leaving the NBA
to play in Europe.
After retirement, Rautins became a basketball commentator with the Toronto Raptors television network. As member of Canada's Basketball Hall of Fame, he was named head coach of the Canadian National Team in February, 2005.
Send your questions now and join Rautins in chat on Wednesday at 11 a.m. ET!
Watch the NBA Playoffs on ESPN & ABC and the Finals on ABC.
MORE
65 NBA chats in 65 days | NBA playoff Index | SportsNation Index
Buzzmaster
(11:01 AM)
We're getting Leo right now!
Justin Behling (Boyceville, WI)
Did you enjoy seeing Canada's own Steve Nash win not one, but two MVP awards?
Leo Rautins
(11:03 AM)
Absolutely! I think what made it most impressive is that he got his first MVP at 32. Then the next at 33. Most point guards at that point are on a steady decline. I think it was great for Steve, great for the country and just a phenomenal accomplishment.
Ajeya (Fairfax,VA)
How do you see the future panning out for the Raptors? It's becoming more likely that Bosh is going to leave the city in 2010 and the team has always had problems attracting big name free agents.
Leo Rautins
(11:05 AM)
I disagree that the Raptors have had problems attracting free agents. The Raptors over the years have had some very good players come through. I have a lot of trust in Bryan Colangelo's ability to evaluate the talent out there. As far as Chris Bosh, I think that Bryan is going to do his due diligence here to determine if it's better to try and sign him or better to try and trade him. Whatever the best scenario is for the team. Whatever's best for the Raptors, I think Bryan will try to do.
MIke (Absceon NJ)
Are the Cavs Done?
Leo Rautins
(11:06 AM)
Wow...They very well may be. I think what the stat was that only 8 teams have come back from 3-1 deficit. I have great respect for Stan Van Gundy and his coaching abilities. I think he's done a phenomenal job with this team. I Think people were misled by Orlando at the beginning of hte playoffs. They kind of limped into the playoffs. Hedo wasn't 100%, Lewis wasn't 100%. They were still figuring out how to play without Nelson. It's going to take more than LeBron to give Cleveland a chance.
Alec (Sewanee, Tn)
Out of the 4 remaining teams, who do you believe will inevitably win the title?
Leo Rautins
(11:07 AM)
Another question that in light of the current playoffs, I think all of the experts are banging their heads against the wall. I would not be shocked if it's a Denver-Orlando final. If you can pick the winner, I tip my hat to you.
Blake (Belleville, Ontario)
Do you think Carlos Delfino will be returning to the NBA to join the Raptors once again? Why did he have such an issue with Sam Mitchell?
Leo Rautins
(11:09 AM)
I think he'd like to return to the NBA. He's still got a sizable contract overseas. As long as he's getting paid, I think he's going to stay there. The big issue with a lot of players that go overseas is the financial struggle of teams over there and their ability to pay the big contracts. Unless he has an out in his contract to go back to the NBA, he's still the property of that team. I know he had a good experience with Toronto.
Mimi (New Orleans, LA)
Hi Leo, who are some of today's players you enjoy watching?
Leo Rautins
(11:10 AM)
I don't think I'm any different than most. I love watching Dwyane Wade, just because of his relentless aggressiveness going to the basket. Dwight Howard is just a physical speciman and you're just in awe watching him play. LeBron James is another one. After watching him, it's amazing that someone 270-280 can do what he does. Kobe, Chris Paul, and others, the NBA has so many great players right now that night in, night out you can watch so many great players.
Jesse (Toronto, ON)
Who do you see the Raptors drafting with the 9th pick?
Leo Rautins
(11:12 AM)
This is a tough pick. There's a lot of players that I think between 5-20 that there isn't a great amount of separation. To have the 10th pick is a tough one. The most obvious need right now for the Raptors is a backup point guard. There are a couple of good ones that may be around -- Ty Lawson, Johnny Flynn. The Raptors have a lot of needs, but that is one that they may be able to address with the 10th pick.
Brett Abbott
Being a commentator, What performance or shot stands out as the best that you have witnessed or called?
Leo Rautins
(11:14 AM)
Wow...That's a tough one. There are probably a couple, but in Vince Carter's second or third year he hit a game-winner in Boston. What stood out for me is that hte game slowed down tremendously. It seemed like 10 seconds instead of three. It's tough because there has been so many shots and so many plays, but that's one I remember because of that.
Mike (Ohio)
Mr Rautins, what was it like playing in the Big East?
Leo Rautins
(11:15 AM)
It was great. I had no idea that there was going to be a Big East when I transfered from Minnesota to Syracuse. Then this crazy conference came up. It was in some of the big media markets. It just took it by storm. I think the impact of the Big East in those early years is still bouncing around. It just had an enormous impact on college basketball.
Leo Rautins
(11:15 AM)
I think we set a national attendance record once a week my senior year.
May Tricks (Springfield)
What are the chances of Marion resigning with TOR? Do you think it would be a mistake to let him walk?
Leo Rautins
(11:17 AM)
I think it's more of a financial decision than anything else. In today's economy and the economy of the NBA is going to make Shawn's existing contract numbers impossible to go forward. He's not getting anywhere near $17 million. What he can get to make him happy is the key. I think the Raptors would love to have him. But the final factor is what he's expecting financially and are the Raptors going to be able to afford that.
rerun (su)
with the departure of flynn, devendorf, and harris, your son andy should play a much bigger role in the offense this year. are you excited to see how much he has developed? he was lights out last year.
Leo Rautins
(11:19 AM)
I appreciate the comment. Andy's working real hard. I think they're going to have a very good team. Along with Andy, all of their bigs are back. They have a freshman point guard coming in, Brandon Trish that is different than Flynn, but I think can be an impact freshman. And Wesley Johnson is a player that redshirted this year and transfered from Iowa State and was the conference's Freshman of the Year. He's going to have an impact on this team. There are several other players coming in that could have an impact. I'm expecting at least as good a year as they had last year.
Leo Rautins
(11:19 AM)
Hopefully done in less overtimes.
Leo Rautins
(11:20 AM)
I appreciate all the fans out there. I've had a lot of fun over the years and a lot of that is being able to talk to fans. Support is always appreciated it makes this job as fun as it is.