NBA's 65 in 65: Leo Rautins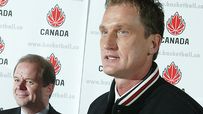 Rautins is the youngest player ever to play for the Canadian National team.
Welcome to The Show! On Wednesday, we continue our 65 in 65. That's
65 NBA chats in 65 days
. We will hold an NBA chat each day through the end of the NBA Finals. We'll bring you players, analysts, writers, anyone who can help you fill your NBA fix. Wednesday's guest is former NBA forward and current television analyst for the Toronto Raptors Leo Rautins.
Rautins was the first Canadian ever drafted in the first round of the NBA Draft going 17th overall to the Philadelphia 76ers in the 1983 Draft. Bothered by knee problems, he played in 28 games as a rookie with the Sixers and four games the following
season for the Atlanta Hawks before leaving the NBA
to play in Europe.
After retirement, Rautins became a basketball commentator with the Toronto Raptors television network. As member of Canada's Basketball Hall of Fame, he was named head coach of the Canadian National Team in February, 2005.
Send your questions now and join Rautins in chat on Wednesday at 11 a.m. ET!
Watch the NBA Playoffs on ESPN & ABC and the Finals on ABC.
MORE
65 NBA chats in 65 days | NBA playoff Index | SportsNation Index