NBA's 65 in 65: Donny Marshall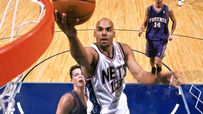 Marshall joins SportsNation to talk about the 2009 NBA playoffs.
Welcome to The Show! On Wednesday, we continue our 65 in 65. That's
65 NBA chats in 65 days
. We will hold an NBA chat each day through the end of the NBA Finals. We'll bring you players, analysts, writers, anyone who can help you fill your NBA fix. Wednesday's guest is former NBA forward and current NBA Analyst for Comcast SportsNet New England, Donny Marshall.
Marshall was drafted in the second round with the 39th overall pick of the 1995 NBA Draft by the Cleveland Cavaliers. He played in parts of five seasons over the course of eight years for the Cavs (1995-97, 1999-2000) and the Nets (2001-03) scoring 293 points and grabbing 121 rebounds. He is currently serving as a NBA analyst for Comcast SportsNet New England covering the Boston Celtics.
Send your questions now and join Marshall in chat on Wednesday at noon ET!
Watch the NBA Playoffs on ESPN & ABC and the Finals on ABC.
MORE
65 NBA chats in 65 days | NBA playoff Index | SportsNation Index
Donny Marshall
(12:02 PM)
It's awesome being on. This time of year, besides the NCAA Finals, is the most fantastic time of year.
Donny Marshall
(12:05 PM)
I would love to keep Glen Davis. His maturity level has increased by playing with the Big 3 and Doc. I don't know anyone is ready to pay him superstar money. He still has to prove himself to teams in the league at times. He did what he was supposed to do...he stepped in and played a role. I would love a guy like Trevor Ariza who could play a few different positions, but I would go slow on the Rasheed Wallace trail. He's still a guy who needs to figure out what he wants from here. When you talk about going work ethic, that's what the Celtics want. You have that in a guy like Ariza, but in Rasheed, it's a serious flaw.
Shaun (South Windsor, CT)
Do you feel that A.J. Price has potential for a good NBA career?
Donny Marshall
(12:07 PM)
I think A.J. does. One thing he has struggled with is his strength. He started his career playing well, then had health issues. He needs to figure out how he can find a niche. He could be a Brooks-type player. I don't think he's strong enough to battle with the guys in the NBA. I think he needs to be able to play a ton of minutes. I've known him since his freshman year, and I think he can do it. He should look to inspiration from a guy like Kevin Ollie, who has played many years in the NBA so far.
Shaun (South Windsor, CT)
As someone who covers the Celtics, how difficult was it for you to see them struggle towards the end of the year with injuries after the incredible start they got off to?
Donny Marshall
(12:09 PM)
It was tough for me for a couple of different reasons. I had thought that, if they stayed healthy, they could win the championship. My next choice was the Lakers, who I think will win. One of my former teammates, Ray Allen, plays for the Celtics, and I have to be honest when he struggles...when he has a Nolan Ryan going---an 0-9, 0-10. It's a struggle to be unbiased and to call it like I see it. But it was tougher for the diehard Celtics fans who have been on board for 20 or 40 years. It's hard to stomach the injuries. You can look at the 62 wins and say it was a successful season, but in Boston, it's not good enough, especially when you've been spoiled by KG last season, Bird and Parrish, and the history of the Celtics in general.
Steven (NJ)
What was your favorite moment of your career in the NBA?
Donny Marshall
(12:10 PM)
It's easy to say that getting to the NBA Finals in Jersey or winning a Game 6 or Game 7, but I think probably getting to the NBA after being drafted in the second round, and realizing that I finally made it. Obviously I hadn't played a game yet, but getting drafted and getting your signing bonus and saying, I'm here...after everyone doubted I could compete at the college level, I proved a lot of people wrong. That was the most satisfying thing.
Steven (NJ)
On which team of yours did you have the best experience on?
Donny Marshall
(12:12 PM)
I would have to say the 2001-2002 season in New Jersey. Even though we got swept by the Lakers, we were a team that everyone got along in. We all had Nikes, and Jason Kidd gave everyone his shoe that year. We wore that in the NBA Finals...we were a unit and a great team. That was my favorite team to be on. Jason Kidd really changed the landscape of the Nets organization that year.
Pocket (Florence, MA)
How many more good years does Paul Pierce have?
Donny Marshall
(12:13 PM)
Seeing as how he's the youngest out of the Big 3, he has three or four really good years in him. It depends on who he has around him...if he's without KG and Allen, it could shorten his career, but he could play another four or five years.
Brendan (Boston, MA)
Donny do you see Thabeet being the next Darko or Mutombo, or somewhere in between?
Donny Marshall
(12:14 PM)
I think somewhere in between. Obviously Darko has been a disappointment. I was a teammate of Dikembe's in NJ, and over his career, when you talk about defensive players, he's one of the best. It's easier to teach guys offense than it is defense, so Hasheem has that going for him. He can become a fantastic rebounder as well. I think he's in between those two.
Donny Marshall
(12:14 PM)
Thanks everybody, and I have the Lakers in 6!