NBA's 65 in 65: Lawrence Frank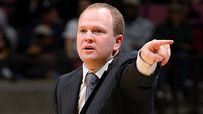 At the age of 38, Frank is the youngest head coach in the NBA.
Welcome to The Show! On Saturday, we continue our 65 in 65. That's
65 NBA chats in 65 days
. We will hold an NBA chat each day through the end of the NBA Finals. We'll bring you players, analysts, writers, anyone who can help you fill your NBA fix. Saturday's guest is New Jersey Nets head coach, Lawrence Frank.
After serving as an assistant coach with the team since the 2000-01 season. Frank became the interim head coach of the Nets in January 2004, succeeding Byron Scott. Frank started off with a 13-0 record which set a new NBA record for the most consecutive wins by a head coach to begin a coaching career.
The Nets have made the playoffs in three out of the five seasons under Frank, missing out on the last two postseasons. Frank holds a career .500 record (225-225) in 450 games coached.
Send your questions and join Frank in chat on Saturday at noon ET!
Watch the NBA Finals on ABC.
NBA Finals schedule: (all times ET)
Game 1: Lakers 100-75
Game 2: Sunday, 8 p.m.
Game 3: Tuesday, June 9, 9 p.m.
Game 4: Thursday, June 11, 9 p.m.
*Game 5: Sunday, June 14, 8 p.m.
*Game 6: Tuesday, June 16, 9 p.m.
*Game 7: Thursday, June 18, 9 p.m.
MORE
65 NBA chats in 65 days | NBA playoff Index | SportsNation Index
Buzzmaster
(8:11 PM)
On Saturday, we have a special guest stopping by as a part of our 65 NBA chats in 65 Days when New Jersey Nets coach Lawrence Frank stops by! It all starts at noon ET!
Lawrence Frank
(12:01 PM)
Hey, looking forward to speaking with all the fans. Hope everyone's enjoying another great playoff season.
Dumpy (Tampa Bay, Florida)
Coach, you talk a lot about the team needing to establish an "identity." What sort of identity do you envision for this team, and does the team specifically look to draft someone who can fit into that identity, even if he isn't the hypothetical "best available player?"
Lawrence Frank
(12:04 PM)
I think as a coach, you have an overall philosophy. Your style of your offense determines your play. You always have to defend, and that's something every team needs. We had a stretch a few years ago where we were one of the best defensive teams. If you look at the two teams playing, and Boston, Cleveland and all the other great teams, they have all great defense. It takes commitment to be a great defensive team. Offensively, you want to have five guys involved. Your personnel determines your play. And you just want high assists, low turnovers, and everyone playing their role.
Chris Manchesi (Bloomfield,NJ)
Hey Lawrence big fan, My question is what personal adjustments do you have to make to your coaching game, while coaching a young team like my Nets?
Lawrence Frank
(12:06 PM)
It's always an interesting dilemma when you try to serve two masters. For young players, it's always good for them to play. But then you have a loyalty to all players and trying to win. It's a balancing act, trying to get players time but also trying to win. There are times where you invest in players and you're able to evaluate. The good part is we were lucky that our young players were able to have some good segments in the season. So although we didn't make the playoffs, we were able to build for next year.
Steven (NJ)
Who on the Nets will have a breakout year next year?
Lawrence Frank
(12:07 PM)
If I knew that, I would also be predicting the stock market. I think you have a better feel for it in training camp. All of our guys are working to improve their games. But, Steven, your guess is as good as mine, because we won't be able to tell until we come together at the beginning of the season.
Jack new york
Whats your take on the kobe vs. lebron discussion? thanks
Lawrence Frank
(12:08 PM)
Both are tremendous players. Kobe has done it at such a high level, has won championships and is the best closer in the game. LeBron, we may not see someone like him again. At 6-8, 260, he's stronger, quicker and faster than anyone on the court. They're both elite players who are great examples. The thing I love about them is they both commit themselves at both ends of the floor. Not just for young players, but they are examples for pros because they mentally and physically commit themselves and are at elite levels.
ben(downey,ca)
Hey coach frank. let me start by saying you have done a great job in new jersey. In your opinion, what are some things that phil jackson does well as a coach that casual fans might not notice. i think he gets alot of unfair flack as being someone who doesn't do much as a coach. what do you think?
Lawrence Frank
(12:12 PM)
I think the thing Coach Jackson does is he has solidified himself as one of the greatest coaches -- in any sport -- of all time. He has an even keel and an approach where he invests in his team. He usually plays 10 guys, so no one is playing huge minutes. With him, his system and style of play incorporates five players and he really takes advantage of his personnel. He's been able to get his guys to play at the highest level. It's great to have those players, but not everyone can get them to play at their highest level. In Game 1 you see Kobe involved with a lot of pick-and-roll play. But this next game you might see something different. They do a lot with reads, but they have a lot of flexibility to do a lot of things. He has a lot of respect around the league, and players buy-in immediately because of his success.
Phil (Hyattsville, MD)
What is your pick to win the NBA finals and in how many games?
Lawrence Frank
(12:13 PM)
I'm not in the prediction business, but I did pick the Lakers in six. Orlando has done an unbelievable job, but the home team has an advantage in the playoff format. And the bitter taste of defeat from the Celtics is driving Kobe and the Lakers. But I think it'll be a highly competitive series.
Steven (NJ)
What position should the Nets take in the draft?
Lawrence Frank
(12:14 PM)
Our approach is drafting the best possible player, regardless of position. [Nets president] Rod [Thorn] and our scouting field are confident in that position. So regardless of position, we'll take the best possible player.
James Denver
Lawrence if you were Van Gundy what adjustments would you try to make?
Lawrence Frank
(12:16 PM)
I wish I was Stan Van Gundy because I would still be in the playoffs. You have to focus on what you can control. From an offensive end, it's how they can get Dwight going. I'm sure Stan will make adjustments when they feed the ball. Cleveland was doubling, so now you may see them making some more cuts. On defense, it's all about Kobe and dealing with those pick-and-roll situations. In the fourth, every coach has the same dilemma. Do you try to get the ball out of Kobe's hands? He's such a phenomenal player. I think the Magic started to miss shots and that affected their performance, but I think you'll see a better performance tomorrow.
jordan
what players in this year's draft have surprised you with their abilities?
Lawrence Frank
(12:19 PM)
I think it was interesting that people said that this draft may not be as strong as previous ones. Last year's was extremely strong, but after reviewing the players, there are several good ones. And I think you'll see some trading so teams can get extra picks. It's not really my expertise, but our scouts and GM think there's going to be some depth and some great players late. Last year, we were lucky enough to get Brook Lopez at 10. If they knew what we know now, that probably wouldn't have happened. There's always someone who drops.
Chris Manchesi (Bloomfield,NJ)
Hey Coach, everyone knows the Izod Center doesn't have the best home attendance in the NBA. Do you wish as a coach that their was a better home atmosphere, as you think your players play better under these conditions?
Lawrence Frank
(12:21 PM)
Especially in these economic times, you can't take for granted the fans that support the team. Whether you're a coach or a player, you just have to do your job. These are tough times, so you're just very, very appreciative of the fans that come to the game. I think our people do a great job of giving people they're money's worth. All the great promotions and activities that go on through out the game are great.
Lawrence Frank
(12:23 PM)
Just want to thank all the fans for their interest in the game. And thanks for your continued support of NBA basketball. It's going to be a great NBA Finals.