NBA's 65 in 65: Lawrence Frank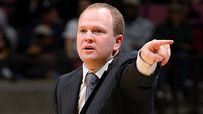 At the age of 38, Frank is the youngest head coach in the NBA.
Welcome to The Show! On Saturday, we continue our 65 in 65. That's
65 NBA chats in 65 days
. We will hold an NBA chat each day through the end of the NBA Finals. We'll bring you players, analysts, writers, anyone who can help you fill your NBA fix. Saturday's guest is New Jersey Nets head coach, Lawrence Frank.
After serving as an assistant coach with the team since the 2000-01 season. Frank became the interim head coach of the Nets in January 2004, succeeding Byron Scott. Frank started off with a 13-0 record which set a new NBA record for the most consecutive wins by a head coach to begin a coaching career.
The Nets have made the playoffs in three out of the five seasons under Frank, missing out on the last two postseasons. Frank holds a career .500 record (225-225) in 450 games coached.
Send your questions and join Frank in chat on Saturday at noon ET!
Watch the NBA Finals on ABC.
NBA Finals schedule: (all times ET)
Game 1: Lakers 100-75
Game 2: Sunday, 8 p.m.
Game 3: Tuesday, June 9, 9 p.m.
Game 4: Thursday, June 11, 9 p.m.
*Game 5: Sunday, June 14, 8 p.m.
*Game 6: Tuesday, June 16, 9 p.m.
*Game 7: Thursday, June 18, 9 p.m.
MORE
65 NBA chats in 65 days | NBA playoff Index | SportsNation Index