NBA's 65 in 65: M.L. Carr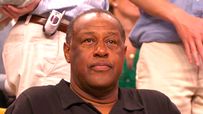 Welcome to SportsNation! On Tuesday, we continue our 65 in 65. That's 65 NBA chats in 65 days. We will hold an NBA chat each day through the end of the NBA Finals. Tuesday's guest is former NBA player and Boston Celtics head coach M.L. Carr.
Carr played for the Spirits of St. Louis in the ABA in 1975-76 season, earning a place on the all-rookie team. Following the 1976 NBA-ABA merger, Carr became a member of the Detroit Pistons. He stayed in Detroit for three seasons before being traded to the Boston Celtics in 1979 where he finished his career. He later became GM of the Celtics in 1994 and coached the team from 1995-97.
Send your questions now and join Carr to chat Tuesday at 11 a.m. ET!
Be sure to watch Game 3 of the NBA Finals Tuesday at 9 p.m. ET.
More Special Guests: 65 NBA Chats in 65 Days | NBA Finals | SportsNation
Buzzmaster
(11:03 AM)
Former Celtic M.L. Carr will be here shortly. Keep sending in your questions!
Buzzmaster
(11:18 AM)
We have M.L.!
M.L. Carr
(11:19 AM)
I'm ready!
Zach (London, England)
In your opinion, who is the best player in the NBA today?
M.L. Carr
(11:20 AM)
I think its LeBron James. He's so versatile. It's close between him and Kobe but I'll go with LeBron right now.
Shane (Greensboro, N.C.)
If you could change anything about the NBA, what would it be?
M.L. Carr
(11:21 AM)
If I could change anything it would be the game presation. I'm from the old school and I like the games to be the main attraction and the trappings around it.
Zion (Red Hook, NJ)
If you want one player from the NBA to be in your team who would it be?
M.L. Carr
(11:22 AM)
I will go with LeBron at this stage. I depends on the other makeup of your team.
James (NBA Nation)
The Magic did everything that they could to win Game 2 but stil lost. What will they have to do in order to win tonight?
M.L. Carr
(11:24 AM)
They have to find a way to dominate the boards. Championships are won the the defensive end and on the boards. They can't really do anything to stop Kobe but they have to stop the other four players on the court and they have to rebound. It's not an easy task.
Chris (Cleveland)
Have you notice anything about the Magic's guards that explains all there trouble in the finals?
M.L. Carr
(11:25 AM)
I think their size hurts them. Their guards a very small. They need to speed the game up becaue they can't beat the Lakers in a half court set.
Eddie (Orlando)
Have you ever seen a player with the scowl of kobe?
M.L. Carr
(11:26 AM)
No I haven't. This is something new that Kobe came up with. It's kind of like Michael with his tongue out. It think its because he's determined to win a championship. People keep talking about Kobe not winning without Shaq and he's trying to prove folks wrong.
Leo (Boston, MA)
Do you still work within the NBA? If so, what do you do?
M.L. Carr
(11:28 AM)
No I don't. When I left the game as a player, I came back with the Celtics and a coach and GM. Since then I have minority ownership with the Charlotte Bobcats which I recently relinquished.
Larry (St. Louis, MO)
What has been your favorite part of the post season so far?
M.L. Carr
(11:29 AM)
The best part of the post season is watching the caliber of play. I think that it has gotten much better over the years.
Sarah (Detroit, MI)
Will LeBron James ever live up to the hype and bring Cleveland a ring?
M.L. Carr
(11:30 AM)
I would think he would but it's not that easy. He can't do it my himself. He has to have the right pieces in place like Michael Jordan did.
Micah (Boston, MA)
Which player was the toughest for you to guard?
M.L. Carr
(11:31 AM)
Without a doubt, DR. J was the toughest player for me to guard other than Larry Bird in practice.
Jordan (Chicago, Ill. )
What is the proudest mommnet of your career?
M.L. Carr
(11:32 AM)
In 1984, no one thought that we could beat the Lakers but we beat them at home in Game 7. That was the highlight of my career.
April (Boston, Mass. )
What do the Celtics have to do to get back to the NBA Finals?
M.L. Carr
(11:33 AM)
Healthy ...they lost Powe and Garnett and that derailed them this season. Coach Rivers has done a great job directing that team and all they need to do is get healthy.
Shayne (NY)
Mr. Carr... Were you in attendance for the Celtic's championship run last season?
M.L. Carr
(11:34 AM)
Yes. I was there throughout the playoffs and Game 6 when they won it all. But I must say, I left at halftime to beat the post game traffic.
Chad (Orlando, FL)
Do you think the Magic have any shot at coming back and winning the NBA finals?
M.L. Carr
(11:35 AM)
No. It's tough your first time around and the Lakers have the experience and Orlando won't be able to get past that.
chauncey (teaneck)
what current plaer most reminds you of your style?
M.L. Carr
(11:37 AM)
That's a tough question. One the defensive end, I'll go with Bruce Bowen. The game has changed so much since I've played so I don't know who reminds me of myself on the offensive end.
Zach (London, England)
Should Mike Brown have been the Coach of the Year in the NBA? Should it have gone to the Van Gundy or Jackson?
M.L. Carr
(11:38 AM)
Without a doubt it should have been Mike Brown. The Cavs had the best record in the league and they only lost three home games this season. You could have made a case for a couple of coaches but Mike Brown was the right choice.
M.L. Carr
(11:39 AM)
Thanks for all the great questions. BOY DO I HATE TO SEE THE LAKERS WIN ANOTHER CHAMPIONSHIP but it looks like they are. Congrats to them!