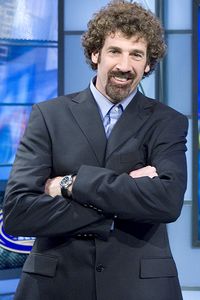 Welcome to SportsNation! On Monday, NASCAR Now's Boris Said will drop by to take your questions on all the latest motorsports news.
Said broke into NASCAR racing as a fill-in on road course events, and he quickly established a stellar reputation. He has given advice to more than 25 NASCAR Sprint Cup drivers, including Dale Earnhardt Jr., Carl Edwards, Kasey Kahne and Kevin Harvick, as well as team owners, most notably Jack Roush and Ray Evernham who've asked for help in training their young drivers in the art of road racing.
Send your questions for Said now and join him on Monday at 1:30 p.m. ET!
More NASCAR: NASCAR index
Boris Said
(1:30 PM)
Hey happy to be here!
Mary, Richmond, VA
Congrats to Tony and a big kick in the arse for Shrub. People worked hard to make that guitar. But folks work hard to build his cars/trucks and he doesn't care about wrecking them either, so why should I be surprised?
Boris Said
(1:32 PM)
I was shocked as anyone, but TV did a bad job not asking why he did it. He wanted to share it with the crew and that is cool; but I think he did it in the wrong way.
Mark (Mount Airy, MD)
Hey Boris, what did you think of the new double file restart rule????
Boris Said
(1:33 PM)
I thought it was excting and some of the green white checker finishes will be really exciting at shorter tracks or road courses.
Matt Norfolk,VA
Any chance we see you at Sonoma running the Cup race?
Boris Said
(1:34 PM)
Yes, I will be there in the Ford Fusion and I will be at the Camping World West race.
Corvallis, Oregon
I am not sold on the double file restart as it only made the restarts exciting but after a few laps it went right back to where we were before.
Boris Said
(1:35 PM)
But for a racer it makes it more intense and allows you to race guys for position
jon frankfort,ky
boris, whats wrong with rcr and mainly harvick? he came out strong this year winning the shootout and almost the 500 then the wheels came off, do you see rcr making a change there or you think harvick brings khi or will he go somewhere else?
Boris Said
(1:37 PM)
I do not think he forgot how to drive. The COT cars have that small sweet spot to make it run right and they are a little behind on the equipment and I think they working very hard to catch up with other teams and will eventually catch up.
ray gordon reid west lafayette in 49706
question to BORIS SAID AT 1.45 PM HI BORIS WHOS YOUR PICK MICHIGAN SUNDAY
Boris Said
(1:38 PM)
Carl Edwards. I think he has run very well on the mile and a half. And he is due for a win this year.
Nick (Charlotte, NC)
Hey Boris, what do you make of the run Sam Hornish Jr. has been on in the last few months? Seems like he's really figured out the Cup cars and might get his first win this season.
Boris Said
(1:39 PM)
I agree. I think he has cpome a long way in a few years. He is almost running in the Top 10 consistently. It may take a little while longer before he gets his first win, but I think everyone involved should be very happy with his performance.
Hook (Southern Maryland)
Do you think Pocono should lose a race or both should be moved down to 400 milers?
Boris Said
(1:41 PM)
I am not the one to decide that. They get great crowds. But 500 miles is a long time there. I think maybe they should have one 400 miler and one 500 miler.
TG(PA)
Its not chat without a Junior question? How do you think the rest of his season will be with a new crew chief
Boris Said
(1:42 PM)
I do not think the crew chief will solve things for him over night. They need to get better each weekend. I think Junior has shown some improvement.
Chad (Las Vegas)
Does the field need to be smaller in NASCAR?
Boris Said
(1:42 PM)
No. Why would you want to make it smaller?
Chad (Las Vegas)
10-15 in the points are Burton, Reutimann, Hamlin, Martin, Kahne, and Montoya. Who makes the chase and who doesn't?
Boris Said
(1:43 PM)
Martin and Reutimann will make it.
Jason: (Willow Grove, PA)
Boris, David Ragan continues to struggle, are there any plans to make changes to his team?
Boris Said
(1:44 PM)
I have no idea, but I am sure they are talking about where the performance is this season, especially after he came so close to making the Chase last year.
Justin Behling (Boyceville, WI)
How well do you think Dale Jr will do this weekend in defending his win at Michigan from a year ago?
Boris Said
(1:45 PM)
With the season he is having, I think if he finishes in the Top 10 this time, it will feel as good as the win did last year.
Boris Said
(1:46 PM)
Got to run. Thanks for all the questions!