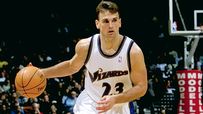 Legler played 11 years in the NBA.
Welcome to SportsNation! On Monday, we continue our 65 in 65. That's
65 NBA chats in 65 days
. We will hold an NBA chat each day through the end of the NBA Finals. Monday's guest is former NBA guard and current ESPN NBA analyst Tim Legler.
Legler played 11 seasons in the NBA, four with Washington. He is a career 43% shooter from 3-point range, ranking fourth in league history. His 52.2% in the 1995-96 season is the second best all-time 3-point percentage for one year.
Tim joined ESPN in 2000 as a studio analyst for ESPNEWS. He also appears regularly as an analyst of ESPN2's NBA Fastbreak Tuesday, a weekly whip-around show that takes viewers to live NBA games across the country, and NBA Fastbreak.
Send your questions now and join Legler to chat Friday at 12:30 p.m. ET!
Be sure to watch the NBA Finals on ABC.
More Special Guests: 65 NBA Chats in 65 Days | NBA Finals | SportsNation
Buzzmaster
(12:32 PM)
Tim is taping for SportsCenter, he'll be here to chat with the good folks of SportsNation at 1:15 p.m. ET.
dave (southeast,dc)
how many championships will kobe win before he is done.
Tim Legler
(1:17 PM)
Umm ...I think Kobe has a great chance to get five or more. This team is built for the long run because they are very young. Kobe has a good three or four years left playing a a high level so I think he can get one or two more beyond this year.
John Watson (Orlando)
What will be the market value for Hedo this summer? Can we retain him?
Tim Legler
(1:19 PM)
The market for Hedo will be substantial and I think the Magic will do everything in their power to keep him. I don't think that Hedo wants to go anywhere and with the way that he played this season, especially this post season he will be highly coveted on the free agent market.
Henry (Los Angeles)
Legs, the finals series is a wrap...What do you think the Lakers do in the off-season regarding free agents Ariza and Odom? If you had to keep one, which player would you choose?
Tim Legler
(1:20 PM)
I think the Lakers want to keep both but if I could only resign one of them, it would be Odom.
Mike (New York)
What is going on with the NBA refs? Why cant they ever ref a consistent game? And why do superstars(Kobe) get such preferential treatment?
Tim Legler
(1:23 PM)
Superstars in the NBA are very difficult to officiate because they put more pressure on the defense than anyone else on the floor and create more contact than anybody else. It's not an easy job to ref the great players but I agree the officiating needs to be better.
Jordan (Chino Hills)
In this series, do you feel like the losing team is giving up games more so than being beat by their opponent?
Tim Legler
(1:25 PM)
I only feel that way about game 4 because the Magic could have done a number of things differently in the last 90 seconds of the game. But you have to give credit to the guys who make big shots with the opportunity presents itself.
John (LA)
Tim - will the Lakers win game 5 or can Orlando force a game 6?
Tim Legler
(1:26 PM)
I think the Magic will force game 6. They could easily be up 3-1 in this series and I think they're confident that they can score against the Lakers. Also, LA has a tendency to get comfortable and let up.
Kevin (Toronto )
With his clutch shooting in Game 4, has Derek Fisher earned a spot beside Robert Horry?
Tim Legler
(1:28 PM)
(Laughing) He's in the same conversation but Robert Horry is special because he made huge shots for three different organizations in the Finals.
Curtis Washington (Delaware )
For next year, how can the West stop the Lakers? And can the Celtics return to the Finals next year?
Tim Legler
(1:29 PM)
The Lakers are set up to control the Western Conference for the next few years. In Boston, a healthy Kevin Garnett will put the Celtics in the Finals once again.
lovedrop (Brooklyn)
What your take on kobe byrant's performance in the last three games of the finals?
Tim Legler
(1:31 PM)
I think he's been great. His intensity is at a different level from everyone else on the floor.
Cosmo (Anytown, USA)
Would the results be any different if Nelson had not returned from his injury?
Tim Legler
(1:32 PM)
I don't think so because the Lakers are a better team then that Magic but I don't the the revolving door of point guards have helped the Magic.
Paul (Denver)
What do you think the Nuggets need to do during the offseason to get over the hump?
Tim Legler
(1:33 PM)
The Nuggets have enough talent but they need to play smarter so really all they need to do in the off season is watch some instructional videos on how to play winning basketball.
zedrich (Philippines)
Do u think benching Rafer ALston is a bad move???
Tim Legler
(1:34 PM)
I don't think Stan Van Gundy has handled Rafer Alston very well at all in the Finals.
Lee (Kentucky)
Who's jersey will be retired along with Kobe's, Fisher or Gasol?
Tim Legler
(1:35 PM)
(Laughing) I don't either one of them will get their jersey retired.
Dan (Seattle)
Tim, would you have called an offensive foul on Kobe for "inadvertent" elbow to Nelson's face?
Tim Legler
(1:37 PM)
No, I wouldn't have made that call in that situation. Kobe started to turn into the middle before Jameer Nelson established himself defensively.
Stephen (Texas)
Why is kobe struggling so much down the stretch?
Tim Legler
(1:38 PM)
I don't think he his struggling. Overall he has made a lot of plays in the fourth quarter to help the Lakers win games.
Hector Hernandez (South Pasadena, CA)
Are the Van Gundy's good Regular Season Coaches but overwhelmed in the Finals?
Tim Legler
(1:39 PM)
(Laughing) I wouldn't say that. Stan and Jeff Van Gundy both had to play against better teams in the Finals. They made some mistakes but players win and lose games.
Tim Legler
(1:39 PM)
Continue to enjoy the Finals as Game 5 should be a good one!