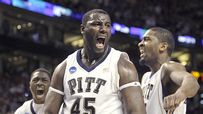 A day before the NBA draft, DeJuan Blair stops by to chat!
Welcome to SportsNation! On Wednesday, former Pittsburgh hoops player and NBA draft prospect DeJuan Blair stops by to chat about his preparation for the NBA draft (June 25, 7 p.m. ET, ESPN).
Blair entered the 2009 NBA draft following his sophomore season, a year in which he earned the Big East Co-Player of the Year award and was named as a First Team All-American. He averaged 15.7 points and 12.3 rebounds per game.
At 6-7, 277 pounds, Blair is valued as somewhere in the range of a lottery to mid-first round pick in the draft. ESPN.com's draft guru Chad Ford lists Blair as the 21st best prospect in the draft. In his Mock Draft 4.0, Ford has Blair going No. 16 to the Chicago Bulls. Blair will tweet about his draft experiences at Twitter.com/DeJuan45.
Send your questions now and join Blair Wednesday at noon ET!
More Special Guests: 2009 NBA draft | SportsNation
DeJuan Blair
(11:59 AM)
I'm here, let's start!
Bill (Boston)
Who would win in a game of 1 on 1, you or Sam Young?
DeJuan Blair
(12:00 PM)
Me, I'll take Sam to the post.
Cliff (Pittsburgh)
Whats the best thing about playing for Jamie Dixon?
DeJuan Blair
(12:01 PM)
He makes you a tough player and that's what you want. He's also a winner.
Bryan (PIttsburg)
What will u miss the most bout PITT?
DeJuan Blair
(12:02 PM)
I'll miss the fans, my teammates and my coaches. The Zoo was great. My teammates are like family. Being a home town kid, it was just fun to play at Pitt.
Steven (NJ)
What was your favorite moment of your college career?
DeJuan Blair
(12:03 PM)
(Laughing) Flipping Hasheem Thabeet over my shoulder.
SteveFitz (Cicero, IL)
What up big bouy? You're a beast and I hope my Bulls trade up to draft you. What player(s) did you enjoy watching most growing up?
DeJuan Blair
(12:04 PM)
I enjoyed watching Charles Barkley, Shaq, Jordan, and Hakeem Olajuwon.
Tim (York,Pa)
The player i've heard you compared to is Jason Maxiell who played in the Big Easy at Cincy. What Current NBAer do you think your game is most like?
DeJuan Blair
(12:05 PM)
I would say Jason Maxiell, Paul Millsap, Craig Smith and Big Baby Davis.
bryan luckscheiter (ohio)
How nervous r u right now considering how close the Draft is?
DeJuan Blair
(12:06 PM)
I pretty nervous. I'm trying to avoid thinking about it but it's hard with all the interviews that I have to do. But I'm excited.
Rob (Buffalo)
What NBA city would you most like to play in?
DeJuan Blair
(12:07 PM)
It doesn't matter where I play, I just want to play and that's all that matters to me.
Shayne - NY [via mobile]
DeJuan... In your opinion, What is the best aspect of your game and what part needs the most improvement? Thanks and Good Luck in the Draft!
DeJuan Blair
(12:08 PM)
Thank you! I think my strength is my toughness and my power are the best part of my game. My weakness is my explosiveness and my jump shot. I'm working on improving both of those things.
Nick (Arizona)
What's it like to know that you will be a player in the NBA this year?
DeJuan Blair
(12:09 PM)
It's amazing because it's always been my dream and now I have the chance to live that dream.
Shawn (cleveland)
Are there any players that you particularly would love to play with?
DeJuan Blair
(12:11 PM)
There are lot of good players out there and I want to play with all of them. I would prefer to have a veteran on the team that I can learn from but if I go to a young team that would be fine too. We can all learn from each other and help one another continue to get better.
Josh (Pittsburgh, PA)
DeJuan, thanks for a great season here at Pitt! In the whole draft process, what kinds of things have you learned from workouts and scouts that you've been able to use to improve your game?
DeJuan Blair
(12:12 PM)
Thanks! Just working out with Dave Thorpe over here at IMG and it has helped me a lot. I'm working on my jump shot, explosiveness, and my weight. It's a tough process but it's well worth it.
Bill (Kansas City)
As a guy who went to college for 2 years and really benifited from it, whats your take on the age limit in the NBA and the one and done rule?
DeJuan Blair
(12:14 PM)
That's a tough one. There are a lot of players out there that think they are ready for the NBA right out of high school. Most want to help get there family out of whatever situation that they are in and playing in the NBA sure will help do that. But there's a lot of different sides to this question.
Randy (Gurnee, IL)
Dejuan, alot of people say the bulls might draft you, do you feel you can provide the offense downlow we have been lacking for years?
DeJuan Blair
(12:15 PM)
I think I can. If they draft me, I will do anything they want me to do. If they need me to score, I will score. If they need me to rebound, I will rebound.
Andrew (OH)
Who would you rather play with, LeBron, Kobe, DWade, or CP3?
DeJuan Blair
(12:16 PM)
I would like to play with all of them if I can, they're all great players.
Vince (Pittsburgh)
How far can Pitt go next year with Gil and Ashton carrying the offense?
DeJuan Blair
(12:18 PM)
They are excellent players but it's up to them. They have to come ready to play. But I think they will do well next season.
Matt (Australia)
Hey DeJuan, what's your secret to outplaying Hasheem Thabeet?
DeJuan Blair
(12:18 PM)
Just go at his chest and knock with off balance so he can't block my shot. Go straight up.
Sam (phily) (phily)
That game against Xavier in the Sweet 16. Was it one of your most physical and intense games you have played?
DeJuan Blair
(12:19 PM)
Yeah, it was a fun game and Xavier played well.
Steven (NJ)
What will you be tweeting about tomorow night?
DeJuan Blair
(12:20 PM)
I'll be tweeting about a lot of things. They will be good and it will be interesting so stay tuned!
DeJuan Blair
(12:22 PM)
Thank you for all the questions. I look forward to hearing my name called tomorrow night. Catch me on twitter at www.twitter.com/dejuan45.