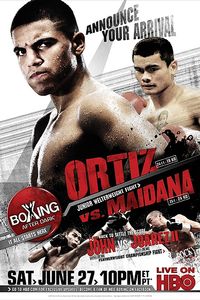 Welcome to SportsNation! On Thursday, boxer Victor Ortiz stops by to chat about his big fight on Saturday.
Ortiz (24-1-1) faces Marcos Rene Maidana (25-1, 24 KOs) in a 12-round junior welterweight bout Saturday at 10 p.m. ET from the Staples Center in Los Angeles on HBO's Boxing After Dark.
Ortiz last lost a fight in 2005, undefeated in his last 18 times into the ring. A California resident, Ortiz will be making his first appearance at the Staples Center. ESPN.com's Dan Rafael named Ortiz the 2008 prospect of the year.
Send your questions now and join Ortiz Thursday at 1:30 p.m. ET!
More Special Guests: Previous guests | SportsNation | Chat Index
Buzzmaster
(1:19 PM)
Change of plans folks...Victor's schedule got changed around on us and now he'll be chatting at 4 p.m. ET.
Buzzmaster
(2:57 PM)
Sorry folks...Victor now has to cancel the chat. They've had to totally rearrange his schedule for today and we aren't able to get him for the chat.
Jesus Ortiz (Houston, TX)
What is your calorie intake as fight night approaches? How many hours do most of your workouts consist of?
Victor Ortiz
(1:27 PM)
My calorie intake this close to a fight is very low and my water intake is low too. I don't really keep teak but I can tell you it's less than 1000 and my water intake is around a pint.
Roberto Olivares (Tulare CA)
The mexican fans want to see a superstar fighter we dont have one at this time. Margarito almost became the one. The spot vacant. How bad do want that spot Victor?
Victor Ortiz
(1:28 PM)
I'm not here to please anyone, I'm here to box. If I do impress you, then great ...If not, then no hard feelings.
Rame (South Jersey)
Do you think this win will give you a bout with the elite of your division?
Victor Ortiz
(1:28 PM)
I guess we will see Saturday night. It's going to be a war but I'm ready.
Doc (Nyack, New York)
For the record, I think you are the best of all the young fighters in today's crop. As for my question, I wanted to ask you how did your upbringing influence you to become a boxer?
Victor Ortiz
(1:30 PM)
Thank you. It gave me the hunger and drive to become something. Boxing is an individual sport, it's just like life. Just me and my opponent.
Dean (ATL)
Victor, what are the biggest challenges that Maidana brings to the fight Saturday? Best of luck!
Victor Ortiz
(1:31 PM)
He's an elite fighter and he's not a walk in a part. He's here to try and stop me in my tracks but I'm here to to the same thing. It should be a good one.
Chris (Los Angeles)
Victor, good luck Saturday! Wanted to know how long do you think you will stay in the 140lb class and/or do you have any plans to move up to the loaded 147 class? Thanks!
Victor Ortiz
(1:32 PM)
I think I'm going to take it slow. I make the 140 weight very comfortable. I'm gradually move up but wright now I'm taking my time with that.
Erik Santos (Wyoming)
Do you feel as though you can take on any of the big names in your boxing division? Or do you want to just wait it out and see what happens?
Victor Ortiz
(1:33 PM)
You just said it all in your question. I'm going to wait and see what happens. Right now I'm focused on Saturday.
squibbs (alpharetta, ga)
what was the deciding factor or moment that you made the decision to go pro?
Victor Ortiz
(1:36 PM)
That was simple. After I lost in the Olympic trials, I had enough of their games. I didn't want to fight on the amateur level anymore. So after my fight, I said I'm turning pro.
jp manahan (philippines)
if you had the power to change the current state of boxing, what would it be?
Victor Ortiz
(1:36 PM)
Nothing. I take it as it is. It's a hard fight and no boxing match is every easy. It's always a war that you have to come prepared for and let the best man win.
Carlos (San Jose, Ca)
Now that you are getting bigger fights and the stakes are getting higher, how often do you see yourself fighting per year?
Victor Ortiz
(1:38 PM)
I consider myself a typical fighter. As many times as they schedule me to fight, I'm going to fight.
Darin (Silver Spring MD)
Vic! Of anybody still boxing today who would you love to match up with to solidify your stance as one of boxing's elites and why?
Victor Ortiz
(1:39 PM)
I think I'll let time take it's toll on that. I'm not really worried about anybody else right now.
Victor Ortiz
(1:41 PM)
I have to run but thanks for all the great questions. Watch as I take on Marcos Rene Maidana, Saturday at 10 p.m. from the Staples Center on HBO'S Boxing After Dark.