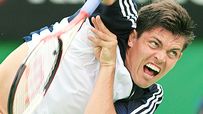 Dent's back on tour after missing time with back injuries.
Welcome to SportsNation! On Thursday, professional tennis player Taylor Dent will stop by to chat as Wimbledon gears up for the semifinal matches.
Dent, an American, missed nearly three full years following two operations on his back, but he's returned to the ATP World Tour in 2009. He's climbed nearly 600 rankings spots this year, and qualified into Wimbledon, making his first appearance there since reaching the fourth round in 2005.
Next week Dent will return to the site of his first career title, the Campbell's Hall of Fame Tennis Championships in Newport, RI, the only grass court tournament in the U.S. In his career, Dent is 27-18 on the surface.
Send your questions now and join Dent Thursday at 11:10 a.m. ET!
More Special Guests: Previous chats | SportsNation
Taylor Dent
(11:13 AM)
Hey everyone, I'm back from Wimbledon and training in Florida. I leave for Rhode Island tomorrow evening to play in the Campbell's Hall of Fame Tennis Championships.
Robyn (Madison, WI)
Who were your favorite players growing up?
Taylor Dent
(11:14 AM)
I had three. My very first player that I feel in love with was Boris Becker. Then it was Pete Sampras and once I turned pro, I really respected Pat Rafter for all his toughness.
Lori (Baltimore, MD)
Who is the toughest opponent you ever faced?
Taylor Dent
(11:15 AM)
I recently played Roger Federer in the fourth round in a tournament in Miami. He is by far the toughest player I have ever played against.
Sam (Ashboro)
What is your favorite tournament to play at?
Taylor Dent
(11:17 AM)
My favorite tournament to play in has to be a slam. For American players it has to be the U.S Open. There are so many fans that come out and support us there. I also love playing in the Newport tournament in Rhode Island. It's were I got my first win and it's always a joy to go back.
Lyle (Kansas)
What is your favorite moment of your career?
Taylor Dent
(11:19 AM)
One of my favorite moments is playing Andy Roddick in the finals of a tournament in Memphis. I beat him in four sets. That was definitely one of the highlights of my career.
James (New York)
What made you want to fight back from injury to play tennis again?
Taylor Dent
(11:20 AM)
I had a lot of time to think about the things I wanted to do after tennis. I had some things that I was interested in but I didn't have the same passion for those things as I do for playing tennis. I told myself if I had the opportunity to play again then I will do everything in my power to do so.
henry (washington)
Was there ever a time when you were out when you just wanted to give up?
Taylor Dent
(11:22 AM)
No, I can say that whole heartily. There were times that I got down thinking about all the work that I had to put in to get back but I was willing to go though all the pain to get back. But there was never a time where I thought it wasn't worth it to play tennis again.
Carl (Ottawa)
Do you have to do any special exercises or stretching to make sure your back stays healthy?
Taylor Dent
(11:23 AM)
Yes, I have a whole slue of exercises that I have to do everyday to give myself the best chance to say healthy. My exercises involve more strengthen than stretching.
Rich (Fort Lauderdale)
Any tips on how to become a better volleyer?
Taylor Dent
(11:26 AM)
In my opinion there are two types of volley's. There is a single volley and doubles volley. A doubles volley you are usually closer to the net and your swing has to be short and punchy. With a single volley, you usually hit it about two feet from the net. Determine which volley you'll be using most often and practice accordingly.
Dan (PA)
What is your favorite court to play on?
Taylor Dent
(11:28 AM)
My favorite courts to play on are the courts at the U.S. Open. It's a hard court that is fast and has good footing. So for an aggressive player like myself, it's the best of both worlds.
Steven (NJ)
Who will win wimbeldon?
Taylor Dent
(11:29 AM)
I think your seeing a different game then everyone else if you don't pick Federer. He still has to play well to win but he is the heavy favorite.
Taylor Dent
(11:30 AM)
Thanks everybody for chatting today. If you can, make your out to the US Tour events and cheer me on. I could use it!