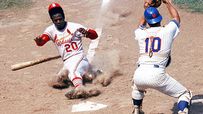 Brock scored 1,610 runs in his career.
Welcome to SportsNation! On Tuesday, baseball Hall of Famer Lou Brock stops by to chat about the MLB season, including the upcoming All-Star Game.
Brock won two World Series titles, made six All-Star teams and earned election into the Hall of Fame in 1985. His 938 career stolen bases sat as a record from 1979 until 1991 when Rickey Henderson broke it. The 3,023 hits he had in his career sits 23rd all-time.
Brock is working with "Feeding America" the nation's largest domestic hunger relief organization, providing food and groceries to 36 million Americans in its "Hits for Hunger" program. Bank of America will donate $5,000 for every recorded hit during the All-Star Game and will match all donations, up to $100,000, made today to the Feeding America Web site.
Send your questions now and join Brock Tuesday at 2:30 p.m. ET!
More Special Guests: Previous chats | SportsNation
Ervin (Chicago, IL)
How did you get involved with Feeding America?
Lou Brock
(2:36 PM)
Being one of one of the players involved with the All-Star Game in St. Louis I got involved with Bank of America and their program "Hit for Hunger." Anytime a player gets a hit in the All-Star Game, $5,000 is donated by Bank of America. So we hope that each team gets 50 hits. Visit www.feedingamerica.org on Tuesday and whatever you donate, Bank of America will match it.
Sarah (Detroit, MI)
What is your ultimate goal for Feeding America?
Lou Brock
(2:37 PM)
The ultimate goal is to be a corporate citizen in the community and to provide for people who are less fortunate. It is also a way to keep giving back to the community.
Steven (Nj)
What was your favorite moment if your career?
Lou Brock
(3:15 PM)
I played 20 years and there have been a lot of favorite moments. I would say that getting 3,000 hits may have been the crowning moment of my career. It's the crown of my career because out of more than 20,000 players to play major league baseball, only about 24 of them have 3,000 hits so that is pretty significant.
Brandon (MI)
What was your favorite part of playing baseball?
Lou Brock
(3:16 PM)
That's a tough question. I love all the part of baseball. But I will say the one thing I loved most was hitting.
Alex (Connecticut)
Who in your mind is the MLB's best base stealer?
Lou Brock
(3:17 PM)
That's Maury Wills of the Dodgers. He might have been the best I ever saw.
Douglas Eagle (Jacksonville, FL)
Do you think base stealing is harder now than it was through the 1970's? Is the art of stealing home a thing of the past?
Lou Brock
(3:18 PM)
It is a thing of the past according to the players of today and the reason is in order to steal a base you need to have world class speed and I don't see any players in today's game that have that kind of speed.
Jeff (Lafayette, CA)
What player of today do you like to watch? Who was the greatest player you ever saw? Who was the best pitcher you faced?
Lou Brock
(3:19 PM)
I like watching Albert Pujols of the Cardinals, he is one of the best in today's game. Willie Mays of the Giants is the greatest player I ever saw. The best pitcher is Bob Gibson of the Cardinals.
John (Atlanta, Ga.)
Lou, in this day and age where all we hear about are players using steroids, how nice is it to see a guy like Albert Pujols play the game the right way, and be so humble about it?
Lou Brock
(3:22 PM)
There is a difference between sportsmanship and gamesmanship. Players use steroids and such and they regret it later, that doesn't mean that they don't have sportsmanship. Albert is a true gentleman on and off the field. Not saying he is the only one but since you brought his name up we talked about him.
Anthony (Douglas, MA)
Mr. Brock, do you think we will begin to see guys steall 100 bases again?
Lou Brock
(3:23 PM)
As soon as the base stealers show up again. The reason that we don't see a lot of bases stolen because the MLB has gone to smaller ball parks over the last 20 years and the game has changed from a game of speed to a game of power. So speed is not of the essence anymore.
bradley (virginia)
how many times did you steal home plate during your career? and also how did you try to disguse your preperation for steals?
Lou Brock
(3:24 PM)
I got credit for one, but I think I attempted three times. In the two that didn't count, the ball was fouled off and the one I got credit for was a part of a double steal.
Buzzmaster
(3:24 PM)
Thanks for chatting Lou!