Chat with Michael Bisping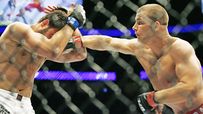 Bisping, right, has only one loss.
Welcome to SportsNation! On Wednesday MMA and UFC star Michael Bisping stops by to chat about his upcoming fight in UFC 100.
Bisping (18-1) faces Dan Henderson (24-7) Saturday at the Mandalay Bay in Las Vegas as a part of UFC 100, live at 10 p.m. ET on Pay Per View.
The Manchester, England product moved down to the middleweight class following his one and only loss in 2007. He has won his last three fights, two via knockout, all of which took place last year.
Send your questions now and join Bisping Wednesday at 4 p.m. ET!
More Special Guests: Previous chats | SportsNation
Alex Milburn (Plymouth, England)
What are you going to spend your winnings on after you smash Henderson at UFC100? Also, when you come back to England next can I buy you a pint?
Michael Bisping
(4:08 PM)
I'm going on a nice long vacation. I haven't been on one in a while and I think I'm do. The kids are out of school for the next six weeks so my family and I are going on a four week holiday after my fight. You can buy me a pint any day of the week!
Benson (Idaho)
What in your opinion is a weakness in Henderson's game? And how do you plan to exploit that weakness?
Michael Bisping
(4:09 PM)
He doesn't have too many weaknesses but he fights the same way in every fight. So I have to take advantage of that.
james (Indianapolis)
We'll act like i am placing a bet on your fight. Why should i chose you to win?
Michael Bisping
(4:11 PM)
Because I'm the younger, hungrier fighter. I'm in great shape and I'm ready to do what it takes to win.
Nate (Bloomington)
What does it feel like to be one of the biggest, if not the biggest MMA star in England? Do you feel like you got a sense of pressure?
Michael Bisping
(4:12 PM)
It is an honor and privilege to be on the level that I'm on. I don't think it's a sense of pressure. Pressure just makes me want to work harder and win more for my fans.
Chris (Tampa, FL)
Michael, What is your favorite thing to eat on your cheat day when cutting weight? Also is there something you love to eat when your in the U.S. that you can not get in England? Good Luck on saturday.
Michael Bisping
(4:13 PM)
I love to eat pizza on a cheat day. When I'm in the U.S., I love going to the Cheesecake Factory. They had great good.
rickey (TX)
Michael, we have seen some great battles of you in the past, because of your focus mainly on kickboxing, does dan henderson's wrestling bother you in this fight?
Michael Bisping
(4:14 PM)
He has the advantage in the wrestling department but that is something I have addressed and I'm looking forward to showing everyone just how far I have come.
josh (southern california)
do you follow english football? and if so what club do you support?
Michael Bisping
(4:15 PM)
Not really but if I had to pick a team it would be Manchester United.
Brian (NY)
When you do get the title shot, would you want to have it in England or would that add too much pressure?
Michael Bisping
(4:18 PM)
I don't care where the fight takes place, I just want to get a shot at the title. No matter where the fight takes place, there will be a lot pressure to win.
Michael Bisping
(4:19 PM)
Sorry everyone but I have to cut it short. I'm about to catch this flight. Thank you to everyone that has been supporting me. I hope you enjoy UFC 100 Saturday night.