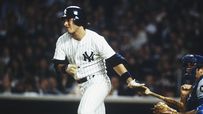 Bucky Dent was a 3-time All-Star.
Welcome to SportsNation! On Thursday, former Yankee Bucky Dent stops by to chat about MLB's stretch run and his work with Little League Baseball.
Dent spent 12 seasons in MLB, including parts of six with the New York Yankees. He is probably best remembered for his home run that led the Yankees to win the 1978 AL East tie-breaker over the Boston Red Sox. Dent won World Series titles with the Yankees in 1977-78, winning the 1978 World Series MVP.
Dent is working with Subway and Little League Baseball in their first "Baseball Design Across America" tour, a unique traveling exhibit that includes more than 30 baseballs designed by Little Leaguers nationwide and autographed by celebrities.
Send your questions now and join Dent on Thursday at 1:15 p.m. ET!
Be sure to join former Red Sox Luis Tiant's chat Thursday at 4:40 p.m. ET!
More Special Guests: Previous guests | SportsNation | Chat Index
Buzzmaster
(1:08 PM)
Former Yankee Bucky Dent will be here shortly!
Bob (Denver)
Bucky, how did you get involved in your work with Little League Baseball and Subway?
Bucky Dent
(1:19 PM)
I've been involved with Little League Baseball for over 30 years. With Subway, we've been involved with trying to raise money for Little League Baseball.
Red Sox Fan (Everywhere)
Do you spell your middle name with an "f" or a "ph"?
Bucky Dent
(1:20 PM)
You might like to put an F in there, but I spell it with an E.
Blue (California)
What current major league pitcher would you like to have stepped into the batters box against?
Bucky Dent
(1:20 PM)
Oh man...Probably Clemens. I never faced him.
Rob Mac (Boston, MA)
I was born in 1983, never saw you play, and have never met you... yet I hate you and the mere mention of your name only brings to mind profanity filled rants by family and friends.Is that an awesome feeling, or does it bother you?
Bucky Dent
(1:21 PM)
It doesn't bother me at all, because you must be a Red Sox fan.
David (Florida)
I'm a huge Yankee fan and was just wondering how was the experience of playing for them, especially in Yankee Stadium?
Bucky Dent
(1:21 PM)
It was awesome. It was a dream that I always had as a kid. I had a chance to do that and it was a tremendous feeling.
dan (denver)
what's the subway promotion?
Bucky Dent
(1:22 PM)
It's called Baseball Designs Across America. They've teamed up and some LL players have designed some baseballs and autographed them. The display is going across America. Fred Lynn, Dave Winfield, Dwight Howard, Maroon Five, Charlie Sheen. Some big stars and big celebrities have signed them. They'll make it to Williamsport and then go to auction to raise money for Little League.
Matt (IN)
What was going through your mind as you rounded the bases after the famous home run against the Sox?
Bucky Dent
(1:23 PM)
That we were ahead 3-2. Nothing really other than we were ahead, because we still had three innings to play. I do remember how quiet Fenway was.
Eric (NJ)
Bucky - As a player who retired before the whole PED era, can you tell us how prevelant steroids or other PED's were in your era
Bucky Dent
(1:24 PM)
No, it wasn't around when I was in the game. You get tired of talking about it. You wish it would go away and let people concentrate on baseball and just watching the game.
Wagon (Lowville, NY)
Is it true you used Mickey River's bat to hit the infamous home run against the sox on Oct. 2, 1978? I have heard of different stories of it. If it is true, what is the real story?
Bucky Dent
(1:24 PM)
That's true. I used his bat. That's true.
Brian (NJ)
Do you use a pseudonym when you go to Boston? Or has that flame died out since 2004's world series?
Bucky Dent
(1:25 PM)
No, actually I've been to Boston quite a bit. I got to sit on the Monster and watch a game a few years ago. I don't hide.
Brian (NYC)
Bucky - please know that you will forever be my hero. Whats do you think the keys will be to this weekend's series between the Yanks and Sox?
Bucky Dent
(1:25 PM)
Pitching. Thank you for the nice words. The key will be pitching. It always is.
RAYGORDON REID ( JACSONVILLE FLA 32217)
QUESTION TO BUCKY DENT AT 1.25 HI BUCKY WHAT AREYOU DOING THESE DAYS
Bucky Dent
(1:26 PM)
Actually, I've been doing some corporate stuff the last few years. I have twins that are good athletes, so I've been helping them get into college. My son's going to Florida to play baseball and my daughter to North Carolina State to play softball.
Shayne - NY [via mobile]
Bucky... Which current MLB player reminds you the most of yourself during your playing career? Thanks and Go Yanks!
Bucky Dent
(1:27 PM)
Oooh boy. Not really. The shortstops have changed. they're bigger and stronger. That's one position that I think has really really changed since I played it. Probably a David Eckstein if I had to pick one.
Mike (VA)
Lots has been written of the interesting characters on the Yankee teams in the 77-78 seasons, Goose, Thurm, Reggie, Rivers, etc, who did you hang around with?
Bucky Dent
(1:28 PM)
It was a great bunch of guys to play with and hang around with. Gossage was the guy I came up with. We signed together in 1970. He was probably the guy I was closest to.
alexander (miami)
how did it feel to be a member of one of the strongest teams in history aswell as your time of play
Bucky Dent
(1:28 PM)
It's a tremendous honor to have played with those guys.
Logan (Virginia)
Hey Bucky was hitting the Homer to win the pennant in 78' your favortie moment ever
Bucky Dent
(1:29 PM)
Yes.
Wagon (Lowville, NY)
Who would be the three former teammates of yours would you have in a golfing 4-some and why?
Bucky Dent
(1:29 PM)
Wow. I'd pick real golfers. Arnold Palmer, Jack Nicklaus and Tiger Woods.
Christian (Bronx, NY)
Any advise to a 12 year old on baseball?
Bucky Dent
(1:30 PM)
Enjoy the game, have fun at it. Work hard at it.
Adam (Maine)
Who is your favorite current Yankee and why?
Bucky Dent
(1:30 PM)
Right now, Derek Jeter.
Brad (Gadsden,Alabama)
Bucky, What was your fav. place to eat in NYC?
Bucky Dent
(1:30 PM)
I don't live in NYC any more. I live in Florida.
Mike (Ohio)
Mr. Dent, what was it like going from a team like the White Sox to the contending circus that was the Yankees?
Bucky Dent
(1:31 PM)
It was great. I went from a last place team to a team that just went out and contended and won a World Series. It was a great feeling.
Bucky Dent
(1:32 PM)
Thank you for the questions. I enjoyed chatting. I'm looking forward to continuing this tour with Designs Across America. Go out and support Little League Baseball.