Chat with Alonzo Mourning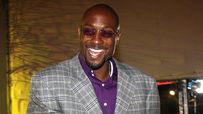 Mourning won gold at the 2000 Olympic Games.
Welcome to SportsNation! On Thursday, former NBA player Alonzo Mourning stops by to chat about life in the NBA as well as his appearance on ESPN's Homecoming (Thursday 7 p.m. ET).
Mourning played 15 years in the NBA, with three different teams. He was a two-time Defensive Player of the Year, seven-time All-Star, winning one NBA championship. He became the first player in Heat history to have his number retired.
Homecoming is a new signature ESPN program hosted by award-winning sportswriter Rick Reilly that challenges the old adage "You can't go home again." In a warm setting made up of the athlete's friends, family, and admirers we will spend an hour exploring and celebrating how a remarkable athlete came to be.
Send your questions now and join Mourning on Thursday at 12:30 p.m. ET!
More Special Guests: Previous guests | SportsNation | Chat Index
Alonzo Mourning
(12:37 PM)
Welcome everyone. I'm looking forward to sharing my story with you.
Jamie (VA)
What was your first impression on coach Thompson?
Alonzo Mourning
(12:38 PM)
My first impression was that he was intimidating. After getting to know coach, I realized that he has the best intentions for his players by always stressing education and graduating his players. He told us it's not all about basketball; it's about education and life after ball.
David (Florida)
Hey Alonzo,you are like one of the best centers of all time what was the most exciting moment in your Nba Career?
Alonzo Mourning
(12:40 PM)
The most exciting part was winning a World Championship with the Miami Heat. It was one of my best moments of my career because of all the obstacles that I had overcome to get to that point.
James ((Washington, DC))
What was your first reaction when ESPN asked you to do Homecoming? What does it feel like to return to Georgetown?
Alonzo Mourning
(12:41 PM)
I didn't know anything about Homecoming until I experienced it because I never watched it on TV. Once we started, I was excited to go home to see many of my friends and family and relive the old days.
Alonzo Mourning
(12:42 PM)
A good portion of my roots are from Georgetown and Washington, DC. So whenever I get the chance to go back, I enjoy it. Those four years were some of the best years of my life and also life changing years.
Shawn (Miami, FL)
What is the most important thing that you have learned playing under the great John Thompson Sr.?
Alonzo Mourning
(12:45 PM)
He taught me more about life than basketball. He taught me the importance of preparing for life and not just basketball. You're not going to play basketball forever and you need to have a plan for life after the NBA. With that said, I wanted to make sure that I do all the things necessary for me to live a protected life after basketball.
Drew (Buffalo)
Was the highlight of your career when you were referenced as Alfie's favorite player in the hit Nickelodeon show "My brother and Me"?
Alonzo Mourning
(12:45 PM)
(Laughing) No it wasn't!
Shayne - NY [via mobile]
Alonzo... If you could have any actor play you in a movie about your life... Who would it be and why? Thanks!
Alonzo Mourning
(12:47 PM)
Will Smith because I like that way he portrayed Muhammad Ali. If he was a little bit taller, I think he would be the perfect person to depict me in a film.
Michael (Kentucky)
Hey Zo!! I saw you on the Pros vs. Joes show a few months ago. How did it feel getting back on the court after calling it quits in the NBA? Looked like you still got a little game left!
Alonzo Mourning
(12:48 PM)
The show was based more around a reality typed of acting situation so it wasn't the style of basketball that I wanted to play but it was more of me wanting to get into the acting business.
Francisco (Miami)
How did overcoming the kidney disease change the way you saw the game?
Alonzo Mourning
(12:49 PM)
It made me appreciate that game a whole lot more. I started treating every game as if it was my last.
David (Miami)
Could you tell me more about Zo's Fund for Life?
Alonzo Mourning
(12:51 PM)
It was a program that I created to help educate people dealing with kidney disease. How to live with the disease and the choices that we have in order to not allow the disease to dictate our life. It also helped people who couldn't afford medication, get the medication that they needed.
Omar (Evansville, In)
What are u most exciting to watch this season?
Alonzo Mourning
(12:52 PM)
I'm excited to watch the Heat improve and watch the young guys grow and improve. I would also like to see them go further in the playoffs this season.
Rudy (New York)
Do you think the Hoya Destroya's will ever come back to where they once were?
Alonzo Mourning
(12:53 PM)
I think they can get there again based on the coaching of John Thompson III. If they get the right talent, they can bring that back.
David (New Jersey)
Zo what was it like being on the same team as Dwayne Wade and Shaq?
Alonzo Mourning
(12:54 PM)
It made my job a lot easier playing with two great players. Winning is the most important thing to me when it comes to basketball so being around guys that understood what it took to win and were willing to do what it takes to win was great.
Leah (Washington, DC)
Is coaching in your future?
Alonzo Mourning
(12:55 PM)
The only coaching I would consider doing is on the high school or college level. I don't have the patience to coach on the professional level.
Oakley (NYC)
Did you wish Patrick a happy birthday yesterday?
Alonzo Mourning
(12:55 PM)
I didn't
Alonzo Mourning
(12:56 PM)
I will call him today and wish him a Happy Belated Birthday!
Alonzo Mourning
(12:57 PM)
I would like to thank everybody for their support. We go though life and we see so many people with problems and issues. I encourage everyone to a change and be that change that somebody in need can use.