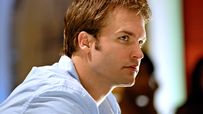 Scott Porter has appeared in all three seasons of "Friday Night Lights."
Welcome to SportsNation! On Tuesday, actor Scott Porter stops by SportsNation to chat about his TV show "Friday Night Lights" as well as anything else on your mind.
Porter plays the role of Jason Street on the show "Friday Night Lights," which depicts the fictional high school football team Dillon Panthers. Porter's character Street was the star quarterback of the team who was paralyzed in the pilot episode.
"Friday Night Lights" was Porter's first major TV role. His new movie "BANDSLAM" hits theaters Friday.
Send your questions now and join Porter Tuesday at 3 p.m. ET!
More Special Guests: Previous chats | SportsNation
Buzzmaster
(2:58 PM)
Scott Porter, aka Jason Street, will be here at 3 p.m. ET to take your questions!
Buzzmaster
(3:01 PM)
Scott's here!
Jeff (RI)
Have you seen the movie yet? How do you think it came out?
Scott Porter
(3:02 PM)
I have seen it. It premiered last Thursday. We were all there. I thought it turned out really well. The music is pretty phenomenal. All the actors performed live. The premiere went well and I think it surprised a lot of people.
Ben (Washington)
Is it fun being able to pretend that you're still back in high school?
Scott Porter
(3:03 PM)
I had a great experience in high school I was an all state chorus member and all state football game. I think I was the only person to have sang the national anthem at the football game with a football helmet under his arm. It's fun being able to play a little younger than I am. I'll hold on to that as long as I can.
Dan (TX)
how did you like doing a movie? How does it compare to doing a TV show?
Scott Porter
(3:05 PM)
Everything is so different. I came from off-broadway to TV. and I had to learn a completely different way to work. TV is different. There's no rehearsal, no marks. When you do a film, you have to be more specific. You have to do what the director wants you to do more. But they're all fun. It depends on what the content is. This was more of a comedy than the dramatic show we do on Friday Night Lights. They are all a lot of fun to do. Once you get the hang of working with the director and the show it gets easier.
ryan (boston)
Happy belated birthday! Did you do anything fun?
Scott Porter
(3:06 PM)
I'm having my big birthday party blowout with my friend who wrote We Are Marshall. We're going to Vegas. I share my birthday with my sister who turned 15. I went home to Orlando. We're going to blow it out in Vegas. I'm sure there will be stories to tell with that one.
Tom (Indiana)
Did you guys have a chance to go down to Texas to see how crazy people get for high school football down there?
Scott Porter
(3:09 PM)
We shot in Austin. We were there in Texas for the entire time. I've been to football stadiums that seat 70,000 for high school football games in towns that only have 40,000. I've seen schools with $2.5 million stadiums in rural Texas. I've seen it all. When they say that things are bigger in Texas, they're not lying. I've never seen basketball in Indiana, but I think that's the only thing that I can think of that can rival it.
Jim (DC)
Scott, did you find any inspiration or anything for your character?
Scott Porter
(3:12 PM)
Jason Street is based on David Edwards out of San Antonio. He was shadowing their star receiver as he was going through the season. Midway through the second quarter, Edwards hit Koye and he broke his neck. Peter Berg saw how society tried to treat David. We're going to create a character who went to the depths of hell and he'll come back from it. David unfortunately passed away last year due to his complications with the injury. But his spirit lives on. It's weird. We try to make an impact. I got a MySpace message form a guy in Colorado who broke his neck in an accident. He said watching Jason STreet triumph and we've stayed in contact. It's cool to have an impact like that. The paralyzed veterans of America gave me an award for my work as Jason Street. I think the show has touched the storyline in a real way.
Greg (Florida)
Do you still have fun doing Friday Night Lights?
Scott Porter
(3:13 PM)
I actually ended my run on Friday Night Lights on Season 3. I would love, love, love to be back on the show, but I don't think it's in the cards. We're all hoping in Year 5 to come back and have guest experiences. It's been the most freeing thing that I've worked on and the show I've had the most fun on.
Fred (Oklahoma)
The trailers look hilarious! How much fun did you have?
Scott Porter
(3:15 PM)
You're from Oklahoma....I don't know if I can answer your question being a fan of Nebraska...just kidding Fred! I was a pro beat-boxer for 7 years then ended up on off-broadway signing before Friday Night Lights. Hollywood didn't know I could sing or perform. Doing Bandslam for a young adult, I learned how to play guitar. That's me playing live and singing live on the album. Now Hollywood knows about the talents that I had before the TV show. It was phenomenal. I had a great time filming Bandslam.
Mike (Jersey)
Street, just wanted to welcome you to New Jersey, now go home..... in all seriousness Scott, what was it like to play such an inspirational character on the show, and did you get a chance to meet with anyone going through that struggle in real-life?
Scott Porter
(3:18 PM)
I never got the chance to meet David Edwards. When I'm playing quad rugby on Friday Night Lights, I'm playing with the real team. I don't know if anyone's seen MurderBall, if you haven't go see it. Cupan made a guest appearance on the show. Coach Gumby, James Gumbert, invented the sport. He couldn't play any more, football, basketball, so he invented his own sport. Now he's been a championship coach for years now. Seeing him and his wife it was really great, life changing. I said a line in the show that I stole from Coach Gumbert, I don't want to strive to be the man I was before the injury, I want to be a better man because of it. That's what he said. They touched me in a way that's never been done before.
Paul (Chicago)
Is it odd to be playing a high schooler and to be on a cast of actors playing high school aged kids while not having been in high school for a while?
Scott Porter
(3:20 PM)
It wasn't for me. I've been playing high school for four years now. I had a great time in high school and I'm still friends with a lot of those guys still and I have the maturity level of a high schooler. You kind of go back and relive things a little bit. It wasn't all that difficult. I was around a bunch of talented actors in FNL. We were shooting in Austin and we had a close bond. It felt like a high school clique. It was a really great experience for me. I think I'm done with it now, but I enjoyed it.
Bobby (Seattle, WA)
Just wanted to drop a line and tell you that I love the show and have been watching it since it first came on. I'm really shocked your not coming back on, but I guess that's Hollywood. So do you follow pro football? If so, what is your favorite team?
Scott Porter
(3:20 PM)
I'm a Broncos fan, have been for years. I saw them lose three super bowls before Elway went back to back.
Greg (Crystal Lake, IL)
Scott what's the best high school stadium you've visited in Texas?
Scott Porter
(3:22 PM)
Oh wow...I would have to say Southlake Carroll in Dallas. There's a waiting list like there is in Green Bay for that stadium. If you have a son in 5th grade, you have to get on the list, because even if your son plays, you're not guaranteed a ticket. It's pretty phenomenal. The one I mentioned before that seats more than the town was in Pflugerville.
Marc (Big D)
How big of a challenge has it been to use a wheelchair as part of your role?
Scott Porter
(3:23 PM)
Kind of my shoulder wanted to give out on me my first year. As an able bodied person, you'd think no problem. But I was in a chair 10 hours a day. There are muscles that those guys build up slowly that we just never use. The hardest part was quad rugby. Those chairs are hard. You're shoved down and your back is bent a certain way. That experience was the toughest. But after practicing with them, it was a lot of fun. I got to play with them in a scrimmage and that was an experience I'll never be able to duplicate.
Scott Porter
(3:25 PM)
Thank you so much for being faithful to Friday Night Lights. I think we have the most intelligent, faithful fans out there. I hope some of you check out Bandslam. It's a really smart movie. The soundtrack is great. It's a crossover to the sports fans out there. Thanks for having me on.