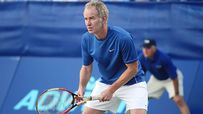 Welcome to SportsNation! Just in time for Prostate Cancer Awareness Month (September) and the beginning of the U.S. Open (August 31), tennis great John McEnroe stops by to chat about his efforts to make prostate health awareness a priority.
The seven-time Grand Slam champion has teamed up with "Stand Up to Cancer" to help deliver this serious message to men and raise awareness of Prostate Cancer. McEnroe's role as a "Stand Up to Cancer" ambassador has deep roots as his father is a prostate cancer survivor. Go to ProstateCancerWatch.com for more information.
Send your questions now and join McEnroe on Thursday at 12:15 p.m. ET!
More Special Guests: Previous guests | SportsNation | Chat Index
Buzzmaster
(12:19 PM)
John is here!
John McEnroe
(12:20 PM)
Hey mom and dad!
tennisfan (Wisconsin)
What facts do you believe every man should know about prostate cancer?
John McEnroe
(12:23 PM)
That one out of every six men get prostate cancer. Getting your prostate checked can be as little as getting a PSA test. Men should go to their doctor to see what's right for them. I'm here to raise awareness, my dad had prostate cancer and he is a survivor. I'm here to encourage men to be proactive instead of reactive.
Lewis (Macon, GA)
How did you get involved with Stand Up to Cancer?
John McEnroe
(12:25 PM)
We started out looking for 50 year old men because that we the suggested age to get tested, so that narrowed down the field. They have seen the work that I've put in and thought that I would be a good ambassador for them.
Ryan (SLC)
Love your match commentary and your book. If you were in your prime today who would you most like to play against and where would you be ranked?
John McEnroe
(12:27 PM)
I'd love to play the best guys. The Federer's and Nadal's of the world. I would like to think that my ranking will be high enough that I can get some good competition.
chris (maine)
Do you think Hewitt has another year or two left in him and Have you heard how Hewitt's knee been holding up?
John McEnroe
(12:28 PM)
There is concern. I haven't heard anything since the last time that I have seen him play. It's not going to get any easier for him because he uses his legs a lot but hopefully he will be around for the next couple of years.
Dave (Cleveland Ohio)
How do you feel the Williamses will do in the draw, especially with a rising Elena Dementieva and sleepers Clijsters and Sharapova?
John McEnroe
(12:29 PM)
I still think the Williams' sisters are the players to beat. They both play well at the US Open. Serena is looking to tie Billy Jean King with 12 singles titles and even though Venus hasn't won at the Open in a while, I still think these two are the two to beat.
colin (seattle)
will you be annoucing on ESPN during the night matches this year?
John McEnroe
(12:30 PM)
I hope so. I'm planning on it and I'm ready to go.
Patrick (San Diego, CA)
Other than Roger Federer, who will take the United States Open title and why? Also, what happened to playing doubles at the USO with Fabrice Santoro?
John McEnroe
(12:32 PM)
I'm going with Andy Murray who has never won a major but is playing well and Andy Roddick who is coming off a great showing at Wimbledon. My body wasn't quite ready for doubles so unfortunately I was unable to play but I appreciate the offer.
vu tran (pineville, Louisiana)
hi Johny Mac, some analysts say that Rafa is not ready to win at the big apple this year and Roger is the only one. what chances do you give Rafa to complete his career slam this year
John McEnroe
(12:33 PM)
I think his chances are great but it depends on the draw and how he is feeling. He is a great competitor so you can never count a guy like that out.
Pat S. (New York)
I just walked past famed MSG and saw a larger-than-life banner of John McEnroe raising awareness for Prostate Cancer. I also saw him on Larry King Live last week as well discussing this. What is this campaign all about?
John McEnroe
(12:35 PM)
It's just about being proactive instead of being reactive. My father had prostate cancer so this cause is dear to my heart. The earlier you detect cancer, the greater chance you have of curing it.
Steven (Nj)
Who are your favorite players to watch?
John McEnroe
(12:38 PM)
Well I love watching the best guys. Federeer in the way he moves, Nadal's fight, and Del Potro who is an up and coming guy. It's interesting to see him play and develop.
John McEnroe
(12:39 PM)
Thanks to everyone for all these great questions and hopefully we can do it again in the future.