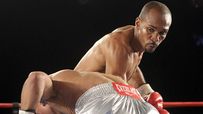 Randall Bailey fights on Friday Night Fights!
Welcome to SportsNation! On Wednesday, junior welterweight Randall Bailey stops by to chat about his upcoming title fight on Friday Night Fights (10 p.m. ET, ESPN2).
Bailey (39-6, 35 KOs) faces reigning IBF junior welterweight champ Juan Urango (21-2-1, 16 KOs) Friday night at the Seminole Hard Rock Hotel and Casino, in Hollywood, Fla. Bailey, a Florida native, is 11-1 in his last 12 fights, with of the wins coming via knockout.
Send your questions now and join Bailey at 2 p.m. ET Wednesday!
More Special Guests: Previous chats | SportsNation
Randall Bailey
(2:18 PM)
Hello everybody ...the Knock Out King is in the house!
Brian (Tampa, FL)
What is a day of training like for you?
Randall Bailey
(2:19 PM)
I get up about 6:30 am and take a run. I come home eat breakfast and around 10 am I'll make my way to the gym. After the gym I come home and relax.
Michael (Oakland, CA)
What boxer did you idolize growing up?
Randall Bailey
(2:20 PM)
Evander Holyfield and Sugar Ray Leonard.
Everton (pickering, ontario, canada)
Is there anything special you have been working on in the gym in order to prepare for Juan's presure?
Randall Bailey
(2:21 PM)
I've been working on my jab a lot as well as working my angles. But there's not a lot to work on when you know a guy is going to come straight at you.
Larry (Detroit, MI)
What do yo uhave to do in order to win Friday?
Randall Bailey
(2:22 PM)
I have to be smart and don't sit in front of him. I can't get caught with one of his wild shots so I have to just fight smart.
James (Lond Island, NY)
You'll be turing 35 next month, do you see your career coming to an end soon?
Randall Bailey
(2:23 PM)
I think I have another two years in me. I don't really want to fight until I'm 40 so I think another two years will be good enough.
Mike hbg pa [via mobile]
So much talent in and around your weight class, i know ur focused on this fight, who would you like to fight in the coming year?
Randall Bailey
(2:24 PM)
Timothy Bradley, Devon Alexander, Marcos Madina or any other up in coming guy in the division.
Tim (Pittsburgh,PA)
Randall, do you think that your pure punching power will be enough to give you the victory against Urango?
Randall Bailey
(2:25 PM)
I'm not looking at it that way. If I catch Urango with a solid right hand, than it's going to be good night.
James (Athens)
You had one of the greatest straight-right hand KO's in FNF history. Can we expect more of the same this week?
Randall Bailey
(2:26 PM)
Most defiantly. If the right hand is available then I will use it.
raul (chicago)
yo bailey once you beat urango, can you go after khan or hatton
Randall Bailey
(2:27 PM)
I would like to but unfortunately I don't think those guys are looking to dance with a guy like me.
Juan Urango (Trainning Camp)
I am not saying you are old but is it true you were on the undercard of David vs Goliath?
Randall Bailey
(2:28 PM)
I don't remember the fight card period. Who is David and who is Goliath?
Mykel Jackson (Monroe GA)
What is the possibility of a RJJ-BHop 2 fight ever happening ?
Randall Bailey
(2:30 PM)
Slim to none because they aren't fighting for legacy anymore they are fighting for money. Instead for giving the fans what they want (a good fight), they are looking for the big bucks.
Nigel (Chesntut Hill, MA)
Randall, you've struggled in the past with good body punchers (Hurtado, Cotto). What's your plan to deal with Urango's body attack?
Randall Bailey
(2:31 PM)
That comes with bringing in new trainers. My trainer has showed me defensive tactics as well as punching tactics. My punches to the body will be just as hard as Urango's.
Gary Burton (Beaverton, OR)
Randall, is the fondest memory of your career to date the night you ko'd Carlos "Bolillo" Gonzalez in the first round to claim the WBO Junior Welterweight title, just over ten years ago?
Randall Bailey
(2:32 PM)
I don't think I've reached a point in my career where I can say this is the greatest night that I've ever had. I guess I'm still fighting to find that moment.
Randall Bailey
(2:36 PM)
Thanks for all the questions. Stay tuned to ESPN2 for the season finale of Friday Night Fights as I take on Juan Urango for his IBF Junior Welterweight title.