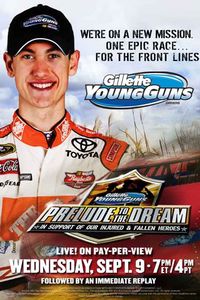 Welcome to SportsNation! On Thursday, NASCAR driver Joey Logano stops by to chat NASCAR and the "Prelude to the Dream" race next week.
Logano will be one of many of NASCAR's top drivers participating in the fifth annual Gillette Young Guns Prelude to the Dream race Wednesday, Sept. 9 from Eldora Speedway in Rossburg, Ohio. The race can bee seen live on HBO Pay-Per-View at 7 p.m. ET. Proceeds from the race on a dirt track benefit four military-themed charities: Wounded Warrior Project, Intrepid Fallen Heroes Fund, Operation Homefront and Fisher House.
Join Logano Thursday at noon ET!
Clint Bowyer chatted Wednesday.
More Special Guests: Previous chats | SportsNation
Buzzmaster
(11:55 AM)
Joey will be here shortly to chat!
Buzzmaster
(12:01 PM)
Joey's here!
Kevin (VA)
Joey, a lot of the guys in the Prelude race have experience on the dirt tracks. What about you? Do you get on the dirt very often?
Joey Logano
(12:01 PM)
Not often at all. I've tested the car a couple of times before. I kind of ran a dirt race down in Talledega. Reutimann ran and couple of Cup guys ran. I might be OK, I think. No experience though.
Lynne (Mi)
What has been the hardest part of being in the Cup Series?
Joey Logano
(12:02 PM)
Just getting a feel for everything. Getting used to the cars. Getting used to the off track stuff. There's a lot that you have to get used to. The team, the new tracks. But I'm getting ahold of it now.
Rolando (VA)
Good Luck this week. How do you feel when you see people walking around with Joey Logano hats and shirts and diecast? I think it would be cool! :)
Joey Logano
(12:03 PM)
I think it's pretty cool. It's all still new to me. The coolest thing is not being at the race track and seeing your stuff. When you're away and see something, that's a pretty neat feeling.
Bill Wash.
How much fun was it making the Home Depot commercials?
Joey Logano
(12:04 PM)
It was pretty fun. It was new for me, acting. We had a good time. I got better at the end.
ashley (tyler,mn)
hi joey how does it feel racing with Jeff Gordon and Dale Jr
Joey Logano
(12:04 PM)
It's neat because you've watched them race your whole life. But at the same time, we're all out there racing and trying to win, so you don't really think about that stuff when you're on the track.
Jamilynn Wilk (Toledo, Ohio)
Joey, Is it ever hard to just be a normal teenager without all the paparazzi ?
Joey Logano
(12:05 PM)
It's getting tougher and tougher, but I'm cool with it. I like my job and I have fun. I still find time to be a kid and have a good time.
David Fuller (Marion, NY)
Hey Joey, what are you most looking forward to at the Prelude?
Joey Logano
(12:06 PM)
Just go out there and drive. It's a super speedway for dirt racing. I'm going to have my hands full. I guess a few of those guys have ran on the dirt. But we'll be OK.
Jessica F (Iowa)
Joey, how much more relaxed are you now that you have been to most of the Sprint Cup tracks at least once?
Joey Logano
(12:06 PM)
I don't think I'm any more relaxed. The track isn't really a relaxing place. But now I know what more to look for.
Bethany (NJ)
Did you ever think that you would be able to acomplish as much as you have already in your rookie season?
Joey Logano
(12:07 PM)
Yeah. I kinda did.
Joey Logano
(12:07 PM)
I always shoot for the moon.
Joe (Boston, MA)
Hey Joey, how's life been at Gibbs? Must be hard to step in for one of the best race car drivers on the planet while most of your classmates haven't even declared a major in college yet.
Joey Logano
(12:08 PM)
It's good. Joe Gibbs Racing is a great organization. It's tough filling in for someone like that, but everyone expected it to take some time. But lately, everything is going as scheduled right now.
Alexandria (AL)
Do you have any pets? If so what are there names?
Joey Logano
(12:08 PM)
I have a cat named Angel. She adopted us, apparently. She stopped at our front door and she's adopted us apparently.
Garrett Clayton (Hermitage)
Joey, over the last few months I have become more of a fan of the way you drive. You seem to have improved by ten fold from the start of the season. How do you think you will fair next year to make the chase?
Joey Logano
(12:09 PM)
A lot. At the end of the season right now will be to gain some momentum for next year. Get some good runs. Keep improving every time we go to the racetrack. We're going to keep on working on that.
Daniel (Hobbs, New Mexico)
Is NASCAR as easy as it looks?
Joey Logano
(12:10 PM)
No! (laughs). If it were easy, I'd win every single race and everyone would be doing it.
Justin (NC)
What's your favorite personal car to drive around in when you have the chance?
Joey Logano
(12:11 PM)
I got an old 37 GMC truck. It's got a good look to it. I like driving that thing around. It's pretty cool.
Jason (Ellicott City, MD)
Can you explain to non race fans why/how driving is harder than it looks?
Joey Logano
(12:12 PM)
You have to think about what you're trying to do. We're on a track driving stock cars that weigh a lot, slipping and slidding around with other cars out there. We're doing a lot. Everyone's working on the cars, trying to make them go faster. I could make a long list of the reasons.
Brad (Gadsden,Alabama)
Joey, Do you have any pre-race rituals?
Joey Logano
(12:12 PM)
No, I don't. I don't have anything. I just eat and let it rip.
Mike (Richmond, VA)
How is Kyle Busch as a teammate and co-worker??
Joey Logano
(12:13 PM)
Everyone gets the wrong impression of him. He's a really good teammate. Our ages being similar helps a lot. When I have a question, he helps me a lot. And he just doesn't give a quick answer, he goes into detail. As a rookie, that's a great thing to have.
Summer (Topeka, KS)
Have you ever been stopped while you were out and about by any fans?
Joey Logano
(12:14 PM)
I do. More and more. I was in Chicago last night and was stopped in the airport a few times. It was kinda cool. It's a good thing.
Paige (Sandpoint, Idaho)
How's your arm for the first pitch tomorrow?
Joey Logano
(12:14 PM)
We're going to find out! I'm not a baseball player, so it's not going to be spectacular.
Marc (Charlotte)
If you are the coolest thing since sliced bread, what was the coolest thing before sliced bread?
Joey Logano
(12:15 PM)
I don't know. That was a long time ago. I wasn't alive back then!
Fred(al) [via mobile]
joey will we ever see you run the full nationwide season and win the championship??
Joey Logano
(12:15 PM)
We're not going to run a full season this year for the championship coming up. We're going to try and do the same thing as this year, 20 or so races and really concentrate on the Sprint Cup.
Tyler (Arkansas)
Hey Joey. Saw you at Talladega this year. Good job. Let me ask you. As a driver, who's your pick to win the chase this year? And who is your favorite driver?
Joey Logano
(12:17 PM)
I don't know. I think a lot of guys have a good shot at it. A lot are winning good. This sport is crazy because some weeks you're running well and then others you're not. It's all about who makes the best decisions. It's tough to make that call.
Joey Logano
(12:17 PM)
Thanks for the support. I appreciate it.