Chat with Houston's Case Keenum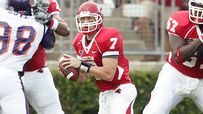 Keenum has thrown for seven TDs and just one INT this year.
Welcome to SportsNation! On Tuesday, Houston quarterback Case Keenum stops by to chat following the Cougars' 45-35 win over No. 5 Oklahoma State.
Keenum threw for 366 yards and three TDs in Houston's upset, the first for the Cougars over a top five opponent since 1984. The game was the 14th straight regular season game in which Keenum threw for 300 yards or more. It was also his 16th straight game with a TD pass. He has thrown for a TD pass in 24 of the 26 games he's started in his career.
A year after throwing for over 5,000 yards and 44 TDs, Keenum is off to a hot start in 2009. In two games, he has over 700 yards passing and is completing 72.4% of his passes.
Send your questions now and join Keenum Tuesday at 2:30 p.m. ET!
More Special Guests: Previous chats | SportsNation
Buzzmaster
(2:27 PM)
Case is here!
Rhonda Silver (The Woodlands)
Was it easy to adapt to Coach Sumlin's coaching style after being with Art Briles?
Case Keenum
(2:29 PM)
Football is not an easy game, no matter what position you play. It's fun. It's a challenge. I enjoy challenges. I am a perfectionist and I try to perfect anything that I do. With the offense, it's a continuous deal. I've never fully adapted to it. I can always get better. I'm still working on it, I guess you could say.
Matt (Houston, TX)
Has the atmosphere changed in locker room since last weeks win? Any changes to the practice routine this week with the BYE?
Case Keenum
(2:30 PM)
I don't think there is any change. We knew there was going to be a bye this week. But as far as what we planned to do with the bye week, nothing's changed. Some guys with dings can get healthy. You can get your conditioning back up. You have to stay focused. It's not an off week, it's a bye week. We have to continue to work hard and get ready for the next game.
Ricardo (Dallas, TX)
Case, first off, great game. Cheers for not giving in to OSU. Is there something you are doing to motivate the team and not let the top 25 ranking get to their heads?Go Coogs
Case Keenum
(2:31 PM)
I try not to read any newspaper articles or pay attention to the media outlets. That's something that is other peoples' opinions. Two weeks ago, they had their opinion and we had ours. Others are now changing. We're confident in our ability. We're going to continue to do what we do and go out and play hard on Saturday.
Case Keenum
(2:31 PM)
Thanks for kind words.
Zane (Kent, Ohio)
Hey case! Are you afraid of people labeling you a "system" quarterback?
Case Keenum
(2:32 PM)
I don't know if it's a politically correct answer, I will say I am a system QB. I will try to play well in whatever system I am put in. I will play hard and prepare hard whatever the gameplan is. I will prepare to be the best player I can be and make the players around me better.
Craig G. (Fairfield, California)
Hey Case, congratulations on your season so far. Is there one pro player you have modeled your playing style after?
Case Keenum
(2:34 PM)
Thanks Craig. I say there is a combination of players. There are a lot of great QBs out there. I recently had a chance to watch Drew Brees practice. They came down for their game against the Texans. He's a great player and does all the things right. I learned a lot from him, just watching him go through his reads. He's done great things on that level. Tom Brady is a perfectionist as well. He tried to make a perfect throw. You can go on and on for each QB. There's something that makes them successful and you can learn a lot from all of those guys.
David C. White (Sugar Land, TX)
The next big game is Texas Tech. Which are you concerned about the most - their defensive line or their secondary and why?
Case Keenum
(2:35 PM)
They've got a talented team. There is a lot of talk about their offense, but their defense is talented as well. We can't worry so much about who we're playing, a lot of it is making sure we control we can control. We can't control what defense they run. We can control the plays that we run and the plays that we make. Make good reads and perfect throws. Just reacting to what defense they put out there and doing what we do.
Eric (Houston, TX)
Is anybody asking you for autographs around campus yet?
Case Keenum
(2:36 PM)
Not so much. I've got some online classes and I've been to two to three since then. It's a little more exciting around campus, that's for sure. Some guys have gotten ovations in classes and the teachers are having fun. It's pretty cool. It's exciting and we want to keep it rolling.
Matt (Houston)
What did you guys think of the welcome home gather at the AAC?
Case Keenum
(2:38 PM)
Man, that was awesome. We had a few guys that had some text messages saying they would be there. It was pretty surreal. To come home to the band and we had people booing us all day, it was nice to come back to that. It was nice that people got to come and were there for us after the game. It meant a lot to us.
Stacy (Ontario)
Case! Youre HOT! Do you have a girlfriend?
Case Keenum
(2:38 PM)
What up Stacy? I do have a girlfriend that I've dated since I was a senior in high school named Kimberly. She's moved down to Houston. I'm sorry, but I've done long distance for a while and Canada is a little too far away.
Bill Crenshaw (Greenwood SC)
Case, how confident was your team coming into Stillwater after the Cowboys big win a week earlier against Georgia.
Case Keenum
(2:40 PM)
We were very confident. We feel like not many people believed in us before the game. We didn't have anything to lose. We went up there and just played hard with everything on the line and let it all out. We had fun. WE knew we were a talented team and had the capability to be good. We still feel like we have room for improvement. But we were very confident. Great atmosphere. They're a good team and they fought hard, but we did too.
Peyton (Dallas, Tx)
It must be exciting to see former Houston QB Kevin Kolb get to start in the NFL this weekend. Do you still communicate with Kolb and do you think it helps both your program and your chances in your career to have him on that stage?
Case Keenum
(2:42 PM)
Well, Peyton from Dallas, that's a great question. Yeah, I do talk to Kevin. He texted me this past week. It's exciting to see former Cougars playing well in the NFL. Donnie Avery is doing well. When Kevin gets a chance in Philly, I think he'll do very well. I learned a lot from him. I continue to learn a lot. He's done a lot of the things that I'd like to do. We owe a lot to what he's done for the program and continues to do. It's good to know him and be mentioned in the same sentence as some of the good QBs that have come through here.
Case Keenum
(2:42 PM)
You need to stop scrolling around on ESPN and get back to work. You have too much time on your hands.
Brandon (Oklahoma City)
Case, you played a great game on Saturday. I was just wondering if you thought going into the game that it would be a dog fight until the end or after you were up did you think that you had the game locked up? Nice job!! Keep it rolling!
Case Keenum
(2:44 PM)
With the talented team that Oklahoma State has, we could never let up. We never thought we had the game in hand. We were playing with confidence and to win, but with a guy like Dez Bryant, he's dangerous whenever he has the ball in his hands. You're just waiting for him to do something amazing when he has the ball in his hands. The defense made some huge plays in the end. They played incredible. It wound up in our favor.
Alec (Houston, TX)
What do you plan on doing during your bye week?
Case Keenum
(2:44 PM)
Well, I'm probably going to get out of Houston and go to my counsin's house, if they'll let me come out. Maybe get out on the lake and get some fishing in. See if I can't turn off my phone and relax for a day or two. Go to church. Get some time and regroup.
Bastion (Houston)
Does the team still call you Sweet Feet? Or do you have a new nickname now?
Case Keenum
(2:45 PM)
Sweet Feet, that was more Anthony Alridge. He called me that. They had a lot of nicknames for me then. I am not really a self-pronounced type of guy. I respond to anything.
Ken Hoffman (Houston, TX)
What's your favorite ice cream?
Case Keenum
(2:46 PM)
That's a tough one. Probably homemade ice cream. My mom makes a good strawberry ice cream. I haven't had it in a while. Probably cookies 'n' cream is my go-to ice cream.
Case Keenum
(2:47 PM)
This is fun.
Kelsey (Houston)
If I get fired for chatting with you for this 30 minutes instead of working, will you or won't you take care of my family when you make it in the NFL?
Case Keenum
(2:48 PM)
That sounds like a loaded question. I feel like I should have a politically correct answer for that. Blame it on your lunch break or something.
Niko (Dallas (Tx))
Hey Case! You've probably heard this too many times but congrats on the win! I wanted to ask you what motivates you when you are playing. Good luck against my Red Raiders!
Case Keenum
(2:50 PM)
Football is in my blood. I grew up playing football. My dad was a coach for over 20 years. I grew up on the sidelines and weight room, lockerroom. I was a ball boy ever since I could pick up a football. It's a part of my life. Football on Saturdays and church on Sundays. You always knew where we were on the weekends. It's a blast. I do consider it a blessing to do what I do. Playing teams like Oklahoma State and Texas Tech in a couple of weekends. You can't take it for granted. I have fun with the guys that I play with. Games like this past weekend are a reason you play the game. It's a bunch of fun.
Case Keenum
(2:51 PM)
Thanks. It was fun, interesting. I hope I answered everyone's questions. I'm not really an entertainer, just trying to play some football. I don't want to hurt any feelings with the answers. Catch you next time. Let's do it again.