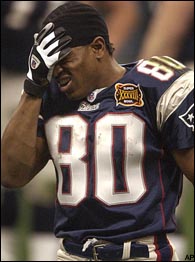 Troy Brown played 15 seasons with the Pats.
Welcome to SportsNation! On Tuesday, former New England Patriot wide receiver Troy Brown stops by to chat about the 2009 NFL season.
Brown played his entire 15-year NFL career with the Patriots. He retired as the Patriots' all-time leader in receptions (557) and second in yards (6,366). He also left the team as the all-time leading punt returner with 252 returns for 2,625 yards and 3 TDs.
This season, Brown is partnering with Tom Brady and smartwater on "smartwater zero sack give back" that benefits Boston Centers for Youth & Families. For each game that Brady goes un-sacked, the initiative contributes $5,000 to BCYF.
Send your questions now and join Brown Tuesday at 1:30 p.m. ET!
More Special Guests: Previous chats | SportsNation
Troy Brown
(1:31 PM)
Thank you all for having me on here and asking me questions, I appreciate it!
Craig G. (Fairfield, California)
Hey Troy, what do you attribute your longevity and 15 year career most to?
Troy Brown
(1:33 PM)
I think it was probably just taking care of my body. On the physical side of things, I thought I busted my butt every day and had a pretty good work ethic. I ran and hydrated myself, but the most important thing was going out and executing what the coaches wanted me to execute, as well as being able to do multiple things on the field. That's what allowed me to play 15 seasons in the NFL.
Xander (Philly)
How much are you missing football, if any?
Troy Brown
(1:33 PM)
I don't miss it a lot. My body feels pretty good and that keeps me in check. I get a little sore playing basketball or running with my kids, and that reminds me why I retired. I do a little media and hang out with my kids, so that keeps me busy. I usually miss it the most during playoff time.
Joel (Washington, D.C.)
Troy, you've always been one of my favorite players. Really enjoyed watching you over the years. Why did you decide to take on the challenge of playing in all three phases of the game - WR, DB, and on special teams? What was it like switching between them?
Troy Brown
(1:35 PM)
That's what my team needed. They needed me to come in and play defensive back. They gave me a shot in the preseason to do some things, and liked what they saw. It basically gave us an extra roster spot. It was a challenge, but I don't back down from too many things and I told them I'd give it my best shot. It was actually pretty fun switching between them, but it was stressful down the stretch. Defenses weren't giving me a break and we were changing schemes all the time. I just wanted to play the best way I could.
Kyle (Boston)
Troy, what's up with this thing with smartwater? Do you think Tom is still mobile enough to avoid being sacked?
Troy Brown
(1:36 PM)
I think he is! He took a few hits last night, but I think he's still mobile enough. His offensive line is solid and they've played together for a long time. There's a chance for this program to make a lot of money with Tom Brady in the pocket.
Sue (boston)
I was at the game last year when the Patriots honored you and I wouldn't have missed it for anything! How did you feel that night?
Troy Brown
(1:37 PM)
It was a wonderful feeling. I didn't realize I had so many people who loved watching me play. They went crazy when I came out, gave my speech, and said farewell to the people who supported me throughout the years. I didn't get a chance to show a lot of emotion, but I told my friends how much it meant to me that people cared enough to stay in their seats and watch me be honored.
Brandon Keslar (Florida)
Hey Troy. Who was your favorite athelete as a kid? Favorite Team?
Troy Brown
(1:38 PM)
My favorite athlete was Tony Dorsett, and the Cowboys were my favorite team.
Shane (Los Angeles, CA)
TB: You have been one of the toughest receivers in football. What is the hardest hit you remember and who laid it on you?
Troy Brown
(1:39 PM)
I got hit back in 1998 on a Monday Night, and I got hit by Zach Thomas right in the chin on a quick slant over the middle.
Pat (Boston)
Hey Troy, thanks for all the great years you played for the Patriots. I think everyone remembers all the great plays you made, like the catch on your back vs. the Giants in '96 and the entire game against the Steelers in the AFC Championship. Is there one play in your career that sticks out as your personal all time favorite?
Troy Brown
(1:40 PM)
I have a few. It's tough to pick just one. I think a lot of the fans remember a play back in 1996 against the Giants...I ran a route over the middle on 3rd and 13. Bledsoe threw a pass slightly behind me, and I was able to get it, though I ended up on my back.
Xander (Philly)
Would ever do a Brett Favre and come back?
Troy Brown
(1:41 PM)
Only if the Patriots really, really needed me. I keep myself in good shape, but I'd need to be in better shape to come back. Just for the Patriots.
Drew (Buffalo)
Ever think about coaching?
Troy Brown
(1:41 PM)
I've thought about it, but I think my kids are too young for me to take all that time going and coaching. I do love the game, but it would be too much to take all that time right now.
Marcia (Florida)
I miss you on the football field, how do you think the pats will do this year with Tom back.
Troy Brown
(1:42 PM)
I think they'll do just fine. After last night's game, they have some work to do, but they have time to fix any problems. The offense will click and Brady will be just fine. He looked sharp in the second half coming back. What he did was just tremendous.
Troy Brown
(1:43 PM)
We're going to donate $5,000 to provide Boston Centers for Youth and Family for every clean game for Tom Brady.