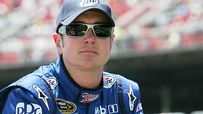 Busch has 19 career Cup wins.
Welcome to SportsNation! On Wednesday NASCAR driver Kurt Busch stops by to chat as the Chase to the Cup is set to begin this weekend.
The Sprint Series heads to Loudon, N.H. and the New Hampshire Motor Speedway (Sunday, 2 p.m. ET, ABC) for the first race in the Chase to the Cup.
Busch enters the Chase in seventh place, 30 points behind the leader Mark Martin. In the first 26 races of the season, Busch finished with 14 top-10s, seven top-5s and one win. Busch and his No. 2 Miller Lite team will be looking to repeat their performance from 2004 when they won the very first championship in the Chase format.
Send your questions now and join Busch Wednesday at 1:40 p.m. ET!
More Special Guests: Previous chats | SportsNation
Buzzmaster
(1:36 PM)
NASCAR driver Kurt Busch will be here to chat at 1:40 p.m. ET. Send in those questions!
Buzzmaster
(1:44 PM)
Kurt Busch!
jj hill jr (las vegas)
hey kurt, you've been GREAT at short tracks over the years, do you think roger and his equipment have made you even better at short tracks?
Kurt Busch
(1:45 PM)
I definitely think so. When I first came to Penske Racing, they taught me so many different things about short tracks that I didn't know that it picked up the game a little bit. We hope that this weekend at Loudon that things can go our way. I consider it a short track.
Matt (Chicago)
What, if anything, changes for your team strategy-wise going from the "Race to the Chase" to the "Chase for the Cup?" Oh yeah, and your Cubs are going DOWN in St. Louis this weekend!
Kurt Busch
(1:46 PM)
You must be pretty close to the St. Louis side than the Chicago side of Illinois...The mentality changes to where every point counts. When you're in the race to the chase, you are racing and trying to get in position, but now every point counts. We're going to try to win Loudon and the rest of the way.
Bonnie Beyer (Illinois)
How is the Kurt Busch Foundation Dodge Challenger Car Raffle going...have all the tickets been sold?
Kurt Busch
(1:47 PM)
The raffle has been going very well. We've had support from all over the country. There are tickets still available. Check out KurtBusch.com and follow the Dodge raffle link for tickets. It's been a lot of fun taking that car around to different venues.
Joanne (Phoenix)
Will we ever see you and Kurt Busch Jr. racing together in the Daytona 500?
Kurt Busch
(1:48 PM)
I like the question. It sounds like I've got my work to do in two different areas - 1) staying in the game long enough and 2) with my lovely bride and wife, putting that in front of us in the near future.
mike (pa)
Kurt Busch, i cant believe im chattin with you right now, but anyway, What do you think we can expect from the Miller Lite Dodge entering the chase this season?
Kurt Busch
(1:49 PM)
Well, we expect to run with the best of them. We want to do the same thing that I did back in 2004 and that's win the championship. Come out of the gates strong and get good runs in early. We need to do that in Loudon and Dover.
Don (Atlanta)
Good luck in the chase!! Now that your in, how do you feel about younge brother not getting in with 4 wins.
Kurt Busch
(1:50 PM)
It's tough not to see Kyle in the Chase. I was devastated when I did learn that. But it's tough because there's a deadline. You have to have so many points after Richmond, no matter how many wins you have. They did win in Bristol, but that summer stretch they did have some tough luck. It's up to me to carry that Busch family banner through the Chase.
joey (ky)
are you racing the same car this weekend as the one you used earlier this year at loudon?
Kurt Busch
(1:51 PM)
Yes, we'll be using the same car, chassi number 576. We've raced it at quite a few tracks. When the Chase starts, you have to bring all your best stuff and that's what we're doing.
Chuck (Tenn)
Hey Kurt, nice of you to stop by for a chat. Who do you think is your biggest competition in the Chase?
Kurt Busch
(1:52 PM)
It looks like right now, everybody is going to be tough. We've got a guy who's 12 in points in Greg Biffle who won this race last year. Then Tony Stewart who at one point was leading by 300 points. The Hendrick cars, you can't overlook. It's anybody's game right now. There's no dark horses in my mind.
Hector (San Diego)
How often do you spend time at the shop working on the cars with your guys?
Kurt Busch
(1:53 PM)
It's a 24/7 job for everybody involved on the team. The mechanics are in the race shop from 7 until 4 Monday through Thursday. Then at the track, the garage opens at 6 and doesn't close until 6. You'll see me tinkering there with things a few hours during the week. Then some weeks I will have appearances or out testing somewhere. Every week is different.
Adam (Georgia)
how excited are you about having Brad Keselowski as a teammate next year? I think yall will make a great team. I can wait to see Hornish and Allgaier with yall to make up a great FOUR car team
Kurt Busch
(1:54 PM)
Brad is going to be a solid addition to Penske. To see his level of experience at such a young age, reminds me a little bit of myself. I definitley think that he'll find his way fairly quickly. I'm looking forward to any information he can bring to the table.
jay (pa)
Of your 19 career wins, is there anyone that stands out to you and for what reason?
Kurt Busch
(1:55 PM)
I would have to go with that first victory in Bristol in 2002. They always say the first one was the sweetest and it definitely is. You never know if you can win at the top level, you just keep pushing hard and working hard, and that day the dream came true.
Shayne - NY [via mobile]
Kurt... Where is your favorite place to go when you're not at the track? Congrats on making the chase and Go Vickers!
Kurt Busch
(1:56 PM)
I would say my favorite place to go is anywhere outdoors. Whether it's golfing, fishing, hunting, and one of the new fads that I've been on lately is skeet shooting.
Maggie (Jersey)
hey Kurt, are you impressed with the progress Sam Hornish Jr has made in his 3rd full year in Cup? and Do you think he can help you with info and setups to get you your 2nd title?
Kurt Busch
(1:57 PM)
Sam has made big strides this year, especially. But all along I knew anybody that could win three IRL championships is definitely going to be a man that can find his way over in the Cup Series. We've seen some open wheelers come and go, but I think Sam is definitely going to make it.
David (Alabama)
How big of an adjustment will it be to not have Pat Tryson next year, seeing as how he has been a big part of your success thus far at Penske Racing, and who is in the works to replace him? Thanks
Kurt Busch
(1:58 PM)
Pat will definitely be missed. He came to our program midway through 2007 and had an immediate impact, especially on the aerodynamic side. But with any good story, sometimes good times come to an end. Hopefully success with the Miller Lite No. 2 team is right around the corner with the new guy as well.
Daniel (Alabama)
Hey Kurt, you called your car the worst car you have ever driven the other day. Did you guys get the car back to the shop and find the issue?
Kurt Busch
(1:59 PM)
Sometimes, in the heat of the moment, excitement comes out. I'm sure I've driven some good cars and I've driven some bad cars. It was just off on handling at the time. It wasn't an issue other than that we didn't just make the right adjustments during the race.
Craig G. (Fairfield, California)
Do you see any new competition with the Ford Mustang coming into NASCAR next season?
Kurt Busch
(2:00 PM)
It will be exciting to watch how the Nationwide progresses with the new look. It was something I had hoped for on the Cup side of things. You always want to race a car that looks cool. When you win on Sunday, you want your fans to go buy one on Monday.
Kurt Busch
(2:01 PM)
Thanks for everybody writing in. It was great to chat with the fans across America about NASCAR. Of course, everybody should be watching the first Chase race this weekend and rooting for the No. 2 Miller Lite Dodge. TTYL!