Chat with Floyd Mayweather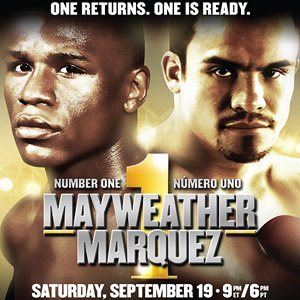 Welcome to SportsNation! On Wednesday, we have an exclusive chat with Floyd Mayweather Jr. as he makes his comeback to the ring.
Mayweather (39-0, 25 KOs) faces Juan Manuel Marquez (50-4-1, 37 KOs) at MGM Grand in Las Vegas on Sept. 19 at 9 p.m. ET/6 p.m. PT live on HBO Pay-Per-View.
Mayweather returns to fight after retiring in 2008, months after his last bout - a 10th round KO of Ricky Hatton in December 2007.
Send your questions now and join Mayweather Wednesday at 6 p.m. ET!
More Special Guests: Previous chats | SportsNation
Buzzmaster
(5:38 PM)
Floyd Mayweather will be here at 6 p.m. ET to take your questions!
Buzzmaster
(6:07 PM)
Floyd is here!
todd (omaha)
are you going to try and take advantage of marquez's tendency to start slow and try to get a KO early? Good Luck Money May
Floyd Mayweather
(6:08 PM)
What I'm going to do is come out and be the same ol' Floyd. He's going to try and lay it out on the line becuase he'll have a tremendous amount of pressure on him from his country. I am encouraging fans to go to your local PPV subscriber and get it.
M. Wallace (california)
How are you preparing in your final days before the fight? By the way, your a beast money mayweather..best of all time.
Floyd Mayweather
(6:09 PM)
Just working out all the way through training camp. It's been great. I just want to keep my skills sharp. So Saturday, there will be no doubt that it will be my best performance to date.
Seth (Boston)
At what weight do you feel you have been most dominant during your career?
Floyd Mayweather
(6:10 PM)
It's hard to say, because I've been able to move from different weight classes and beat the best guys out there in five different weight classes. The best is yet to come. I know what Marquez is going to bring to the table Saturday night. It's going to be one of the best shows of over the last 10 years.
Rey (Bakersfield, CA)
Marquez drinking his own pee, good move? Bad move?
Floyd Mayweather
(6:10 PM)
He's drinking his own pee and getting the gas chamber. If that's what he needs to do to get himself ready psychologically to beat me, so be it. Come Saturday night, he'll have to deal with me.
Chuck (Chicago)
Floyd, JMM has never been KO'd, do you believe you'll have an opportunity to score a KO or a TKO, or are you expecting this to go the distance?
Floyd Mayweather
(6:11 PM)
Well, I can just guarantee it will be a good fight. It's all up to him how he wants it. I know the fans will come out the winners, I know that.
Daniel (San Antonio, Tx)
What is your motivation in returning to the ring. You're undefeated, rich and really have nothing to prove.
Floyd Mayweather
(6:13 PM)
Just coming back and giving the fans what they truly deserve. It's going to be a great fight.
Darin (Silver Spring, MD)
Floyd, BIG FAN! Just curious, you know Marquez plans to attack your ribs since the injury was widely publicized, does that concern you at all in terms of your approach to the fight?
Floyd Mayweather
(6:14 PM)
Tell Marquez to bring it on.
bob sale (bedford england)
you have in the past had chronic hand problems how are your hands holding up for this fight????
Floyd Mayweather
(6:15 PM)
Everything's holding up great. Come Saturday night you'll see a two-fisted attack.
Jack (Los Angeles)
Are all the distractions gonna affect your performance sat? because i got money on you! dont let me down!
Floyd Mayweather
(6:16 PM)
There were no distractions. That's just the media and fans playing up on that.
Floyd Mayweather
(6:16 PM)
Tune in to the great night from top to bottom on Saturday night. We're going to give the fans a great fight.