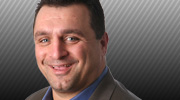 Welcome to ESPNChicago.com! Today Jurko will be online to talk to you about the Chicago Bears game Sunday against the Pittsburgh Steelers.
Send your questions now and join Jurko today at Noon CT!
More Jurko: Bio
ESPNChicago.com
(12:59 PM)
Hey everybody. We're expecting Jurko soon, but feel free to send in your questions now.
ESPNChicago.com
(1:08 PM)
Ok guys, Jurko is a late scratch. But we have a more-than-capable sub in Carmen DeFalco, host of the "Carmen, Jurko
ESPNChicago.com
(1:09 PM)
Hang on guys! Jurko is in. Let's go.
TED (FLORIDA)
WILL THE BEARS SIGN A RECEIVER THIS SEASON? HARRISON, MATT JONES, SOMEONE?
Jurko
(1:10 PM)
Quality of receivers is starting to really thin out. If they're going to sign somebody they have to realize who can and can't play. 3-4 weeks is the maximum amount of time they can wait.
Tim (Myrtle Beach)
If the bears play the same game against pittsburgh minus the turnovers and botched punt play shouldnt the bears have a good chance to win?
Jurko
(1:11 PM)
Jay Cutler has to play a smarter game. If he does that and control the ball, they're going to be in better shape.
Nick (McHenry)
It seems like Forte got most of his receptions last season on check downs from Orton. Will the coaches encourage Cutler to do more of that this season instead of forcing the issue down field, or will they let him make those decisions?
Jurko
(1:12 PM)
I think they'll reiterate to Cutler that Forte is a viable option and dump off to him for gains of 6-7 yards. That's much better than the alternatives.
Damien (San Fran)
Everyone is wondering aloud why Olsen and Forte weren't thrown to more in the GB game, but what about Hester? He caught 2 passes early then was mostly invisible save for the touchdown grab. For all the talk about putting him on offense to get him more touches, he seems to be getting less than he would as a returner. your thoughts?
Jurko
(1:13 PM)
I think he's viable as a deep option. That's what Devin Hester needs to be. All his routes need to be 15-20 yards, plus.
Marc (Big D)
Can Briggs raising his game and solid play by Hillenmayer fill the void left by #54 or his absence going to be noticeable all season?
Jurko
(1:15 PM)
I think everybody has to step up their game when a guy like Urlacher is gone. Lance Briggs alreayd was a better LB than 54. Now you need the DL to step up and the DBs. You're always goign to be saying in the back of your mind "I wish 54 were there," but if causing TOs and creating havoc, nobody will have a complaint.
Erick (Chicago)
i hear that most teams that start 0-2 rarely make it to the playoffs besides last year. How important is this game on Sunday? Do you think if we lose our chances of making the playoffs is over?
Jurko
(1:16 PM)
Not at all. I think it becomes less likely that a team that starts 0-2 can't make the playoffs. The early season schedule for the Bears is tougher than Green Bay's. Minnesota's first five games are cakewalks. So I think things have a tendency to even up over the course of time.
Damon (Houston)
Jurko, I am still in shocked by the severity of Urlacher's season ending wrist injury; the reports I have read state he will be in a cast for 11 weeks followed by a month of rehab. Should the Bears make the playoffs, will Urlacher be available?
Jurko
(1:17 PM)
He probably would be available for a Jan. run, but you can not hold up one of your roster spots for four months and hope he comes back. You can't just sit there and say "We're going to make the playoffs." That roster spot is important.
ken (Montana)
Is Devin Aromashado going to play Sunday? Johnny Knox played well but Devin is Jay's favorite guy, do you see him having an impact?
Jurko
(1:18 PM)
If he gets to play, would he make an impact, yeah. Maybe some of those balls go to Bennett will go to Aromashado.
Matt (Huntington Beach, CA)
Is it me, or did Cutler seem to be trying to force the ball to Bennett? Is this just because he has the most comfortability with him?
Jurko
(1:19 PM)
I think he's the primary receiver on a lot of routes. And he's usually the target on a lot of these passes. I'd like to see Bennett get a little more comfortable out there. He doens't realize when to settle down or what direction to go on scrambles and I'd like him to play with more balance.
Mike (NYC)
With our linebacking corps taking a significant hit, will we see more 8 man fronts against this rough tough Steelers run oriented offense? We saw Big Ben take care of Tennessee for doing this.
Jurko
(1:20 PM)
I'm not impressed with the Steeler running game. Seven in the box will suffice. Consistent and surprising pressure .. you have to bring it from different angles, have to try to confuse Ben. That's the most effective weapon.
Taylor (Chicago)
This week could be interesting with the WRs leading up to Pittsburgh. After the 68 yd bomb last week to Knox, Aromashadu coming back off injury, and Davis' contributions on Special Teams; do all three dress? Don't you think it will be tougher not getting Knox in the game, or D.A. with his excellent rapport with Cutler in the preseason rather than a Davis?
Jurko
(1:21 PM)
I like DA. I like the way he plays. He makes good adjustments with the routes. Davis and DA would be my choices if someone has to sit. Knox would end up sitting. He still gets a little lost, thinking too much out there.
Jabaay (Jacksonville,FL)
Do you think Cutler will be better at home even though he facing a steelers defense
Jurko
(1:22 PM)
Yes, because I think he's going to be making smarter decisions. It's amazing when you get a chance to look at film when you've played horribly. You say "If I just would have done this," that has an unbelievable effect on a player.
Courtney Hawthorne (Chicago)
Playing GM would you pursue a Brooks and move Briggs to middle LB? I think Briggs woul kill at that position.. Just like he does on the weakside.
Jurko
(1:23 PM)
I don't understand the Bears' philosophy about not wanting to move Briggs to the middle. As big of an impact as he makes on weakside .. who can fill Urlacher's shoes? Briggs can and one of those young guys can fly around the football field on the outside. Briggs in the middle you can't run away from. He's big and physical enough.
Nate (West Lafayette)
What do you think it would take for the Bears to go and sign someone at linebacker after the Pittsburgh game?
Jurko
(1:25 PM)
If you want Derrick Brooks, I think he's going to be available for a while. Maybe they told him to go get in shape. He'll be ready in 3 weeks. Maybe Napolean Harris can help you. I think it will take a game where they give up 40-odd points and get run until the cows come home. If they give up 200 yards rushing, might have to get a LB.
Idio (Oak Park)
Are there any specific types of attacks the front four can use against what is generally regarded as a 'weak' offensive line of the Steelers?
Jurko
(1:26 PM)
What they have to do is establish their first move and have a counter off it. Whether it's a spin or speed up and come under. Then go and got them with the twist game, twist packages. I think Adewale and Alex Brown are in position to be successful.
Tony (Westwood, CA)
It seems to me that despite Cutler's 4 INT's and the fake punt, the Bears still took a lead into the 4th quarter, and had the lead with less than two minutes to play. Isn't blowing it in the 4th quarter exactly what cost us the playoffs last year? And isn't that the Defense?
Jurko
(1:28 PM)
I think there were a diff set of circumstances last year. Greg Olsen fumbling twice didn't help. The DB against Atlanta and the Houston game just outperformed by a team that was hungrier and wanted to win more. Bears put it in cruise control. As far as Packers game, one mistakes by DB was all it took. Takes a half-second for the play to develop.
Idio (Oak Park)
How would you rate the interior player of the Bears defensive line last Sunday against the Packers?
Jurko
(1:29 PM)
I thought Tommie Harris was just a body out there. I thougth Harrison and Adams were disruptive in the middle. I keep watching Tommie to see if he's goign to be more or less effective.
Idio (Oak Park)
Can Adawale Ogunleye generate the same type of pressure against a legit NFL tackle that he did against the rookie in Green Bay?
Jurko
(1:30 PM)
He's motivated. There's nothing greater than motivation, and I guess for Adewale, cash it the greatest motivation. He played against a scrub last week, no denying it. We all know who he played against.
Adrian A. (Mundelein)
Hey Jurko, my question is why didn't the Bears really try to go and sign Hank Baskett? Our receivers played ok but he would have made a better number 2 receiver than Earl Bennett...plus he has Kendra, what do you think?
Jurko
(1:32 PM)
I'm all for Kendra. I think he would have made a solid No. 3 playing the slot position. Indianapolis brought in three guys. They were being proactive. Baskett averaged 21 ypc, so he has big-play ability. I wish they would have gone after somebody, but for one reason or another, they stayed with who they have.
Jurko
(1:33 PM)
Ok everyone, thanks for the great questions. Keep the questions coming with Chris Mack from Pittsburgh. Click on the link to the right.
THIS WEEK'S CHATS (All Times CT)