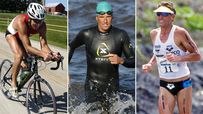 Scott has 6 Ironman titles.
Welcome to SportsNation! On Monday, six-time Ironman world champion Dave Scott will stop by to chat about the 2009 Ironman World Championship. This year's competition takes place October 10 in Kailua-Kona, Hawaii.
Scott won his first Hawaiian Ironman title in 1980. After five more titles in the 80s, Scott was the first inductee into the Ironman Hall of Fame in 1993. According to his website, DaveScottInc.com, to celebrate his induction, Scott came out of retirement and, at the age of 40, placed second overall in the world championship. For this year's race, Scott is teaming with Timex to help with training plans. For more information go to TimexIronman.com.
Send your questions now and join Scott Thursday at 4 p.m. ET!
More Special Guests: Previous chats | SportsNation
dan (chicago)
is an ironman more of a mental struggle or physical one?
Dave Scott
(4:14 PM)
You certainly have to have the tools to prepare for an Ironman race; you can't go in on a whim. It takes between 10-18 months to prepare for a race. The minimum about of time for armatures is to train about 11 hours a week. The mental component is huge especially on the run which is the third event. You have to break each part down into a segment that is the easiest way to tackle the race mentally.
ian (florida)
which leg of the race is the hardest to train for? I'd say the swimming part.
Dave Scott
(4:16 PM)
The Swim is a real skill acquired sport so if you don't have the rhythm, it can be a challenge. If you look at the time for each event, the swim is kind of short. The most difficult is the run which is the third leg.
Tom (PA)
What's the longest you've ever ran, swam or biked?
Dave Scott
(4:18 PM)
(Laughing) I'm not a total nut case. I've swam about eight miles in a workout (in a pool), I've rode 200 miles on a bike, and the longest was a marathon.
Jordan (St. Louis, MO)
What made you start competing in Ironman?
Dave Scott
(4:18 PM)
(Laughing) I didn't want a job!
Dave Scott
(4:21 PM)
I started in triathlons before triathlons had a name. I started in 1976 in San Francisco. We jumped in the Bay in cold temperatures and won that race. In 1980, I did my first Ironman race and that catapulted my want to do Triathlons.
Lisa (Newark, DE)
Who was your favorite athlete growing up?
Dave Scott
(4:24 PM)
I'm kind of old so I have to dig back into the archives. I remember watching the Packers in their hey day with Vince Lombardi and Bart Starr. I watched Wilt Chamberlain as well. I never had that one athlete that I admired but I enjoyed the ones that had to overcome obstacles to get on the level of greatness.
Rajesh (Atlanta)
Do you like training inside or outside? Where is your favorite place to train? thanks
Dave Scott
(4:26 PM)
I'm an outside trainer. I think my favorite place to train is in Boulder, Colorado. We have great terrain out year. I also have a group that I train year around. I
Pete (Denver)
when you first started doing the races, which was your strongest event? How about now?
Dave Scott
(4:27 PM)
Pete, I stared with a swimming back round. I was a decent Division II swimmer. In the Ironman race the run was my ticket.
Matt (IN)
Alright Dave. Who in their right mind wants to do an Ironman? You must be insane.
Dave Scott
(4:29 PM)
(Laughing) Listen Matt, I've had thousands of people join be so you're sitting on the outside. If you would like an application to join an Ironman race, let me know. All you need is some sneakers, a decent bike and a Timex watch. Let's get started!
Ron (VA)
Is the best part of being in all of those ironman competitions that you went to Hawaii all those times?
Dave Scott
(4:31 PM)
(Laughing) Ron I wasn't basking on the beach lathering on the suntan lotion. I was there for business, at least though race week. I would stay a couple of days after to enjoy the island of Hawaii.
Randi (New Orleans, LA)
What sports do you watch when you are not training or competing?
Dave Scott
(4:35 PM)
Randi, I like pro football and basketball. I like watching the Final Four. I watched the Tour de France as Lance Armstrong made his comeback. I enjoyed watching Michael Phelps and all the swim stars in the World Championship. I also enjoyed watching the Track and Field World Championship with Usain Bolt leading the way. And on top of all that I enjoy watching cross country skiing. Primarily because my sons participate in those events.
Bradley (Miami, FL)
What was it like being the first inductee into the Ironman Hall of Fame?
Dave Scott
(4:37 PM)
It was quite an honor to say the least. The sport finally has some history and I seemingly fell into the sport at the outset and was able to do fairly well. So to recognize at the end of my career and to be the first inducted into the Hall of Fame was a great honor.
Dave Scott
(4:41 PM)
I hope people that are thinking about entering triathlons know that you don't have to start on the Ironman level. There are smaller races for beginners. So get yourself a good pair of sneakers, a good bike, and a Timex Heart rate monitor and get out there. For more information, go to www.Timexironman.com or www.davescottinc.com. Thanks for all the great questions!