Chat with Steven Begleiter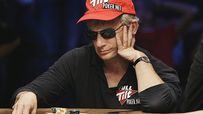 Welcome to SportsNation! On Monday, professional poker player Steven Begleiter stops by to chat about the upcoming final table of the 2009 World Series of Poker main event.
Begleiter heads into the main event final table third in chips. He won his seat through a 20-player poker league and each of the other players in the league have 1% of his winnings.
The 47-year old from Chappaqua, NY is a former executive of Bear Sterns and worked there until its final days. He now works for a much smaller firm in the financial sector and believes that there are similar skills required for poker and finance. The father of two believes that family definitely comes first before poker which is why he'd play only sporadically if he were to become the next world champion.
Send your questions now and join Begleiter Monday at 3 p.m. ET!
Watch the WSOP main event final table November 10 at 9 p.m. ET on ESPN.
More Special Guests: Previous chats | SportsNation
Buzzmaster
(2:53 PM)
Steven will be here soon. Send in those questions!
Buzzmaster
(2:58 PM)
Steve's here!
Hank (VA)
Have you watched any of this year's poker shows on TV?
Steven Begleiter
(2:59 PM)
Yeah, I watched just about every episode of ESPN's coverage. And I watch High Stakes Poker.
Will (Denver)
How much has your life changed since you made the November Nine?
Steven Begleiter
(3:00 PM)
It really hasn't changed very much other than that I'm spending more time reading about poker, going to more poker tournaments. I still have work, I still have family obligations. Although Poker has infringed on them a little bit.
Stephon (IA)
What's the most you've ever won in a game?
Steven Begleiter
(3:01 PM)
Prior to the main event, the most I've ever won in a game of poker was less than $5,000. Somewhere between 2,000-5,000.
Tim (TN)
With the final table close now, have you just gone into shutdown mode and just focusing on playing that final part?
Steven Begleiter
(3:02 PM)
I will after Columbus Day weekend. Still working on some stuff until then. And then after Columbus Day weekend, I'm going to shut it down until I get out to Vegas.
Jim (SC)
Congrats & good luck! How long have you been playing poker and what advice would you give to players looking to get better?
Steven Begleiter
(3:02 PM)
I've been playing poker, basically my whole life since middle school, but socially as a hobby, less than once a week. I don't even play once a week. My advice would be to play against better players. remember hands you're in and find thoughtful people to discuss them with.
Marc (Big D)
What have you been doing to prepare for the big day?
Steven Begleiter
(3:03 PM)
Trying to get lots of sleep and stay in shape has been my top priority. Trying to work on areas of my game that I'm not happy with. I've played in two tournaments with top flight competition. Played online some with Full Tilt Poker. Played some live cash, but I don't do it every day.
Pete (Iraq)
Leading up to November Nine, which day was your hardest, and what did you do mentally to get through to the next day?
Steven Begleiter
(3:05 PM)
That's a really good quesiton. I would say my hardest day was Day 7, the second to last day. I started the day as the chip leader but really got few cards that day. By the end of the day, I was really near average stack. I doubled up before the end of the day. The key for me that day, even though I didn't get cards, was finding enough spots to win some chips to maintain my chip level until I was able to win a big hand.
Bill M (Nebraska)
Begs how are you dealing with going into the final table with such an amazing pro in Phil Ivey? What is your stragety going to be in the beginning?
Steven Begleiter
(3:06 PM)
I'm fortunate that I have more chips and favorable position than Phil Ivey. He's a great player, better than me and I'll need all the help I can get.
Brad (Gadsden,Alabama)
Steven, Who is your favorite sports team?
Steven Begleiter
(3:06 PM)
That's a good question. The New York Football Giants are my favorite team.
Ted (MA)
How is finance and poker similar?
Steven Begleiter
(3:08 PM)
Well, they are similar in that you have to make decisions on partial yet incomplete data. Sometimes the situations call for mathematical analysis and sometimes they call for gut feel, and sometimes a mix. In poker, you get feedback and results instantaneously while in business sometimes it takes years to find out.
Greg (Louisville, KY)
Non-poker question. What are some interesting ways that your last name has been mangled, or, when you were growing, used to tease you?
Steven Begleiter
(3:09 PM)
Surprisingly, although my name does get it mangled, people get it right or close to right than I would suspect. Many people who are not sure who to pronounce it find a way to ask me how to pronounce it befor they mangle it.
robert w (boston)
how are your sponsorship deals going?
Steven Begleiter
(3:10 PM)
I got a sponsorship deal with Full Tilt, I'm happy with that. I have another deal or two that I'm contemplating. But I'm trying to focus on poker, not the business aspect.
Anonymous (Baltimore)
With blinds and antes so high at this point, what have you done to incorporate your starting hand ranges at the various levels and heads-up play to maximize your opportunity to get all the chips?
Steven Begleiter
(3:11 PM)
I think the significant amount of blinds and antes in each pot will definitley influence some of the players, particularly as people find themselves with short stacks. I have been spending an equal amount of time on what hands I should play as well as the hands people will play against me.
Pete (Rochester, NY)
Do you like your table draw at the table? Do you feel it is better to have Ivey 2 to the right and Buchman's large stack to your immediate left, or would you prefer to have those two flipped?
Steven Begleiter
(3:13 PM)
There are very few players in the world who would say they want Phil Ivey on their left, despite how many chips he has and I am not one of them. Having said that, Eric Buchman is a very accomplished player. I expect great difficulty in dealing with his large stack on my left.
Dave (Austin, TX)
Which do you enjoy more cash or tournament poker?
Steven Begleiter
(3:14 PM)
I just enjoy winning. I enjoy both relatively equally when I'm doing well. I just enjoy winning.
Jack (Gary, IN)
What are you thoughts on Jeff Shulman, who insists he will throw away the bracelet should he win it all?
Steven Begleiter
(3:15 PM)
I'm not really worried about what Shulman does after the final table. I'm worried about what he does at the final table. I am very sure about one thing and that he is going to try very hard to win.
Chops (Vegas)
So if you take down the N9 final table, how willing are you to step into that "ambassador" role everyone now expects from the ME winner?
Steven Begleiter
(3:15 PM)
I'm not comfortable talking about what I'll do if I win, but I hope I'll be in a position to answer that question on November 10.
Marc (Big D)
Was Ivey intimidating at all?
Steven Begleiter
(3:16 PM)
Yes.
Jeff Franklin (nashville tn)
Steve do you think your background as a former economics major gives you insight into the betting system of poker.
Steven Begleiter
(3:17 PM)
No. But I think that the quality of players is so high that one needs to have confidence that they can handle the math of the game pretty fluently.
GC (NYC)
Are you the best player in your weekly game?
Steven Begleiter
(3:18 PM)
I think so. There are 21 other people at the game that might have a different opinion.
Glen (Silver Spring, Md.)
Did you get much of a read on Darvin Moon and his game? Does he have a real shot to win? He says it's all luck that's gotten him this far.
Steven Begleiter
(3:19 PM)
I never played a hand with Darvin Moon, just the way the tournament played out I was never at the table with him. Darvin has been telling everyone that he is the worst player at the table. I don't think too many other people at the table believe that or buy that, especially from a guy that amassed $60 million chips.
Lukas (Switzerland)
Have you done anything to speed up your game before the big showdown? Got a coach? Read more books?
Steven Begleiter
(3:20 PM)
Books have been a big part of my training and have been a big help for me, both in the last year and at a higher level before the main event. I would reccommend coaching who is serious about getting their game to a higher level. But you need to know where your game is at before and be self-reflective before taking on a coach.
Steven Begleiter
(3:21 PM)
I would like to thank everybody for their support. I would like to let you all know that I'll show up to the final table prepared, ready to play my best and I hope I get some cards.