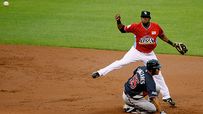 Young played 15 seasons in MLB.
Welcome to SportsNation! On Monday, we'll talk MLB playoffs when Baseball Tonight analyst Eric Young stops by to break down all the matchups.
Young played for nine teams during his 15 seasons in the majors. He had three seasons of over 50 stolen bases, six of over 40 and 10 of over 30. His 465 stolen bases rank 43rd on the all-time list. In 1995, he helped lead the Colorado Rockies to the franchise's first-ever playoff berth.
Send your questions now and join Young Monday at 3:30 p.m. ET!
More Special Guests: Previous chats | SportsNation
Buzzmaster
(3:22 PM)
Eric Young will be here to chat some MLB in just a few minutes!
Buzzmaster
(3:30 PM)
Eric is here!
Sydney Webbe (Boston, MA)
Hi Eric,Although I'm a big time Red Sox fan I really want to see the Cardinals against the Phillies, I think that will be a great series. What do you think, Eric? Who beats who? Thanks...Sydney
Eric Young
(3:32 PM)
I think the Phillies will win this series because of the fact that the Cardinals don't do a very good job against left handed pitching. And they'll throw Lee and Hamels at least twice if it goes 7 games. Both offenses are explosive, but I like Hamels and Lee more than Carpenter and Wainwright. AND the Phillies playe better defense than the Cardinals.
David (Texas)
How do you feel about a team like the Rangers having a top 4 record and yet missing the post-season?
Eric Young
(3:33 PM)
Basically, I was excited when they first started the wild card, because the division winners were the only one making the playoffs. This was a way to reward the next best record. The Rangers had a great season, but I'm satisfied with the current criteria.
Sam (Denver)
What moment made your prouder? Hitting the first home run in the first at bat for the Rockies during the first home game, or watching your son making his major league debut?
Eric Young
(3:34 PM)
Watching my son make his major league debut, without a doubt. As a parent, as a dad, you want to see your kids succeed and fulfill their dreams. To see him actually wear that Rockies uniform, was the proudest and best moment of my life and career.
JB (Seattle)
Who the Yanks match up better against - DET or MIN?
Eric Young
(3:36 PM)
The Tigers. I know the Yankees are going to score. I'm not sure the Tigers will be able to keep up with the Yankees in scoring. However, the Twins manufacture runs better. That's why I think the Yankees have a better chance against the Tigers. Right now one team is real cold and one is real hot. I think the Yankees would prefer the cold one, which is the Tigers.
Roller (Kentucky)
I'm a Braves fan but they didn't make it so I'm pulling for the Tigers, do u think they have a chance to get in and make a run?
Eric Young
(3:37 PM)
No. I think the Tigers had their chance and right now the Twins are playing better baseball. The Twins are doing more things to win. Whereas the Tigers have been playing not to lose the whole month of September.
Eric Young
(3:38 PM)
I think the party is over in D-Town.
Matt (Denver, CO)
What are the Rockies chances in the NLDS? What will they need to do to get past Philly?
Eric Young
(3:40 PM)
The Rockies probably are the scariest team in the postseason. They don't really have any big bats in the lineup like Philly, however, the Rockies are a team that relies on adequate pitching, great defense and timely hitting from a different starter each night. So, the fact that they use the 25-man roster to a T, gives them a chance, especially when they have De La Rosa going up against those lefties in that Philly lineup. The Rockies have been facing real good pitching in their division throughout the year, so they won't be intimidated by Hamels and Lee. So, I like their chances.
Matt H (Phx, AZ)
THE #1 priority of the Cubs this offseason is______???
Eric Young
(3:42 PM)
Being a former Cub, this team has probably been the biggest disappointment this year. They really don't need anything. They need guys to stay healthy and guys to perform up to their capabilities. There were a lot of down years for guys on that team. Talent wise, they're just as good or better than the Cardinals. The Cardinals just execute a lot better than the Cubs fundamentally.
Nick (Pueblo,CO)
If Brad Lidge blows a save oportunity in one of the early games with the Rockies with Charlie Manuel stay with him?
Eric Young
(3:43 PM)
No. Not at all. As of now, I don't think he's really been nominated as the closer. I think they go with a committee with Madsen and Myers. Right now the job is not Lidge's going into the postseason. So we might see Lidge in the 7-8 inning. For the Rockies sake, you might want to see Brad Lidge now.
Jason (Boston)
Is this the year the Angels FINALLY beat the BoSox? Or are we going to see the same ALCS as we've seen in 98, 03, and 04? (I'm pulling for that....)
Eric Young
(3:45 PM)
I'm not sure. I'm never one to question the heart of a champion, the Red Sox. However, the Red Sox are going in different than any other year they've entered the playoffs. The Angels are more confident. A different type of Angels group that feels more confident about beating the Red Sox. I'm going with the Red Sox in this series, because I believe Josh Beckett will have a great postseason.
jay (new york)
How far do think think the yankees will go????????????
Eric Young
(3:46 PM)
As far as CC will take them. The Yankees need him to have a better postseason than he's ever had. I think this year he has it, knowing that he has an explosive offense behind him.
Andrew W (Newport Beach, CA)
Is Ubaldo going to make the Phillies look silly? I agree, he will.
Eric Young
(3:48 PM)
He better be on his A game, going to the Bank. If not, Phillies hitters will make many deposits.
SteveFitz (Cicero, IL)
EY, you played a few years in a Cub uniform. What's your take on playing for the Cubs. It seems time after time after time guys just can't handle the pressure of playing in a Cub uniform. Granted, not everyone's career falls apart when putting on a Cub uniform, but would you agree that playing in Wrigley Field as a home player is arguably the toughest to play in professional sports, all things considered (100 years, fans, pressure, media, weather, ect)?
Eric Young
(3:49 PM)
I had a great experience in Chicago. The dimensions could be a little difficult because they're different than other ball parks, but just playing the game, the fans were great to me. But for some guys, getting up that early, getting to the ballpark at 9-10 for a 1-2 p.m. game, guys could have issues with that. But overall, Chicago ranks as one of the best stops in my career.
Eric Young
(3:49 PM)
Sometimes guys tend to make too many excuses, instead of just playing the game that they so much love.
rhys (new york)
is hughes really as good as he has been so far
Eric Young
(3:55 PM)
He's been outstanding. I guess he's found his niche in the bullpen. Actually I prefer him as a starter over Joba. I think Joba has the mentality of a closer. But Hughes is having success and it will continue and he has the best teacher in preparing for the game in Mariano.
R.C. ((Aurora))
Do the Rockies have what it takes to go all the way and will EY2 be on the roster
Eric Young
(3:57 PM)
EY2 is on the roster and you know I want to say without a doubt that they have what it takes. That's with my heart, but with my head, I say they'll have some weaknesses going against some of these power teams. But the Rockies are a team that will battle you the full nine innings, no matter what the score is the full 9 innings, they will battle, so you better be prepared. But I just don't know if they have the pitching. I'm not sure. Maybe EY2 will make the difference coming off the bench.
Eric Young
(3:58 PM)
I'm looking forward to a great postseason. There is no clear cut favorite, though many may say the Yankees. Every team going into the playoffs this year that has an issue that could be exposed. The one that's able to overcome the weaknesses will be the champion.