Chat with Orestes Destrade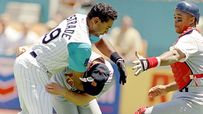 Destrade played for three MLB teams.
Welcome to SportsNation! On Monday, we'll be breaking down the MLB playoffs with Baseball Tonight analyst, and former MLB player, Orestes Destrade.
Destrade played in both MLB and the Nippon Professional Baseball (NPB) league in Japan. The former Yankee, Pirate and Marlin led the NPB in home runs three straight years during his five seasons with the Seibu Lions. Since turing to the broadcast booth, in addition to his MLB duties, Destrade also helps with ESPN's coverage of the Little League World Series.
Send your questions now and join Destrade Monday at 3 p.m. ET!
More Special Guests: Previous chats | SportsNation
Orestes Destrade
(3:06 PM)
Hey, it's Big O. Let's talk some playoff baseball!
Mike (LA)
Is this Dodgers team better then most people thought coming into the post-season? Starting pitching is pretty overrated when you can go to your pen in the 5th and have them shut it down for 4 plus innings. And now that Ethier, Kemp, Martin, Kershaw etc. all have some experience under their belt they look like they are clicking. What are their chances of making it back to the series?
Orestes Destrade
(3:07 PM)
I picked them to make it to the World Series mainly because of that experience you're talking about from last year and they have the best bullpen in the major leagues. Their bullpen is very deep and dynamic, and in a short series, it's what you look for.
Gary (Dublin, Ireland)
Which was more surprising to you: the Cardinals getting swept or the Red Sox getting swept?
Orestes Destrade
(3:07 PM)
As a series, the Cardinals getting swept, but as an actual Game 3, Boston ahead in the eighth at home was shocking. The Cardinals basically didn't show up in Game 3.
Steve (Tetons)
Do you think the Red Sox are at a cross roads right now? I just don't think they have the thump in their lineup they need to be a great team.
Orestes Destrade
(3:09 PM)
They're not at a crossroads, but they would be if they don't resign Jason Bay. Look for a dramatic offensive offseason move such as trying to create a trade for Prince Fielder with the Brewers, AND re-signing Bay.
Eric (Camarillo, CA)
Who has a better chance of knocking the Dodgers off, the Phillies or Rockies?
Orestes Destrade
(3:09 PM)
I hate to say neither, because it's not answering the question, but I think the Dodgers make it to the World Series because of their bullpen. A lot of left-handed hitters in both the Phillies and Rockies lineups, so they can negate some of those powerful bats.
Cory (PA)
If it wasn't freezing cold would Pedro have been the Game 3 starter for Philly?
Orestes Destrade
(3:10 PM)
No, the extra day is what made the difference. Being able to get that extra rest day for Happ was what prompted pulling back Pedro.
Bob (Lowell)
What's your take on the Yanks/Angels?
Orestes Destrade
(3:11 PM)
A great series. I feel that the Yankees have the slight edge because of their bullpen (man, I'm big on bullpens in the playoffs), but I'm still concerned a bit about complicated scenarios for the Angels bullpen. But both teams are coming off motivating sweeps and have a lot to prove.
Mike (Ohio)
Any opinion on instant replay being used more extensively? Some of the calls in the Twins-Yanks series were pretty bad (and I don't just mean the blown double call).
Orestes Destrade
(3:12 PM)
Several calls were very bad and costly, yet I'm still not an advocate of instant replay, other than the questionable HR/fair or foul call. The human element has always been part of the game and I'd like it to stay that way.
Flemming (Copenhagen, Denmark)
O, how are things? I know it's old news now, but only in baseball can a manager (Girardi) weaken his team on purpose and get away with it. It's not as if Burnett didn't have any good starts with Jorge behind the dish. He had several.....
Orestes Destrade
(3:14 PM)
Good to hear from you, Flem. That's a very good question, yet I agreed with Girardi. To be honest, they're better off with Molina catching every game. It's the offense you're looking for with Posada. There is a definite spike in ERA when he's been behind the plate with any Yankee pitcher, and Molina is is obviously from the world-famous traveling circus Molinas.
John Madden (via mobile)
O you know I love baseball, and I just wanted to say that it's not all about bullpens. You see, the team that wins the game is the team that scores more than the other guys, because that's how you win games. BOOM!
Orestes Destrade
(3:17 PM)
Long time no Boom, Juan! Yes, I really like it when my team scores one more run than the other team. Boom! We win, game ends!
SprungOnSports (Long Island)
It's going to be under 50 degrees tonight in Denver, how do you think that will affect both pitchers and do you think the Rockies take it to a game five?
Orestes Destrade
(3:18 PM)
I like the Phillies, mainly because Ubaldo Jimenez can be more of a flyball pitchers than a groundball/sinker pitcher. Second time around in a short series benefits the powerful Phillies hitters.
Andrew W (Newport Beach, CA)
Orestes, how much was the game affected by that ball hit by Utley (that also HIT Utley) and was still an OUT at first base? Man on 3rd with 2 outs versus 1st and 3rd with 1 out. Oh, and Howard flew out next at-bat. Horrible call.
Orestes Destrade
(3:19 PM)
It was game-changing. I feel for the Rockies and for that umpire. Things move so fast in a playoff game with 50,000 fans screaming. Not to say that they shouldn't get that call right, but it can be missed when it happens live. Yet, that is the nature and beauty of baseball. Umpires play a part.
Alex (New York, NY)
If you were omar minaya, what would you do with this mets team for next season for future success - rebuild or go on a signing spree like the Yankees did last offseason?
Orestes Destrade
(3:20 PM)
If Tony La Russa's available, I bring him in as manager. They need a stern disciplinarian that can refocus this team. Injuries aside, this has been an issue the last several years.
Mick (Chicago)
Orestes, with your knowledge of the international scene, do you have the inside scoop on any Japanese position players coming to America for 2010? How about that stud CF Norichika Aoki?
Orestes Destrade
(3:22 PM)
I would keep an eye out for Seibu Lions shortstop Hiroyuki Nakajima. A five-tool player with real MLB potential.
Milton Bradley (Chicago)
Yo big O, can you give me some advice with how to handle this ugly situation with Cubs?
Orestes Destrade
(3:23 PM)
First, call Dr. Phil. Then, call Oprah. She's in Chicago. Then, keep your mouth shut and play really, really hard.
Shane (Knoxville)
Lidge got really lucky with his "save" last night. Did you notice that out of the 23 pitches he threw, only 9 were strikes? If I were Charlie Manuel, I wouldn't take this as a "good sign" just yet.
Orestes Destrade
(3:24 PM)
Great observation. It was an ugly save. Nevertheless, a save. Hopefully, it will take the psychological monkey off his back and help him to get better. The potential is there for him to make a dramatic short turnaround and to be dominating once again.
Andrew W (Newport Beach, CA)
Ubaldo a flyball pitcher? He had the 6th best Grounball to Flyball ratio....http://espn.go.com/mlb/stats/pitching/_/seasontype/2/league/nl/sort/groundToFlyRatio/type/expanded-2/minip/100
Orestes Destrade
(3:25 PM)
What worries me is that he throws a lot of high fastballs and can get a little more rattled than, say, Aaron Cook with this lineup.
Richard (Boston)
Do the think the Sox could try to get Bay and Holliday for a Bay in LF and Holliday in RF type situation?
Orestes Destrade
(3:27 PM)
Both are going to be in such high demand. The re-signing or not signing of Holliday could be what prompts Tony La Russa to not come back. Conceivably, you could see him as the manager of the Mets in another year, and in another year, have Albert Pujols coming to New York.
Keith (Millis, MA)
How tough is it for Paps to blow that save and then have to sit on it for an entire off season?
Orestes Destrade
(3:27 PM)
He's young and determined enough to use it to fuel his fire. He's had so much success so quickly that this is one of those humbling events that can make you better, or worse.
John (Garden State)
So, is the winner of Yanks-Halos the WS Champ?
Orestes Destrade
(3:28 PM)
Not necessarily. I still like the Dodgers bullpen and their momentum right now. Not to mention their manager and coaching staff. Yet, both of those teams would be my favorites going into the World Series.
Todd (Providence)
If you had to choose between the likely MVP's of both leagues as the overall MVP, who would you choose, Mauer or Pujols?
Orestes Destrade
(3:29 PM)
Great question not talked about so much. Going into early August, I would have said Albert hands-down, but with the losses of Morneau later on in September and Mauer stepping it up even more as an everyday catcher, he won me over.
George (DC)
Improving the Red Sox starts with getting Ortiz's and Varitek's corpses off the team.
Orestes Destrade
(3:32 PM)
Definitely Jason, but the jury is still out on Big Papi. From early June to the end of the season, he hit the most homers in the AL with 27. He's not the same Big Papi, but he's not the main problem.
Orestes Destrade
(3:33 PM)
You can't help but single out the great job the Angels were able to do when you consider how their season began and what they've been carrying all year long. This could be very motivating for them. Enjoy the games. Big O out!