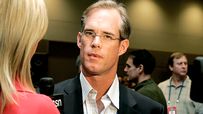 Welcome to SportsNation! On Tuesday, long time sportscaster Joe Buck stops by the 'Nation to chat about the 2009 MLB playoffs as well as the "Hit it Here" promotion benefiting Stand Up to Cancer.
For every home run hit during the 2009 playoffs, MasterCard will donate $1,000 to Stand Up to Cancer. In addition, if a player directly strikes a MasterCard "Hit it Here" sign in the stadium during Game 3 of the World Series, MasterCard will donate $1 million to the worthy organization.
As a six-time Emmy Award winner, Buck is currently the lead play-by-play announcer for Fox Sports, covering the MLB with Tim McCarver and the NFL with Hall of Famer Troy Aikman. In February, Buck nabbed his own sports talk program "Joe Buck Live" which airs on HBO.
Send your questions now and join Buck Tuesday at 1:15 p.m. ET!
More Special Guests: Previous chats | SportsNation
Buzzmaster
(1:05 PM)
Joe will be here at 1:15 p.m. ET to take your questions!
Buzzmaster
(1:19 PM)
Joe is here!
george (boston)
Hi Joe ... there's been some talk about moving future WS games to daytime hours so that kids won't have to stay up all night and can actually watch the end of games. How do you feel about this and how would it impact viewership and the game itself? Thanks.
Joe Buck
(1:24 PM)
It's a business. The problem is that while we're all probably for it, I think any baseball fan would want to see game during the game time, but it's also a business. The ratings would be down. I think whether it's Fox or ESPN, whoever has the rights, they're trying to maximize revenue through advertising. I think even people in Fox, if they had the chance to do it and make it work economic wise, I think they'd be for it. Having kids myself, I get it.
Frank (Denver)
How did you get involved with the Stand Up To Cancer charity?
Joe Buck
(1:26 PM)
I'm excited about this. If on Friday night at Yankee Stadium and made an announcment for everyone to stand up who's been touched by cancer, I think everyone would stand up. Mastercard and MLB have teamed up to donate $1,000 for every home run hit during the playoffs and during Game 3 of the World Series, there will be a sign that if it's hit, it will be $1million. My dad died of cancer and it made sense to me right away. For more information, people can go to StandUp2Cancer.org.
Will (Boston)
While the MLB playoffs are going and you're focused on that, how do you keep your NFL knowledge sharp so you can dive back in once the World Series is oveR?
Joe Buck
(1:27 PM)
Lot of reading. I rely on probably the same tools that any fan relies on - newspapers, Internets, websites. I have to. The nature of sports is if you fall behind a couple of days, it's no fun being unprepared. You have to stay up with it. I read football early in the morning and concentrate on baseball later in the day.
Tim (STL)
I know this isn't about the playoffs, but as a disappointed Cardinals fan, this is my biggest concern. What are the odds of the Cardinals signing Holliday and Pujols this offseason? How about the odds of signing Pujols at all?
Joe Buck
(1:29 PM)
Pujols is signed for two more years, so you can take a breath on that. At some point, they'll have to lock him up for the rest of his career. Every day his price goes up. As far as Holliday, they gave up a lot to get him. It was the right trade. The question now is how much is enough. The big market teams will drive the price up. I think Matt enjoyed his time in St. Louis. He has to like the way the fans treated him after the dropped fly ball. He's a baseball lifer and gets how special it is there. But his agent is Scott Boras. That should strike fear into any baseball fan, Scott's not cheap and there usually isn't a hometown discount.
Paul (Detroit, MI)
Joe, how painful is it to have to call a Lions game?
Joe Buck
(1:30 PM)
It's getting less and less so. I'm going to be there on Thanksgiving. They're playing Green Bay. I'm real excited to go there this year, because I want to see Stafford play. From what I have seen on tape and on highlights he's like Sanchez, except Sanchez has more around him. Stafford seems like he's solid, like he's not over his head. He's not intimidated. It starts with the QB in my book, certaily Aikman always tells me that.
Tim (Chicago)
Joe, there seems to be a clamor for expanded instant replay. What are your thoughts on that?
Joe Buck
(1:32 PM)
I go back and forth. I would be against it, becuse I think these games last too long as they are. Any time you add the element of stopping plays and starting, it takes too long. In baseball stadiums, the equipment is not down on the field, like with football. If they could figure out a way to expedite it and maybe do it for the playoffs, maybe just for boundary calls. It's tough to take and it's tough to have 19 angles to show that they missed a call. If they find a way to make it quick. But other than you, no one's really ever asked me for my opinion.
GK (Dayton, OH)
Thanks for taking my question. What was the biggest piece of advice (if there is just one piece) that your father gave you in helping you become an elite-level PBP announcer?
Joe Buck
(1:33 PM)
Treat everybody equally and don't act like a bigshot. Don't make the game about you. If I don't make the game on Friday night, I think they'll still play. No one is tuning in to listen to me. Especially on TV, you don't try to accent it, you just let it go. I just try to stay away. In the big moments, I just try to step into the background.
Joe Buck
(1:34 PM)
I always wanted to be a dancer, but he told me I wasn't any good at it. So I went into broadcasting.
Andrei (Hoboken, NJ)
Word Series prediction?
Joe Buck
(1:35 PM)
I wish I had a better feel for this. I don't know if I've ever gone into an LCS or this round without a feel. I'm usually wrong, but this year, especially in the AL, I think the Yankees lineup has the potential to be dominant. But the Angels starting pitching is special. The Yankees lineup is a little more powerful than the Angels. But in both series, I'll take the team with the homefield, just because.
Joe Buck
(1:36 PM)
My final words are: Don't forget to watch FOX on Friday night at 7 p.m. ET. And check out StandUp2Cancer.org. Thanks for your time.