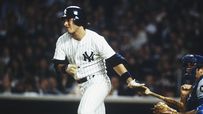 Dent was the '78 World Series MVP.
Welcome to SportsNation! On Friday, former Yankee shortstop Bucky Dent stops by to chat about the MLB championship series.
Dent spent 12 seasons in MLB, including parts of six with the New York Yankees. He is probably best remembered for his home run that led the Yankees to win the 1978 AL East tie-breaker over the Boston Red Sox.
Now the two-time World Series Champion is partnering with Steiner Sports to allow fans to celebrate the New York Yankees playoff run with Steiner's Yankee Collectible auction. Fans can bid on everything from Alex Rodriguez's old Yankee Stadium locker to a Yankee Stadium authentic turnstile. The auction ends December 6.
Send your questions now and join Dent on Friday at 2 p.m. ET!
More Special Guests: Previous guests | SportsNation | Chat Index
Buzzmaster
(1:48 PM)
Bucky Dent will be here shortly to take your questions!
Buzzmaster
(1:58 PM)
Bucky is here!
Mike (Ohio)
Thanks for coming back to chat with us, Mr. Dent. Admit it: As a former Yankee you got some satisfaction out of the Red Sox getting swept, right?
Bucky Dent
(1:59 PM)
Absolutely! The ghosts are back!
Tom (Del)
What kind of shot do you give the Angels in this series?
Bucky Dent
(1:59 PM)
I think it's going to be a good series. I think both teams are well matched. I think it will come down to bullpens and that it will go 7 games.
Doug (NYC)
Hey, Bucky! What do you think is the primary reason for A-rod's outstanding ALDS after so many bad postseasons? Is it the greatness of the players around him, the days off, or what?
Bucky Dent
(2:00 PM)
I think he's more relaxed. I think Teixiera helps him in the lineup. I think he's played in enough playoff games now to know what to expect. He's playing with more confidence now.
tim (nyc)
Bucky which piece of Yankees memorabilia would you like to bid on in this auction?
Bucky Dent
(2:00 PM)
I would have loved to have had my locker, but I would have definitely been outbid for that.
Mr. Burnstash (Springfield,Mo)
Which player on the current yankees reminds you of one of your old teammates?
Bucky Dent
(2:01 PM)
Reminds me of me? I don't know. I like the way Jeter plays. He's a tremendous player and a great role model. I love the way he plays.
Mike (New York, NY)
Bucky, The Yanks won the World Series your first two years with the team. After you left, it took them a LONG time to make it back. Reggie gets the credit for that, but I think it was YOU!
Bucky Dent
(2:02 PM)
I like your thinking. I was kind of like the last piece as far as them needing a SS. In '82 when I left, it took them a long time to get Jeter and get back. It just goes to show you how important of a position SS is.
J.B. (Dunmore, PA)
Mr. Dent: Just last year you played in a reunion game with members of the 1978 Yankees and Red Sox. What was it like seeing the people from that magical season again?
Bucky Dent
(2:03 PM)
That was a lot of fun. It was in Scranton, Pa. We played '78 Yankees against '78 Red Sox. It was a great, great thing. Seeing all the old guys and the guys you played against. I had a great time doing it.
kyle (astoria il)
why do u think that the cardinals lost to the dodgers
Bucky Dent
(2:04 PM)
I didn't really watch much of that series, I was watching mostly the Yankees series. The Cardinals just didn't hit, from what I understand. They just didn't hit the way they're capable of. Sometimes that just doesn't happen in playoff games.
Eric (NJ)
Bucky - Did you see the ESPN Series the Bronx is Burning? What were your thoughts if so, was it close to capturing the feel of that season.
Bucky Dent
(2:05 PM)
I just watched alittle of that. A lot of it was pretty accurate, but I didn't watch the complete series.
Ben (Boston)
did you know you still have a different middle name here in Boston?
Bucky Dent
(2:05 PM)
Absolutely. I have a middle initial. A neat one!
Angelo (Virginia)
Bucky, do you have the famous bat you used to hit the homer at fenway?
Bucky Dent
(2:06 PM)
No. I got a letter from a guy who got it in an auction who got it for, I think, $64,000.
Ryan (NYC)
Speaking of Jeter and shortstop, what do you make of the speculation that he may be asked to move to the outfield for his next contract?
Bucky Dent
(2:07 PM)
Not until he shows that he can't play there any more. He's had a great year and he's bounced back from what they were saying about him. I can't move him until he shows he can't do it any more.
kyle (astoria il)
what do u think is gonna be the key for the yanks to go all the way
Bucky Dent
(2:07 PM)
Their key is going to be pitching. Can they slow the Angels down?
Matt (Fort Kent, Maine)
Do you believe that the Yankees starting pitching is maybe the weakest in the Championship series? C.C. is solid...A.J. is unpredictable, Andy is getting old, Joba is a failed starter-project, and come on Chad Guadin?
Bucky Dent
(2:08 PM)
Well, they are still quality starter. Sabathia is a quality starter. Burnett is a quality starter. Pettitte is a warrior. I think you'll see him at his best. I think they'll be fine.
J.B. (Dunmore, PA)
I think a ball signed by you and Aaron Boone using your 'special' middle names would draw some great bidding interest in a Steiner auction.
Bucky Dent
(2:09 PM)
I'm going to have to tell Steiner about that. That's a good idea. That's a great idea.
Chris Fiegler (Latham,NY)
Do you think that you will see the New York Yankees win the 2009 World Series for their 27th time in their career?
Bucky Dent
(2:09 PM)
I think they have a great chance. They have a good solid team. They played well all year. I think they have a great chance of winning it again.
David (Raleigh, NC)
Hey Bucky... being only 19, I unfortunately missed out on your famous homer. But luckily Aaron Boone's happened in my life time. Did you have a personal flashback watching that, or was it just awesome in general?
Bucky Dent
(2:10 PM)
Yes it was. I was sitting there watching the game and I was thinking about who could hit a home run in that game with a B in his name and Boone hit one. Babe, Bucky, Boone and Buckner. (laughs)
Jason (North Andover, MA)
We've all heard that good pitching beats good hitting, but now that the bullpens are so important in the postseason, has having the arms in relief become more important than having the best starting pitching? How has it changed over the years since you played?
Bucky Dent
(2:11 PM)
I think that the bullpens are critical. I think right now the Yankees bullpen has the edge over the Angels.
Angelo (Virginia)
Bucky, your thoughts on the new stadium. Do you miss the old?
Bucky Dent
(2:12 PM)
I miss the old one and I've been to the new one and it's beautiful. But I'm still partial to the old one, because that's where my memories are.
kyle (astoria il)
what is the key for cc sabathia on the mound tonight for the yanks
Bucky Dent
(2:12 PM)
Keep them off base.
Bucky Dent
(2:12 PM)
Just pitch his game, throw strikes, stay ahead. Do what he does. Don't walk too many people.
Andrew (Philly)
Who gives the Yanks (or the Angels) the best WS: the Phils or the Dodgers?
Bucky Dent
(2:13 PM)
I think the Phillies give a better matchup because of their power. They have some guys that can swign the bats like the Yankees. I think the Phillies give them the best World Series.
Anthony (NJ)
What player today reminds you of yourself during your playing days?
Bucky Dent
(2:14 PM)
On man....I really don't know.
Miles (LI)
Any bitterness towards the Yankee Organization over getting fired from the managerial role the way you did?
Bucky Dent
(2:14 PM)
No, not at all. You kind of knew that came with the job. It was kind of the ground rules that you had going in. You are hired to get fired.
Bucky Dent
(2:15 PM)
Thanks for all of your interest. I'm looking for a great series and looking forward to watching it.