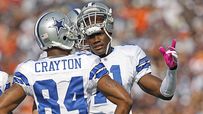 Welcome to ESPNDallas.com! On Friday, Dallas Cowboys', and former Texas, wide receiver Roy Williams stops by to chat about the NFL season as well as this weekend's Texas-Oklahoma game.
Williams is in his sixth season in the NFL and first full season with the Cowboys. He is second on the team with a 19.5 yards per catch average. He entered the NFL as the seventh overall draft pick to the Detroit Lions in the 2004 draft. The Lions traded him to the Cowboys five games into the 2008 season.
Send your questions now and join Williams Friday at 11 a.m. CT/noon ET!
More ESPNDallas.com: Index | Colleges Blog | Big 12 Blog
Matt (Houston)
Roy we are less than 24 hours to kickoff what is the buzz like for former Longhorns when this game comes around. And do you think its automatic Bradford leaves or do you think he might come back for another year and a RR Shootout tilt with our new QB Garrett Gilbert?
Roy Williams
(12:12 PM)
No, he will probalby, in my opinion, come join us in the NFL. As for the buzz, it gets you going a litlte bit more than an ordinarly game especially the ride to the stadium. What really gets us going is when the OU fans are giving us the Bird when we're coming in on the bus.
Spencer (Orlando)
Hey Roy - first of all, how are your recovering from the bruised ribs? I believe, as I'm sure you do, that we really need to get you more involved in the offense. How can we do this and what can we expect from you for the rest of the year? Lastly, prediction for Texas-Ou?
Roy Williams
(12:13 PM)
My ribs are good, I will be back for Atlanta. Personally I want to get better game by game so by the time we get to the playoffs we're the best team in the league and sail on through.
Zach (Indianapolis)
Roy are you going to the Texas Oklahoma game this week.
Roy Williams
(12:15 PM)
yeah, I will be there on the sidelines. I'm going with Andre Gurode. He's a Colorado guy.
jeremy (gillette, wy)
whos the cornerback you like playing most and why?
Roy Williams
(12:15 PM)
I like playing nathan Vasher of chicago, he played with me at Texas, he knows everything about me, its always fun going up against him.
Steve (SF)
How does it feels when you take a deep breath, reach overhead, and twist?
Roy Williams
(12:16 PM)
Feels like I have some fractured cartliage.
Bobby (NY)
What did you think of the movie, Friday Night Lights?
Roy Williams
(12:16 PM)
A pretty good movie, I should have won an oscar for my role in it, it's all good. I saw the TV show one time.
Anthony (Cali)
Do you feel any added pressure with the draft picks the Boys gave up for you?
Roy Williams
(12:17 PM)
I dont feel any pressure, I'm just waiting on my opportunity in the ball game to make plays.
Zach (Indianapolis)
Who was your favorite NFL team growing up?
Roy Williams
(12:18 PM)
It was the Cowboys, Vikings and Steelers.
Allen (ATX)
Roy, what do you think of Shipley? Do you know him personally and have you helped him at all through advise or tips you might have for him? Think y'all might be a nice tandem next year in the big D? Hook 'em
Roy Williams
(12:19 PM)
I know him personally, he's going to mess around and break my records, he needs to slow down. He's got the No. 8 on but he should be wearing No. 4.I think he can play in the NFL, he would be a good slot guy on somebody's team. A Wes Welker type.
Nathan (Detroit)
Since there is no fan base in Detroit compared to Dallas, what do think of the two stadiums?
Roy Williams
(12:20 PM)
No. 1 you can sit Ford Field inside Cowboys Stadium. Cowboys Stadium is a lot louder and that's the difference.
Ryan (Seattle)
How do you like working for Jerry Jones? That guy is something else...
Roy Williams
(12:21 PM)
Jerry is my guy. Jerry is in a league of his own and you have to know him before you pass judgement on the guy. He wants to win, that's all he wants.
Zach (Indianapolis)
Who was your favorite player and NFL team growing up?
Roy Williams
(12:22 PM)
Herschal Walker.
jeremy (gillette, wy)
did you like playing with TO?
Roy Williams
(12:23 PM)
I loved playing with T.O. which he was still here, but he's not, but an excellent player, a hall of fame player, you can't ask for anything better than that.
Chris (Virginia)
What was the most memorable game you ever played in?
Roy Williams
(12:25 PM)
Man, that's a tough one. HS was my last one, we didnt make it to the playoffs, and we played a crosstown rival and I scored three touchdowns to end my career. In college, I have to say, LSU game where I almost left school early and just from that game. It was the Cotton Bowl. In the NFL, nothing yet, I've won only 21 games in five years. Well, yeah, when I beat the Cowboys, when I played with the Lions, I had two touches and Furry broke the star.
Nathan (Detroit)
Miles Austin, just a great game or the real deal? How talented is this guy?
Roy Williams
(12:26 PM)
Miles is very talented guy, very raw as in raw skills. He gives a story of when he was working out for teams and they were saying stutter step and he was like what does that mean. He's still learning as he's playing. An outstanding talent, can only get better.
Ryan (WA)
Are you playing Fantasy Football this year? Who ya got?
Roy Williams
(12:27 PM)
Yeah, I;m in about four leagues. In one league I got Jones-Drew, Michael Turner, Romo, myslelf, Reggie Wayne, Andre Johnson and Jets defense, which they've been tripping.
Zach (Indianapolis)
Who on the cowboys plays the most practical jokes?
Roy Williams
(12:28 PM)
That would be myself. The game I was hurt where I didnt play in, San Francisco in preseason, I did waterbottle tap and when they go to drink it all the water falls into their face, I got seven out of eight players on that.
Matt (Houston)
2003 you had a run of about 5 - 6 games which were just unbelievable for the Longhorns. Since you have been in the NFL have you had that type of locked in feeling? I know what you can do I have seen it at DKR, just throw you the dang ball. HOOK 'EM
Roy Williams
(12:30 PM)
yeah, that was my pro bowl year. My second year under the Mike Martz system. It was me and Kitna on the same page, it felt good week after week.
jeremy (gillette, wy)
do you like haveing john kitna there with you and the cowboys? i know when you guys were with the lions you worked well together
Roy Williams
(12:30 PM)
I was begging for them to get Kinta for us. I know if Romo goes down, we won't miss a beat with Kitna in there.
Zach (Indianapolis)
What is one of the best atmospheres you ever played in College other than Texas?
Roy Williams
(12:31 PM)
That would be Texas-OU. If we're on the OU side, its hard to hear that snap count.
Roy Williams
(12:33 PM)
Thanks for chatting with me guys, I got the kids with me now. See you at the game.