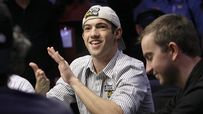 Welcome to SportsNation! On Monday, professional poker player Joe Cada stops by to chat about having the chance become the youngest WSOP main event champion in history.
The 21 year old Michigan native has been playing poker for six years. By the time Cada began college, he was playing online poker quite often. After two semesters he withdrew from college to become a fulltime poker player.
Cada recently signed an agreement to be sponsored by PokerStars, the world's largest online poker site. As a member of the November Nine, Cada will enter the final table fifth in chips with 13,215,000.
Send your questions now and join Cada Monday at 3 p.m. ET!
Watch the WSOP main event final table November 10 at 9 p.m. ET on ESPN.
More Special Guests: Previous chats | SportsNation
Buzzmaster
(2:54 PM)
Joe is here!
Ben (NH)
Being so young, do you find you can use that to your advantage at a table? Having people underestimate your abilities because of your age?
Joe Cada
(2:55 PM)
In a way, yeah. Generally people associate the younger players as a more aggressive player. They may think that I will be more aggressive and you can use that to your advantage.
Tim (VT)
Do you like playing poker at a bigger or smaller casino?
Joe Cada
(2:55 PM)
I generally play poker online, but when I do play, probably more in a bigger casino because they have a bigger game selection.
Hansel (Miami, FL)
whats up Joe Cada. what advice would you give me to improve my game, I've been playn poker for about 3 and a half yrs.?
Joe Cada
(2:56 PM)
Make sure you keep good bankroll management. Go over certain hands that may have come up while you're playing and think about it. Try to filter out what you do bad in.
Evan (Boston)
From a professional player's point of view, how much different is playing online versus playing in person?
Joe Cada
(2:57 PM)
If you have the right patience, in person is a lot easier. A lot of people are not patient and they make mistakes. Rather than on the computer where you have to guess in certain situations.
Steve (NJ)
Joe, how do you like your final table position ?
Joe Cada
(2:58 PM)
I love my position. I'm to the left of two of the more aggressive players at the table. The players to my left aren't as aggressive. Me and Phil Ivey are across from each other. We're at opposite ends of the table.
Peter (Iraq)
What made you decided to leave college and become a fulltime poker player?
Joe Cada
(2:59 PM)
Poker has been in my life for a while now. College was always on the secondary thing. I just went to college to make my mom happy. I always planned on playing poker professionally. I had a lot of success playing before I went to college.
Hank (West Haven)
what advice would you give an aspiring poker player for entering a $10,000, however does not have the buy in
Joe Cada
(2:59 PM)
I think you have to manage your bankroll properly and try to work your way up slowly but surely. You have to try and put in the work. Eventually you will if you do it properly.
Will (Washington)
How have you spent this time between July and now preparing for the final table?
Joe Cada
(3:00 PM)
I've been travelling a lot, playing in a lot of tournaments. I was in Barcelona, London, playing there. Other than that, trying to enjoy the summer.
Matt (NJ)
Besides Ivey, who did you think was the toughest big name player you played with during the main event?
Joe Cada
(3:00 PM)
Peter Eastgate, I would say.
Jeff (Cincinatti)
Who or what has helped your game most since you started to play?
Joe Cada
(3:01 PM)
I think the coaching websites, the training websites helped me the most when I first started. I had friends who were professional players and I went to them in certain situations.
Ryan (DE)
Do you think the layoff before the final table is a good thing or a bad thing?
Joe Cada
(3:02 PM)
I liked it at first. I think it would be better if it wasn't as long as four months. That's a long time to wait thinking about the final table. Good and bad. I like it but wish it wasn't as long.
Fred (Massachusetts)
Do you have any plans to return to college and get a degress?
Joe Cada
(3:02 PM)
If poker doesn't work out, I will go back to college and get a degree. Other than that, probably not.
Mike (Chicago)
Joe - I know you're a Michigan fan, so does Michigan have what it takes to beat Penn State this weekend?
Joe Cada
(3:03 PM)
I hope so. It's looking rough, but Michigan is a young developing team. Give them a couple of years and I think they'll be a good team. But right now, it's looking rough. I want them to win.
Brad (Durham)
How nerve-wracking was the process leading up to the final table? Will you be less or more nervous when heading back in several weeks?
Joe Cada
(3:04 PM)
It wasn't that nervewracking when you're playing. At a certain point, you just become accustomed to playing. I think it will be more nervewracking now, knowing the significance of the final table.
joe (georgia)
when you started playing poker how long did it take you before you started winning
Joe Cada
(3:05 PM)
Probably about 3 months. I was going winning, back and forth. I wasn't really losing, but I wasn't making a living off of it or anything like that.
Jamie (Jacksonville)
If you could change one hand you played during the course of the tournament, what would it be?
Joe Cada
(3:06 PM)
I can't think of any hands in particular. I am sure there were a few situations that occurred, but I can't think of any hands that I played poorly.
Brian (Boston)
If you don't win, who would you like to see take down the title?
Joe Cada
(3:06 PM)
I would like to see Phil Ivey win. It would be great for the game in general. He's a great guy and deserves it. But let's hope that's not the case.
Bob (Chicago, IL)
Congrats! Any tips for winning online? At what money level do you start to see better players making actual correct decisions? Thanks
Joe Cada
(3:07 PM)
I feel like when you get more to the 2/4 and above, the games get a little tougher. But at every stakes there are big fish in certain games. It's not like you won't see fishes or no bad players at the higher stakes.
Ted (Seattle)
Have you become friends with the other November niners?
Joe Cada
(3:08 PM)
Yeah, I played with Steve in LA. Talked to him. I met Kevin in London. Talked to him for a while. Also, Buchman too.
Brad (Durham)
What games do you play online?
Joe Cada
(3:09 PM)
I play Omaha.
Jimmy (Orlando)
Have you had any other endorsement deals besides PokerStars?
Joe Cada
(3:09 PM)
No. PokerStars gave me such a great deal that I gave them exclusivity. I had other offers, but I gave them exclusivity based on the deal.
Ryan (Philadelphia)
How have the girls been treating you since you made the final table? Any different?
Joe Cada
(3:10 PM)
Of course! Where there's money, there are girls.
Dave (New York, NY)
What have you thought about the coverage of the WSOP so far on TV? Do you like the way you're being portrayed?
Joe Cada
(3:10 PM)
Yes, I've seen every episode so far. I've only been in one, the last one. I'm more excited to see the hands as it gets further down, because it includes more of the guys from the final table.
Darvin (Maryland)
How will you be playing against my chip stack in a couple weeks?
Joe Cada
(3:11 PM)
I will try to get them all.
Gene (Hartford, CT)
Are you concerned about Phil Ivey?
Joe Cada
(3:11 PM)
No, I'm going to have to look at him like any other player. You play every player individually a certain way, based on how they're playing. It depends on how he plays at the final table.
Kyle (VA)
Which poker players do you idolize or respect the most?
Joe Cada
(3:12 PM)
I respect a lot of those players that may not get as much credit as they do. Some online players. There are a ton of great poker players out there, so it's hard to say a bunch of names.
Hank (CT)
Does a knowledge of poker tells, help a great deal in live tournaments, and if so, how much
Joe Cada
(3:13 PM)
Yes. I'm sure they certainly help. I personally don't go off of live tells, I go off of betting patterns. For a live pro, I'm sure they help a ton.
Dan (middletown)
How much live poker do you actually play?
Joe Cada
(3:14 PM)
I don't play much live. The only time I played a lot of live, it was when I was younger. Or when I was 19 and they had the big game in Windsor.
Joe Cada
(3:14 PM)
But I'm looking forward to playing a lot of the live tournaments on the European Poker Tour which is sponsored by PokerStars.
Steven (Dallas)
Who was the best player not to make the final table out of the last group?
Joe Cada
(3:15 PM)
Andrew Lichtenberger.
Jim (Tega Cay,SC)
Do you consider yourself primarily a cash or mtt player?
Joe Cada
(3:16 PM)
I think both. I developed my tournament game pretty well, I think over the last few years. I was mainly a cash game player, but I think I excell at them both now.
joe_S (tempe, az)
how confident were you with you decision when you withdrew from college to play poker full time?
Joe Cada
(3:18 PM)
When I made that decision, I had a lot of success before. I made that decision over a long period of time, so I felt very comfortable making it.
Brad (Durham)
Joe, does anyone else have pieces of your action from the WSOP main event?
Joe Cada
(3:19 PM)
Yes. I'm staked by Sheets and Backs.
John (Cincinnati)
What player were you surprised the most by with how deep into the tournament they survived?
Joe Cada
(3:19 PM)
I was pretty surprised by how well Moon did and how many chips he's bringing into the final table.
Eric (Las Vegas)
If you could double up through any of the players on the very first hand, who would it be?
Joe Cada
(3:20 PM)
Kevin Schaffiel. He's a real nice guy and I would still be in it, technically. And I wouldn't want all of the chips to go to Phil Ivey.
henry (NY)
any plans after?
Joe Cada
(3:21 PM)
No. My plans will go according to how well I finish.
Bob (Chicago, IL)
What games do you usually play online? What do you recommend to someone trying to build a bankroll?
Joe Cada
(3:22 PM)
Keep a good bankroll management. If you know of any better players, listen to their advice. Not necessarily follow what they say, but at least listen.
Hank (CT)
As you watch the shows, what do you think of the other players
Joe Cada
(3:23 PM)
I don't think they show enough hands to really get a strong perspective on how the other players are playing. I know they've only shown a few hands of the other November Nine players, other than Phil Ivey.
John (Cincinnati)
Do you think Darvin will use his chips to bully people or continue playing tight, trying to conserve them?
Joe Cada
(3:23 PM)
I think he's going to continue playing tight and conserve them.
Kevin (Boston, MA)
Joe, every amateur always ask what they can do to get better. Wouldn't how you play at each position be at the very top of the list? What works in late position would get you killed under the gun no?
Joe Cada
(3:24 PM)
Yeah. Position matters a ton in poker. you want to try to play most of your hands in position. It all depends on what spot you're in.
cat (pa)
dont you really think its all really luck joe.
Joe Cada
(3:25 PM)
Over the short term, a lot of it. I like to say that over the short term it's 90% luck and 10% skill but over the long term it's 90% skill and 10% luck.
joe (georgia)
if you weren't a player, what would you be?
Joe Cada
(3:25 PM)
Probably something involving math or logic.
Joe Cada
(3:26 PM)
Thanks for the questions. I hope for everyone's support.
Joe Cada
(3:26 PM)
I hope I answered them well. Come play with me on PokerStars.