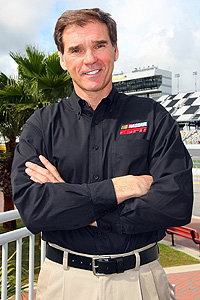 Welcome to SportsNation! On Monday, ESPN's NASCAR Now analyst Ray Evernham will stop by to chat about the Chase for the Cup.
Known for years as one of the best crew chiefs in the business, helping Jeff Gordon gain his championship foothold, Evernham has gone on to success as a car owner, including Kasey Kahne's current ride, and on air with ESPN.
A true NASCAR insider with connections throughout the racing world, Evernham is the perfect guy to talk about the first two weeks of the season and everything else going on in NASCAR.
Send in your questions below and stop by at 1:30 p.m. ET on Monday!
Send your questions now and join LaJoie on Monday at 1:30 p.m. ET!
More NASCAR: NASCAR index | Previous chat guests
Buzzmaster
(1:29 PM)
Ray Evernham will be by shortly to chat!
Buzzmaster
(1:30 PM)
Ray is here!
Ron (VA)
Ray, now that JJ has control of the top spot, do you see him giving it up the rest of the way?
Ray Evernham
(1:31 PM)
I don't see him giving it up. The only thing that can take it from him at this point is some kind of a mechanical problem or crash. I don't see a team strong enough to come up and take it from him. But I see the only way he gives it up is from a mechanical problem or a crash.
Ethan (colorado )
Ray big fan wat is your comments on Kasey after his preformance at Lowes.
Ray Evernham
(1:32 PM)
I think Kasey and Francis and the whole 9 team does a great job under difficult circumstances. That team has had some tough times, but they have continued to do a great job.
terrylee vaughn (ware shoals,sc)
hey ray who u got for your top 5 this week at martinsville start with the winner
Ray Evernham
(1:33 PM)
Oh boy...that's a tough call. I would believe that the top 5 cars will consist of Chase contenders and I would throw in a RCR car in there. Whether that's Harvick or Burton, we'll see. I still think the battle will be between Johnson, Stewart, Hamlin, plus throwing in a Childress car.
Barbara (Sacramento)
I don't know about anyone else but I am sick of jimmy johnson. I can't stand him or gordon but if Kasey Kahn can't win then i would rather see gordon win. I love Kasey and Mr. petty. I have always been a Petty fan. Love Kyle wish he was still racing or at least commentating every week.
Ray Evernham
(1:35 PM)
Well, Kasey's got a good shot. Short tracks have not been a great area for Kasey. I hate to hear that you don't like Jimmie Johnson, he's a great champion and a great guy. What he's on the verge of doing is incredible for our sport. Certainly we all like to see our driver win, and not always the same guy. I would suspect that you might not be that happy this weekend if you don't like to see the 48 car win.
Helman (Haymarket Virginia)
What do you think if at the start of the race the field is set based on reverse order of standings? It'll create new excitement and provides more opportunities to teams that rarely lead a race (just thinking out of the box)
Ray Evernham
(1:37 PM)
I know that they have some handicap things like that with short tracks and it does make the racing different for the fans. But I think at this level and the length of our races, I don't think it would make a huge difference. I think what might happen is cause some more crashes and eliminate some people unnecessarily. That starting position doesn't make that much of a difference on the short track. I also believe that a starting position should be earned. To start up front because you have a fast car is a reward for that fast car. I support earned starting spots.
Chad (GA)
Ray, assuming Jimmie Johnson has a mechanical problem or gets in a wreck how many drivers still have a shot at the championship?
Ray Evernham
(1:38 PM)
I think that there is still going to be a close blanket. I think Jeff Gordon is going to work hard if the 48 team has a misstep. Even though it looks like some of the other guys are weaker. Right now I would say it looks like the 48, 24 and the 14 and 5 look like in a tie for the third spot and the 42. I really believe that still the champion will come out of those five cars.
Shaun (Oriskany, NY)
Hey Ray. Do you see Jeff Gordon ever winning 4-8 races a year again, or are those days over just because of how competitive racing is today?
Ray Evernham
(1:40 PM)
I think the field is competitive. You never say never, but as time has gone on, it doesn't seem like Jeff is in the place to have wins like that. Jeff has had better cars and better shots at winning this year than he had last year. It doesn't seem like he's had the opportunity to win, but I don't want to say that he won't win 4-8 races in a year before his career is over.
John (Florence Alabama)
What tracks left in the chase could possibly favor Mark Martin over Jimmie Johnson.Jimmie is tough,but I would love to see Mark give it a great run for over the hill guys like myself
Ray Evernham
(1:41 PM)
I think Mark has been pretty good at Talledega. That would be a draw. You have to give an edge to Jimmie at Martinsville. You have to give a draw going to Phoenix. Those are the two places I think Mark can fight to a draw. Otherwise, I have to give it to Jimmie.
Rafa (Orlando)
What is the latest on RPM switching to Ford and why did Jack Roush tour RPM shops last week?
Ray Evernham
(1:42 PM)
I'm not involved with that team in any way shape or form, so all that I know is what I've read and heard. From what I read, they are switching to Ford for next year.
Helman (Haymarket Virginia)
Mr. Evernham,Thanks for taking this questions. I'm a huge new fan of Nascar since JPM came to the sport. What impact can you see in the future of the sport to have one Team dominating the sport the way Hendrick does? what can nascar do to level the field?
Ray Evernham
(1:43 PM)
I think NASCAR has done everything they can do to level the field. With the COT, they keep trying to do that. Rick Hendrick has just done a terrific job the last few years to field a team. No matter what NASCAR does, you can't regulate the talent on the team. Hendrick has just done a great job of keeping those people together. The more they keep those people together, the more Hendrick teams continue to shine.
Jason (NY)
If you were crew chiefing the #88 what changes would you make?
Ray Evernham
(1:45 PM)
Right now, I just think their confidence is down. I think they have good equipment. Lance is doing the best he can under difficult circumstances. I would be working on getting those guys to believe again. Maybe take them out and do some team building exercises. There's a lot of talent there. They were on the verge of having a couple of good runs, but had some crashes and other things.
Scott (Baltimore)
two things...1). we need to change the tracks in the chase (including road course) to weaken the reins of JJ. 2). NASCAR conspiracy theor alert: It was JJ's teammate that 'accidentally' ran into the back of JPM...effectively sealing the deal for JJ. Your thoughts on both of these???
Ray Evernham
(1:47 PM)
You've been reading too many spy novels. They got jammed up on a start, JPM and Mark Martin. They tore up their nose at the same time, taking them out of the race. If you were watching the show I said a couple of weeks ago, JJ is strong, the others were all about the same. What separates the Chase are what happens on pit road and the double file restarts. These double file restarts cause people to be very aggressive and things will happen.
Lois (California)
Is your wife, Erin, still racing and does she plan to enter any Camping World or Nationwide races?
Ray Evernham
(1:48 PM)
She isn't right now. She finished some races, but right now we're just looking at what next year will bring. We're trying to spend a little less time on the road and a little more time together. We'll see how that works out.
Al Albert (Dundalk, Maryland)
HI Ray! I have been a huge Elliott Sadler fan, but its starting to fade off. Do you see Elliott staying where he is, or moving to a team that can make him reach his potential, if he still has it, which I think he does.
Ray Evernham
(1:49 PM)
I don't know what he contractual things are. You hear in the beginning of the year that he's in, he's out. In my opinion, and it's only my opinion, it might be better for Elliot to find another ride. I hired Elliot and I believe he can drive a race car. For whatever reason right now, the confidence is down or the communication is down, it might be better for Elliot to find another car. But again, those are just my opinions.
Taylor (SC)
How does Carl Edwards go from winning 9 cup races in '08 to an also race this year?
Ray Evernham
(1:50 PM)
That's a good question. It just goes back to how extremely competitive this sport is and how fast it moves. A company like Roush and Ford does not sit still. But somehow the others have gotten ahead of them. Carl has been in position to win a few races. But right now, I don't think the camp is as strong as it was last year.
Ray Evernham
(1:51 PM)
Thanks. I appreciate everyone's support. Don't forget to watch us on the show!