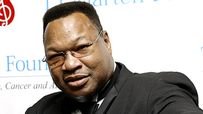 Welcome to SportsNation! On Thursday, we'll have former boxer Larry Holmes stopping by to talk about "Muhammad and Larry" that is part of ESPN's 30 for 30 project, commemorating ESPN's 30th anniversary. The film debuts Tuesday night (8, ESPN).
30 for 30 is an unprecedented documentary series featuring 30 films from some of today's finest storytellers, detailing the events that transformed the sports landscape from 1979 to 2009. "Muhammad and Larry" tells the story of Muhammad Ali and Larry Holmes as they got set for their fight in October 1980. During training before the fight, Albert and David Maysles took an intimate look at Ali, while also looking at the mild-mannered champion Holmes. The Maysles footage never received a public screening or airing.
Holmes retired in 2002 with a career record of 69-6, winning his first 48 fights. He had 20 successful title defenses and was inducted into the Hall of Fame in June 2008.
Send your questions now and join Holmes Thursday at 3:15 p.m. ET!
More Special Guests: Previous chats | SportsNation
Buzzmaster
(3:16 PM)
Larry's running a little late, everyone!
Buzzmaster
(3:31 PM)
Larry's here, everyone!
Amiraan Ahmed (KL)
hey larry , sir i would like to ask what mental qualities does it take to each the top in professional boxing , im an aspiring light weight fighter and to hear it from you would just be fantastic !! ,
Larry Holmes
(3:31 PM)
It takes hard work, dedication, and then your mental processes will kick in, knowing you've done what you are supposed to do.
Kurt (London)
Right here right now,Could Marciano carry your jockstrap?
Larry Holmes
(3:32 PM)
I don't think he would want to! I think Marciano was a great fighter and I also think you're now talking to one of the great fighters.
Gustavo (Richmond, CA)
Greets Mr. Holmes!!! How would a fight between you and George Foreman had ended if it happened.
Larry Holmes
(3:33 PM)
I would've won easily. I thought I could have beaten George Foreman, but he didn't have the heart to step into the ring, or that fight could have happened.
Danielle N. (Williams Township, PA)
Champ, loved your ringside restaurant in Easton! What was the toughest fight you had from 1978-1985? Was it Norton? Shavers? Witherspoon? Cooney?
Larry Holmes
(3:34 PM)
Norton, and don't stop coming to my bar and restaurant. Bring friends!
Joe (Des Moines, Iowa)
who in your mind is the best pound per pound fighter right now?
Larry Holmes
(3:34 PM)
I gotta say Mayweather right now, in the lighter weight classes.
Andrew (Louisiana)
If somebody had never seen you fight, which 1 fight would you want to show them
Larry Holmes
(3:35 PM)
June 9th, 1978, when I fought Ken Norton and won the heavyweight championship of the world.
Rod (Arkansas)
Why do you think most of the younger kids today don't get into boxing and go for the other sports like football and basketball?
Larry Holmes
(3:36 PM)
That's a good question; I don't really know. Boxing is hard, maybe too hard for them. I think it's just the one you feel you're best at, and a lot of young athletes don't want to go through boxing and take the punches and the training that it takes to get ready for a fight.
Tim Korabek (Owatonna,Minnesota)
It was great watching you when I was a youngster. My interest in boxing has wained somewhat partly because boxing just doesn't have the spirit it used to. In your opinion, how is boxing different today from when you were in your prime??
Larry Holmes
(3:37 PM)
We had guys who wanted to fight. We had guys like Ali, Norton, Foreman, Holmes, Cooney -- the interest is not there on the fighters today. The big networks are not there. The only thing they have rolling is PPV and ESPN.
Matt H (Phx, AZ)
Hello Mr. Holmes! What was a typical day of training like for The Champ?
Larry Holmes
(3:37 PM)
A bit of morning running, get some rest, back in the gym at 3:30-4:00, working for an hour or more in the gym, boxing, jumping rope, then going home and getting a good dinner and some rest.
Bime (Taunton Ma)
Mr. Holmes is there anybody in the boxing game right now with an equal or better jab than yours? I dont think so.
Larry Holmes
(3:38 PM)
I agree with him. I don't think so either.
Alex (Louisville)
Is it hard to get respect as a heavyweight when you are far better than the rest at the time when you compete? It seems that when all heavyweights are evenly matched, it's a golden era. But when somebody is just better than the rest (yourself then, Klitschkos now), everybody calls it a slump in the division.
Larry Holmes
(3:39 PM)
It's a slump on the Klistchko's part, but when I was there, it was just me. I was simply better than the rest. They felt there was no one out there back then.
ced (oklahoma)
Mr. Holmes what was your toughest fight?
Larry Holmes
(3:39 PM)
June 9, 1978, Ken Norton, when I won the title.
Tom (Reading, United Kingdom)
How do you think you would have done against the best that the heavyweight division has to offer right now?
Larry Holmes
(3:40 PM)
I would have beaten everybody that stepped in the ring with me.
Steven (NJ)
What was your favorite ring to fight in?
Larry Holmes
(3:40 PM)
Las Vegas, Caesar's Palace.
Besim (Staten Island, New York)
Larry, who do you have for the Cotto-Pacquaio fight?
Larry Holmes
(3:41 PM)
Pacquiao's supposed to win it, but I don't know if he will, so I don't have a pick.
david (houston, tx)
if you could fight a fighter from any era who would it be, prime for prime?
Larry Holmes
(3:42 PM)
I gotta say that guy named George Foreman, one on one.
p (LaLaLand)
if you had to fight mike spinks all over again, what would you do different?
Larry Holmes
(3:42 PM)
Knock him out and not feel sorry for him.
Larry Holmes
(3:42 PM)
Thanks for the questions!