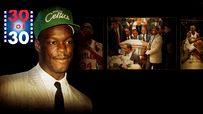 Tribble was a friend of Len Bias.
Welcome to SportsNation! On Tuesday, we'll have Brian Tribble, friend and classmate of Len Bias stopping by to talk about "Without Bias" that is part of ESPN's 30 for 30 project, commemorating ESPN's 30th anniversary. The film debuts Tuesday night (8 p.m. ET, ESPN).
30 for 30 is an unprecedented documentary series featuring 30 films from some of today's finest storytellers, detailing the events that transformed the sports landscape from 1979 to 2009. "Without Bias" tries to answer the questions left by Len Bias' death. How good could he have been in the pro ranks? Was Bias a one-time user or was there a pattern of recreational use that led to his fatal last night? Up-and-coming director Kirk Fraser utilizes dozens of interviews with Bias' closest teammates, friends and family in an effort to determine exactly what happened on that fateful night.
Tribble was with Bias the night of June 19, 1986 when Bias died of a cocaine-induced heart attack, just two days after being drafted by the Boston Celtices. Tribble has never spoken publicly about the tragedy until "Without Bias."
Send your questions now and join Tribble Tuesday at noon ET!
More Special Guests: Previous chats | SportsNation | 30 for 30 | Without Bias
Buzzmaster
(11:56 AM)
Brian Tribble, friend of the late Len Bias, will be here to chat in just a few minutes. The new 30 for 30 film "Without Bias" examines the life and death of Len Bias and debuts tonight on ESPN at 8 p.m. ET.
Buzzmaster
(12:01 PM)
Brian is here!
Kyle (VA)
Have you seen the film? What did you think?
Brian Tribble
(12:03 PM)
I thought it was done well. I thought it went over each part of that night and tried to give the details as best as possible to try and relive the moment going on at that time. I thought it touched upon the significance of the criminal justice system that after his death that the crack law got changed. Bringing that up was good. Overall, I thought it was a good job.
dan (washington)
How did you and Len meet?
Brian Tribble
(12:03 PM)
We were on campus at the same time. We met prior to that. A team called Woodridge. He was playing on the 14U at that time. I was 16U. That's when I first met him and we reignited that relationship in college. When you're away at school, you tend to find people from where you're from. It was easy to get back together.
STeve
How has your life been different since June 19, 1986?
Brian Tribble
(12:04 PM)
You always have to live with being accused of supplying hte cocaine that killed him. Still to this day, that stigma is attached to me.
Paul (Boston)
What made you decide to start talking about everything now?
Brian Tribble
(12:05 PM)
As you become an adult, you look back on childish things you went through. I met Kirk in Miami and he was ready to put together this film. It was all timing. I liked Kirk. I felt I could trust him. It was a time in my life, I thought it was therapeutic and I wanted to speak on it.
Paul (MN)
How well do you think Len would have done in the pros?
Brian Tribble
(12:06 PM)
I think he would have done very well, of course, I am biased. He had all the tools. It was a tradgic mistake that kids make. But his impact would have been awesome.
Greg (Chicago)
What was it like working with Kirk?
Brian Tribble
(12:06 PM)
It was really great. I felt that he was sincere in trying to get the story told from a non-biased view. He tried to get it out there so everyone could look at it and draw their own conclusions also to learn something that they hadn't learned before about the past.
Steve (NH)
Do you get back to Maryland much? See any games there?
Brian Tribble
(12:07 PM)
I watch them on TV now. I'm a family man now, daughters, dogs, grandchild. Great memories. The TV is good for now.
Ryan (CA)
Did you guys take any classes together at Maryland? What classes?
Brian Tribble
(12:08 PM)
Actually, we took a couple of Afro-American studies music classes. Blues class. And if I'm not mistaken, we took a health education class.
Evan (SLC)
Did you at one time feel responsible for Len's death?
Brian Tribble
(12:08 PM)
No, just the opposite. I felt like it was just tradgic and I didn't have a lot of time to grieve, because I was going through an attack of not just the justice system, but the media. It was a terrible time to go through in my life. I couldn't imagine what his family was going through.
Sonny Reds (Florida)
How's life treating now?
Brian Tribble
(12:10 PM)
Life is good now. Currently, I own a personal training company. URFit2.com. I get a lot of perks from my clients, so I can do things with them.
Mike (Akron)
Some believe that the significance of Len's death was that he and Jordan were the next great rivalry, (Bird v Magic). And when he died the Torch got puched to Jordan alone and no one could compete with him. Do you think Len had the talent/skill/killer instinct, to compete with Jordan?
Brian Tribble
(12:11 PM)
You got to watch the film. Piggy backing off of Kirk is the big IF. It's a big what if. I believe it would have changed the dynamic of that era. After watching that film, you'll get a better sense of just how great he was.
Craig G. (Fairfield, California)
Hey Brian, I have been fascinated by the Len Bias tragedy for a long time and can't wait to watch your film. What was one quality Len had that people admired?
Brian Tribble
(12:12 PM)
I would say that he was a great guy all around and basketball was just one of his many talents. Funny, sincere, upbeat person. Looking to learn. Fashion, music, movies. Just like anyone young, who's looking to eat up what life had to offer. Great friend, great person. Sad, sad ending.
kyle
still in touch with family?
Brian Tribble
(12:13 PM)
No. We've been in the same rooms watching the films, been close, but we haven't taken that last step and had some dialogue between us. Hopefully one day soon that will occur.
Evan (SLC)
What went wrong that night? Could medical have been called earlier?
Brian Tribble
(12:15 PM)
I don't believe that was the case. Again, I just want to reiterate, it's just one of those freak times in the world when one mistake is fatal. To this day it haunts me. You have to be careful, for real. All of us should have died. It's not like nobody used more drugs than another person. It doesn't make any sense.
Evan (SLC)
Who would you compare Len's game to?
Brian Tribble
(12:16 PM)
He would have carved out his own area in that. You would have compared him to all the others, but just like Michael, Kobe, LeBron, Magic all of the greats, he would have carved out his own spot for sure.
Brian Tribble
(12:16 PM)
Be careful in times of your life in celebration. Maybe take a few days off before you celebrate, you might celebrate different or more milder.
Buzzmaster
(12:16 PM)
Thanks for chatting Brian!