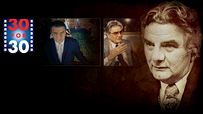 Irv Cross worked with Jimmy The Greek on CBS.
Welcome to SportsNation! On Tuesday, we'll have Irv Cross, former co-worker of Jimmy "The Greek" Snyder stopping by to talk about "The Legend of Jimmy The Greek" that is part of ESPN's 30 for 30 project, commemorating ESPN's 30th anniversary. The film debuts Tuesday night (8 p.m. ET, ESPN).
30 for 30 is an unprecedented documentary series featuring 30 films from some of today's finest storytellers, detailing the events that transformed the sports landscape from 1979 to 2009. "The NFL Today" on CBS was one of the preeminent sports programs on television in the early 1980s. There was no personality on the show more popular than Jimmy "The Greek" Snyder. Peabody Award-winning filmmaker Fritz Mitchell, who broke in as an intern on "The NFL Today," will examine Snyder's impact on the growth of sports gambling, while also taking a fresh look at The Greek's tragic downfall.
Cross joined CBS' NFL team in 1971, when he became the first African-American to work full-tim as a sports analyst on national TV. Cross was the co-anchor for "The NFL Today" when it started in 1975 and he and Snyder worked together from 1979-87.
Send your questions now and join Cross Tuesday at 3 p.m. ET!
More Special Guests: Previous chats | SportsNation | 30 for 30 | Jimmy The Greek
Buzzmaster
(2:52 PM)
Irv Cross is on his way over for the chat right now! Get in those questions!
Buzzmaster
(3:03 PM)
Irv is here!
Dale (Wyoming)
Have you seen the ESPN film yet? What did you think?
Irv Cross
(3:05 PM)
Yes, I saw it in the preliminary screening. I thought it was a pretty good description of our situation with The NFL Today and Jimmy The Greek. There is one scene about them giving me a thing about lines. Those were outtakes that went up. They really didn't depict the nature of our show, other than that we were close and had fun. I think it was a pretty good depiction of our experience.
Tim (VA)
With today's TV scene, do you think someone with Jimmy's personality would work in today's market?
Irv Cross
(3:06 PM)
Absolutely. The thing that Jimmy brought to the broadcast, which is widespread today, is that people like to bet on games. Our issue was doing that without violating the NFL rules. We'd do the weather reports and Jimmy would make some comment about winning by a TD or less than a TD. That opened up on a broader scale what's happening now. Also, with fantasy, it started with that as well.
Will (LA)
It seems like Every time someone says something dumb in the media that Jimmy is brought up. What do you think of his comment being the one thing that most people remember about him?
Irv Cross
(3:07 PM)
I think it's unfair to Jimmy. I agree with you that often times people don't look beyond what's been printed. Jimmy is not, in my opinion, a racist. He made a dumb statement and he apologized for it. He was embarrassed by what happened. It seemed like the floor was pulled out from him and his career ended abruptly. In my view, he was not a racist. He was a guy that spoke crudely and sometimes stuck his foot in his mouth. THat's about it.
Dave (VT)
Did you know much about Jimmy before you started working with him at CBS?
Irv Cross
(3:09 PM)
I knew of him, because as a player, we were aware of Jimmy's presence. The league had, and still has, in the lockerroom, a statement about gambling. We were often reminded to stay away form giving information to gamblers. Jimmy had a newspaper column. We would know going into games, that we were favored or down. So we knew of him, but I didn't have any contact with him until CBS.
Ryan (Dallas)
What was the TV scene like back then? I'm sure it was less saturated then it is now. How much bigger did it make the CBS show, since it was one of just a couple on the air at that time?
Irv Cross
(3:10 PM)
That's really the key, it was huge. At CBS, we had the major markets, New York, Chicago, LA and Philadelphia, the top four TV markets. There were NFC teams there that were hot. Oh, and in the southwest, we had the Dallas Cowboys, who was becoming America's Team. now, that's not the case, there's more competition for those markets. We had the NFC and we just dominated those markets.
Tyler (Maine)
Did you stay in contact with Jimmy after his dismissal from CBS?
Irv Cross
(3:12 PM)
I did. I was probably one of the few people, maybe the only person that did. I won't read the letter to you, but I have one in which he apologized to me. He seemed very depressed. He lost his syndicated newspaper column. His credibility had been damaged. He was very depressed. I'm not a psychologist, but I would call him depressed. I would call him and talk to him. And he died 3-4 years after that. He was no longer Jimmy the Greek, he was someone who had everything he worked hard for taken away from him. I feel sorry for him, because he was not a racist. He was a very generous man. He helped many student athletets secure aid.
Dave (LV)
Irv, a lot of people don't realize you played in the NFL. Do you think the game has changed much since you played?
Irv Cross
(3:13 PM)
Yeah, it's changed a little bit from the standpoint that the players are bigger, faster, stronger. I think we understood the game more. I was the defensive signal caller. WE called our own plays. Today, on offense and defense, there is someone talking in the QBs ear. People aren't thinking along the lines of strategy. They are more concerned about execution and not why they are doing what they are doing.
Will (Seattle)
What's your favorite sporting event that you covered in your career?
Irv Cross
(3:15 PM)
Wow. There are a lot of them. Probably a Super Bowl. I think I covered 17 Super Bowls over the years and enjoyed every one of them. I'm not sure which one it was, but the 49ers were playing the Broncos. I was in Joe Montana's room the night before the game. My assignment was to go to Denver the week before and I was with Joe the night before. He was looking over the game plan and he said he thought he might throw 5 TD passes. And the next day he threw 5 TDs. That day was the day that I said he might be one of hte greatest QBs of all time.
Buzzmaster
(3:16 PM)
Irv had to run everyone. Thanks for chatting Irv!