Chat with Jacoby Ellsbury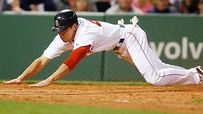 In two seasons with the Red sox, Jacoby Ellsbury is a .297 hitter.
Welcome to SportsNation! On Tuesday, Boston Red Sox center fielder Jacoby Ellsbury will stop by to give his thoughts on this year's World Series.
Ellsbury, in just his second full season in MLB, hit .301 this season with 70 stolen bases, setting a Red Sox single season stolen base record. His previous career high was 50 stolen bases in 2008, which is fourth on the list. His 129 career steals is already sixth on Boston's all-time list.
Ellsbury is no stranger to baseball's biggest stage. He helped lead the Red Sox to the title in 2007, hitting .360 in the playoffs that year after being a late season call-up. He hit .438 in the World Series and was the player responsible for giving America a free taco from Taco Bell in the first year of its "Steal a Base, Steal a Taco" promotion.
Send your questions now and join Ellsbury Tuesday at 12:30 p.m. ET!
More Special Guests: Previous chats | SportsNation
Jacoby Ellsbury
(12:25 PM)
Hello everyone, how are you?
Amanda (Western MA)
Did you watch any of the ALCS or NLCS, and will you be watching the World Series?
Jacoby Ellsbury
(12:25 PM)
I did watch both of them. There have been some exciting games, and I will be watching the World Series.
Ciarra Nickerson (Harwich, Massachusetts)
What's your favorite stadium to play in other than Fenway Park?
Jacoby Ellsbury
(12:26 PM)
I would say Seattle. My family can come and watch me play because they're out on the West Coast.
sam (new jersey)
who was the toughest pitcher you had to face?
Jacoby Ellsbury
(12:26 PM)
Mariano Rivera.
Kenny (VT)
Is it true you actually ran after and caught a deer growing up or is that just an Ellis Urban Legend?
Jacoby Ellsbury
(12:27 PM)
It's true, I really did it when I was younger, back home in Oregon. I need to dig up some pictures of it.
Kevin Shaffer (Boxborough, MA)
Do you think the yankees are too tough for the Fightin' Phils'?
Jacoby Ellsbury
(12:27 PM)
I think it's gonna be a tight series. It's gonna come down to Game 7. Tomorrow's game is big, just with both aces going.
Steven (NJ)
Did you know you had won America a free taco when it happend?
Jacoby Ellsbury
(12:28 PM)
I remembered the promotion, but at the time, I didn't remember it.
Steven (NJ)
Who is the funniest guy on the Sox?
Jacoby Ellsbury
(12:28 PM)
I'll go with Papelbon. It's not necessarily his jokes, but the stuff he does is pretty funny to everyone. He's never quiet.
Wyatt R (South Egremont, MA)
Jacoby,What kind of work goes into stealing a base at the major league level. I'm sure it must be difficult to get a feel for righties and lefties, but could you explain what kind of strategy and work goes into you stealing a base?
Jacoby Ellsbury
(12:29 PM)
First you wanna know his time to home plate. You want to know the situation, whether it's a good situation to run in or not, the catcher, what his times down to second are, what he's capable of doing. After that, you've calculated all that stuff in your head, and you make an attempt and run hard at it.
Ed (Rhode Island)
Favorite MLB memory so far? It has to be making that catch in the 9th inning of Game 4 of the WS vs. Colorado, no? Obviously winning the WS too.
Jacoby Ellsbury
(12:30 PM)
I would have to say, running in after the game, after we clinched. That was the biggest moment...running in from left field into the dogpile. Just knowing that you did it and that you won.
JR (Bend)
Hey Jacoby, Do you miss living in Central Oregon? Ever make it back here to visit?
Jacoby Ellsbury
(12:31 PM)
I do. I make it back in the offseason to see the family and friends. I enjoy going back there. It's where I call home.
Joel (Washington, D.C.)
Jacoby, how do you approach at bats differently as a lead-off hitter versus hitting toward the bottom of the line-up?
Jacoby Ellsbury
(12:32 PM)
First at-bat, you're trying to get a feel for the pitcher and what he has that day. You want to try to see as many pitches as you can to give the hitters behind you a chance to see his stuff. Later in the lineup, you can simply get your pitch whenever you get it.
Birdman (Sterling, MA)
Jacoby, is Bucholz really faster than you?
Jacoby Ellsbury
(12:32 PM)
Not a shot.
Jacoby Ellsbury
(12:32 PM)
In his dreams.
Frank (NY)
Which current Red Sox pitcher would you like to face for an at bat? Which pitcher wouldn't you want to face?
Jacoby Ellsbury
(12:35 PM)
I'd wanna face Wakefield, because I've never faced his knuckleball before, and I'd like to see it. It looks filthy from the outfield, and I'm sure it's even worse from the hitters' point of view. I'd least like to face Lester. He's tough on everybody, but especially left-handed hitters.
Tyler (Charlotte, NC)
Jacoby, is there anything specific that you are planning to work on for the upcoming season?
Jacoby Ellsbury
(12:35 PM)
Nothing real specific, but just continue to build upon the season I had this year. Just continue to grow.
jimmy (seattle)
jacoby, i have been a fan of yours for many years. got any tips as a center fielder for maximizing my fielding potential?
Jacoby Ellsbury
(12:36 PM)
Work on it on a daily basis, whether it's just fielding or throwing. It's just like hitting...you have to put in constant practice to improve, especially as a young player.
Carley (Connecticut)
I love you! I think your an amazing player! My question is did you ever think that you were going to steal home against the Yankees?
Jacoby Ellsbury
(12:37 PM)
I made that decision on that pitch, so two seconds prior to the actual pitch. It's one of those plays where there's no signal for it. It's just a split-second decision. Instinct.
Otto (CA)
Hello Jacoby? Do you think you have the ability to develop into a 30 Home Run guy? Thanks for the taco in 07!
Jacoby Ellsbury
(12:38 PM)
Why not? I think anything's possible. I don't put any boundaries on myself.
Kevin (CT)
Jacoby, with all of the post-season success you had as a rookie, do you feel like there was any added pressure on you to perform this post-season?
Jacoby Ellsbury
(12:38 PM)
Not really. I think you just need to go out there and play your game, and not think about the past. You need to focus on the present and make the best of the situation at hand.
Brian (Oxford, CT)
Hey Jacoby, any thoughts to the concept that the Sox have become less "fun" from the days of Papi and Manny dominating the clubhouse mid-decade?
Jacoby Ellsbury
(12:39 PM)
I don't think so. I think the guys on the team have a good time. We're pretty free-spirited with a lot of joking around going on. It keeps everybody loose and is something that just kind of happens.
Jacoby Ellsbury
(12:40 PM)
Thanks for the questions. They were all very good. Appreciate it!