Chat with William Henderson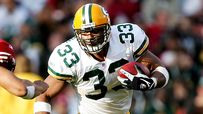 Henderson had a 12-year NFL career, all with the Packers.
Welcome to SportsNation! On Thursday, former Green Bay Packer fullback William Henderson stops by to give his thoughts on this weekend's Packers-Vikings game, as well as on the 2009 NFL season.
Henderson played on the Packers' 1996 Super Bowl winning team. Brett Favre recently said that his 2009 Vikings team is more talented than that '96 team. However, other members of the 1996 Packers have come out recently to disagree with Favre. Be sure to have your voice heard on the subject.
Henderson played 12 years in the NFL, all with the Packers. The UNC product rushed for a modest 426 yards in his career, however, he blocked for six of the top nine rushing seasons in team history: Dorsey Levens, 1,435 yards in 1997; (third); Ahman Green, 1,883 in 2003 (first), 1,387 in 2001 (fourth), 1,240 in 2002 (sixth), 1,175 in 2000 (seventh) and 1,163 in 2004 (ninth).
Send your questions now and join Henderson Thursday at 1 p.m. ET!
More Special Guests: Previous chats | SportsNation