Chat with William Henderson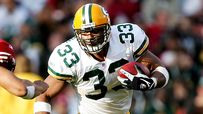 Henderson had a 12-year NFL career, all with the Packers.
Welcome to SportsNation! On Thursday, former Green Bay Packer fullback William Henderson stops by to give his thoughts on this weekend's Packers-Vikings game, as well as on the 2009 NFL season.
Henderson played on the Packers' 1996 Super Bowl winning team. Brett Favre recently said that his 2009 Vikings team is more talented than that '96 team. However, other members of the 1996 Packers have come out recently to disagree with Favre. Be sure to have your voice heard on the subject.
Henderson played 12 years in the NFL, all with the Packers. The UNC product rushed for a modest 426 yards in his career, however, he blocked for six of the top nine rushing seasons in team history: Dorsey Levens, 1,435 yards in 1997; (third); Ahman Green, 1,883 in 2003 (first), 1,387 in 2001 (fourth), 1,240 in 2002 (sixth), 1,175 in 2000 (seventh) and 1,163 in 2004 (ninth).
Send your questions now and join Henderson Thursday at 1 p.m. ET!
More Special Guests: Previous chats | SportsNation
Buzzmaster
(12:57 PM)
William will be here soon to take your questions!
Buzzmaster
(1:05 PM)
William's running a few minutes behind schedule. He should be up here soon!
Buzzmaster
(1:12 PM)
Here comes William!
stan (denver)
do the players put as much stock in all of this Brett is returning to Green Bay as the media and fans do?
William Henderson
(1:14 PM)
If the players mindset is in the right place and truly appreciate him representing the organization, they'll boo their former teammate returning. I bleed in green and gold. I'm a Packer. Brett's wearing purple now.
Bryan (Wichita)
What are your thoughts about playing for the Vikings and his comment about them being more talented than the '96 Pack
William Henderson
(1:15 PM)
I hope he said it in an attempt to motivate his own lockerroom. Boneheaded statement if it was meant to truly compare the No. 1 defense and No. 1 special teams from Super Bowl XXXI team to an unproven.
Crystal (North Dakota)
What do you think of Aaron Rodgers performance so far in his career with the pressure of the following behind Brett and the drama that unfolded in 2008?
William Henderson
(1:15 PM)
Unbeliveable professional performance by young Aaron Rodgers. Has taken responsibility on his shoulders and is faring very very well.
William Henderson
(1:15 PM)
Needs more support from his offensive line.
Kyle (PA)
We saw the FB phased out of many offenses a few years back. But now, it seems like maybe the FB is making a come back. What do you think?
William Henderson
(1:16 PM)
The NFL has finally gotten smart in realizing who the true workhorses are. It's great to be a WR, but it's even better to be a pathmaker. Teams without fullbacks lose.
Brandon Keslar (Florida)
Hey William, How do you think Aaron Rodgers ranks with the rest of the NFL qb's?
William Henderson
(1:17 PM)
Easily top 10. The truth will tell but he is only as good as his supporting cast. Brett wouldn't have been No. 1 if the rest of his offense didn't choose to make him so.
Greg (TX)
Do you just follow the Packers or do you follow the entire league?
William Henderson
(1:18 PM)
I have a green and gold Reggie White Foundation arm band on my wrist right now. I'm making a flight to Green Bay on Saturday to see my team win. Yes, I have other friends throughout the league too. I watch for their success as well.
Ronnie K. (Madison,Wi)
What is your take on the signing of Ahman Green? How much of a mental impact can the veteran make on the NFL's youngest team?
William Henderson
(1:19 PM)
I saw the improvement of Grant's game in Week 1 of Ahman's return. It was his best production this year. His true impact will be felt when he is used in the passing game and his ability to discourage blitzing linebackers or secondary.
Dav (FL)
Who are some of the best FBs in the league right now?
William Henderson
(1:21 PM)
No. 1, I would go with Vaughn. Tony Richardson has been consistent for 15 years. These players show the desire and execute effectively week in, week out and have proven themselves quality veterans in my eyes.
Brian (Madison)
Good to hear from you! Thank you for all the great memories, I will never forget coming to training camp and watching (you in particular) in drills. Thanks a lot. What do you think of the Packer's current fullbacks?
William Henderson
(1:22 PM)
It's difficult for me to see three guys do what I was singly responsible for. But I like the performances by them and their execution in the offensive capacity and the special teams. In this day and age, the fullback needs to be multidimensional.
Jon (WI)
Why do think us Packer fans get so much heat for "turning" on Brett? We didn't turn on him, he left OUR team.
William Henderson
(1:23 PM)
The Packers fans deserve to be cheered for always being loyal. Brett is wearing a different jersey this week. You're totally in your right to boo someone not playing for your organization.
Keith (LA)
We always hear about ex-football players having physical problems after they stop playing....so, how are the knees? Can you still get out of bed in the morning?
William Henderson
(1:24 PM)
The knees are good. But the thumbs won't bend fully, so I can't be the surgeon I always wanted to be.
greg (detroit)
do you think the lions will win a division game this season?
William Henderson
(1:24 PM)
No.
A.J. (Nipomo, CA)
Mr. Henderson,It was an honor watching you play for Green Bay. I loved your signature hurdle over the defender on screens and checkdowns. You fit the mold of the Green and Gold. What is your honest opinion of what has transpired over the last 18+ months in Green Bay? What do you think would be the best outcome of all this, where the Packers and Favre can end this drama peacefully?
William Henderson
(1:25 PM)
The best outcome is happening right now. Fans are excited to tune in weekly to find out how their favorite teams are doing. Packers fans can root for Aaron Rodgers and Brett Favre fans can root for wherever he is. In the end, I want the Packers to win.
Noa ((New Jersey))
Mr. Henderson - If there is a Runningback you would like to block for in Today's NFL, who would he be? Would it be Adrian Peterson? or someone else?
William Henderson
(1:26 PM)
Well, Ahman Green, if I had the opportunity to block for him this week, because he's 43 yards away from Taylor's rushing record. It was a goal of mine to get him that title. Other than that, Adrian Peterson, because he makes you look good.
Hayden (Logan, Utah)
when are FB gonna get the praise they deserve?
William Henderson
(1:28 PM)
That day is coming my friend. Every coach that's tried to campaign to end the careers of all fullbacks, I'm happy to say have lost miserably. So, hopefully soon people will realize the need for that position and they'll recognize them in the payscale
Brian (Madison)
What are you up to these days? Have you thought about coming back and coaching a la Edgar Bennett?
William Henderson
(1:29 PM)
I have thought about coming back to coach. I'm pretty happy with my business endeavors now. I would like to see myself involved in football in a capacity that wouldn't make me miss the large amounts of time from my family that coaches are forced to miss. Football is considered a nine month divorce from your kids.
William Henderson
(1:29 PM)
Thank you to all fans who tuned into this chat. To the Green Bay fans, I will always have a special place in my heart for your consistency, devotion and loyalty to your players. Go Pack Go!