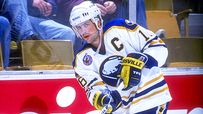 LaFontaine scored 1,013 points in his 15-year career.
Welcome to SportsNation! On Friday, we'll have long time NHL player, and Hall of Fame member, Pat LaFontaine breaking down the early part to the season, as well as why he's wearing orange shoelaces.
LaFontaine played 15 seasons in the league, eight with the New York Islanders, six with the Buffalo Sabres and his final season with the New York Rangers. He is just one of 73 players in league history to score over 1,000 points in his career (468 goals, 545 assists). He was elected into the Hall of Fame in 2003.
On Sunday, LaFontaine will run in the New York City marathon, while also benefitting the ING Run For Something Better. Through the help of his fundraising efforts, the organization supports community and school-based youth running programs.
Send your questions now and join LaFontaine Friday at 2:30 p.m. ET!
More Special Guests: Previous chats | SportsNation
Buzzmaster
(2:23 PM)
Pat LaFontaine will be here shortly to take your questions!
Buzzmaster
(2:26 PM)
Pat is here!
Leo (Connecticut)
Pat, you're one of my favorite players of all time. When you look back at it, are you satisfied with your career or do you lament that injuries took you away from the game too soon?
Pat LaFontaine
(2:28 PM)
Well, I look back and if anything, I have a sense of gratitude for when I started square one. I was born in St. Louis and moved to Michigan. Early on, if I could have gotten a college scholarship, that was my goal. Never was I imagining going pro, Olympic teams, Hall of Fame. But it's a good thing I was able to get out, knowing what I know about head injuries now. Maybe I could have played a couple of more years. I put everything out on the line, to the point where doctors said we're not going to let you go out and play.
tim (boston)
Is this your first marathon?
Pat LaFontaine
(2:29 PM)
No, it's actually my first stand alone marathon. I've done six Iron Man and eight half marathons. I've been nursing a little tendonitis in my knee. I've been able to run my triathlons pain free. I'm not looking to set any records, just to finish. The reason why we're running is for OrangeLaces.com, to help out the kids.
Danny (Maryland)
If you could change/alter one rule to make the game better, what would it be?
Pat LaFontaine
(2:30 PM)
Yeah, I would just totally take the neck and head out of the game. There will be opportunities where players will still get hurt through head injuries, but if we can teach players to not clutch and grab and not hit them in vulnerable positions where their heads are against the wall. High skilled game, hard hitting, but take the head and neck out of the game.
kyle (washington)
do you still pay attention to the NHL?
Pat LaFontaine
(2:31 PM)
I do. I still watch a lot of games. I coach my son's team. I root for the teams I played for, Rangers, Sabres, Islanders. I enjoy it at the youth level. Coaching my son has been a lot of fun.
mike
How long have you been training for this?
Pat LaFontaine
(2:33 PM)
Well, I was training for a while and then I developed the tendonitis and I had to shut it down. Then it's been touch and go for a while. It's been frustrating. I would have loved to have a lot more training and runs in me. But I'm doing the run for a lot bigger thing than me. For OrangeLaces.com and to help the kids.
Dan (Denver)
What do you miss most about the game?
Pat LaFontaine
(2:34 PM)
There are two things you miss. You miss just being out on the ice and playing the game you love and hanging out with the guys and laughing. The comraderie. THat's what you miss the most.
Matt (DC)
Pat, I hope you are enjoying retirement. What was it like playing for that 98 World Cup team that won it all? Memory serves me you skated on a line with Mike Modano
Pat LaFontaine
(2:35 PM)
Yeah, I skated a little bit. We all had a chance to play with different players. THat was one of the highlights of my career. We lost the first game in Philly and then we had to go to Montreal and win two games against a high powered Canadian team. You name it, they had him on their team. We were able to go in there and find a way to win those games and the World Cup in 96. That's one of the fondest memories in my career.
Mike (Ohio)
Pat, did you ever have a "Welcome to the NHL, kid" moment?
Pat LaFontaine
(2:37 PM)
I did. I probably couldn't share too much of that, because it was kind of an initiation that the guys welcomed me to. Now adays, you have the rookies take the team out to dinner. In those days, it was initiation. As far as playing in the game, I was lucky that things just clicked off the bat and I was playing with a championship team. Just trying to keep up and play with those guys at 19 was a challenge. I was very glad for the 1984 Olympic team that year to prepare myself, because I wasn't ready for the pros. It helped me get ready and walk in and be productive in the NHL.
Troy (Boston (Buffalo ex-pat))
It was you, I recall, who passed the puck up to Brad May for that sweep. You know which one. Thanks for the memories!Anyway I haven't followed your professional career after your retirement, but do you ever think about coming back to the NHL in a coaching/management capacity? You always struck me as a player with a mind as well as the requisite physical skill for the game, and the crackdown on obstruction of late benefits skilled offensive players.
Pat LaFontaine
(2:39 PM)
Yeah, it's something that I did do for a short period of time with the Islanders. It's something that given the right environment I'd like to do. Some day. I have a freshman in college and another a senior. I'm coaching my son's junior team. It's quite busy. Mays probably made the move of his life. You're right, I made that pass. Those were probably the two best moves of his career.
chris (denver)
pat what do u think of the avs so far this season
Pat LaFontaine
(2:41 PM)
I felt last year that they didn't do as well as they did. They had some talent. Stasny, Duchene and a lot of other talent. I like their team. I think their goaltending, with the addition of Anderson and getting off to a hot start, it will bode well for them going forward. They've had great leadership in the organization. Joe Sakic retired and it's been passed on to another generation. Those are great footsteps to follow. I think they're a sound team. I think you'll see them play like this and get better as the season goes on. Good team with a bright future.
Pat LaFontaine
(2:42 PM)
Thanks for the questions. I appreciate the support. I really encourage you to check out OrangeLaces.com and also CIC16.org. I'm running this race for ING and to help the kids and this great program with ING. And my charity's website is CIC16.org. Thank you for your support in these charities that I'm involved with.