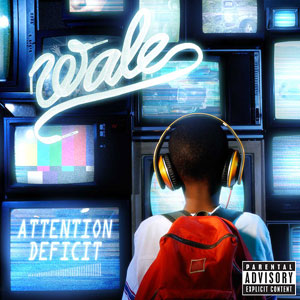 Welcome to SportsNation! On Wednesday, November 11, we'll have a very special guest stopping by as rapper Wale has agreed to take your questions about his upcoming full length album, his love of D.C. sports and much more.
Wale, born Olubowale Victor Folarin, has five extremely popular mixtapes under his belt dating back to 2005 including "The Mixtape About Nothing," which was inspired by the show "Seinfeld" and even features show alum Julia Louis-Dreyfus.
But it is his first studio album, "Attention Deficit," which will be released on Nov. 10, that has everyone in the hip hop community buzzing. It will feature Wale's latest creations with help from such music heavyweights as Lady Gaga, Jazmine Sullivan, Mark Ronson, The Neptunes and K'naan.
Wale lists his favorite teams as the Washington Redskins, Miami Hurricanes, USC Trojans, Washington Capitals, Cleveland Cavaliers and Georgetown basketball. He is also a big fan of Tiger Woods and Floyd Mayweather.
Use the form below to send your questions for Wale now. Then join us on Wednesday, Nov. 11 at 4 p.m. ET for the live chat!
Check out Wale's official site | Buy "Attention Deficit"
Jonathan (KY)
How many pairs of shoes do you have? I know you reference Nike SB's quite often.... what are your favorite shoes?
Wale
(4:02 PM)
I have about 300 pair of shoes. My favorite pair are the Tiffany 'SBS.
Jeff (Kirkuk, Iraq)
From one DC native to another I'd like to congratulate you on your success. I'm also a Redskin fan, and I like to know your take on Dan Snyder as the owner. Thanks!
Wale
(4:04 PM)
I think Dan Snyder means well but I think he wants too much too soon. He's trying to buy his way into a championship. They have no team chemistry and that's something you need to win a 'ship.
James (Washington DC )
In the song 2 a days, you say "I could play for Bowden, I could play for Friedgen" were you really that good in high school?
Wale
(4:05 PM)
Yeah, I felt the type offense I played in high school was very limited and that restricted me. But I do think that I could have been ACC material.
Chris (BlaQ) (NOVA (northern VA))
What made you so comfortable with using so many sports metaphors in your music? Not many people have done that so much, but it works with you
Wale
(4:06 PM)
I really don't think about what people are going to say about certain rhymes. I just go by what will impress me.
Andrew (VA)
Have you been to any wizards games this year? What did Gilbert think of your "ball like arenas" line in pretty girls?
Wale
(4:07 PM)
I haven't been to a Wizards game in a while because of the tour. I think he's heard it by know and I hope he likes it. I also hope that we have a better season this year.
arod360 (NY)
When did you first start loving music? What age and what artist?
Wale
(4:08 PM)
My mother always says I've been into music since I could understand it. Listening to music on the radio and things like that.
Aaron (New Jersey)
where do you see your self in 10 or 20 years in hip hop
Wale
(4:09 PM)
It's hard to say. At this rate I don't know. But I hope to be married with a family and still doing hip hop in some form or fashion.
Achi (DC)
In you first song Triumph, I can't help but notice the afro beat tune. Which genres outside of Hip/hop have an influence on the sound and style of your music?
Wale
(4:10 PM)
RandB and rock are two genres that I like that deal with love and freedom of expression.
WaleFollower (Tony) (Columbia, MO)
What do you think are some of your favorite songs that you have done?
Wale
(4:12 PM)
Dairy, Shades, Two A Days ...I have a lot. It changes. Depends on what I feel when the question is asked.
Brett (Missouri)
Who would you like to collaborate on a song with that you haven't already?
Wale
(4:13 PM)
I haven't really concerned myself with the name, I like to go with the vibe of the person. If it feels right and I'm enjoying the vibe of the sone then I go with it.
J.B. (Dunmore, PA)
Makes me wonder how I keep from going under, huh huh huh huh huh...who's your favorite ESPN personality?
Wale
(4:14 PM)
I like Scott Van Pelt, Kenny Mayne, Stuart Scott and I still wish Stephen A. Smith was still there. Overall I like everyone. Their personalities are unmatched in sports journalism.
Chris (BlaQ) (NOVA (northern VA))
Having immigrant (African) parents as well, i know their view toward hip hop music....how do your parents cope with your success, and did it take a while to win them over?
Wale
(4:16 PM)
I had to show them that it could make me money. I don't think I signed my deal before my mother found out. I did a good job of hiding it from her up until it was time.
Jake (Miami)
Go Canes! How'd you become a Canes fan?
Wale
(4:18 PM)
When I was real young I remember them playing Alabama. I remember them saying that Bob Marley's son played for them but I really liked their colors (uniforms). I know I like them for the wrong reason but I really like the Hurricanes. They also have had great players along the way like Ed Reed, Jeremy Shockey, Santana Moss and the list goes on and on.
Malcolm (Banks)
Do you feel that you are the best rapper out of your freshman class ?
Wale
(4:18 PM)
I think I'm the best but all of us think we're the best. That's what rap is based on at the end of the day.
James (Boston, MA)
What are your thoughts on the Wizards this year?
Wale
(4:20 PM)
I support them but it's not looking too good right now. I hope they can bounce back and have a little bit of fun this year but the East is very competitive right now and it's going to be tough to beat Miami, Cleveland, and Boston.
Pieces (Las Vegas)
Who is your favorite go-go band of all time? Hs to be northeast groovers, right?
Wale
(4:21 PM)
I would say TCB. I might be a little bias because they are like my family.
Canes4life (Las Vegas)
Since u into football who wins the national title this year in College Football? Please don't say the gators?!
Wale
(4:22 PM)
I would like to say the Hurricanes if we didn't lose that extra game. I'll go with Alabama, they look really strong.
Wale
(4:22 PM)
I appreciate all the fans for the support they have given me. Keep checking for me as I keep putting out that good music.